Two officers on US Marshals task force shot in Baltimore while serving arrest warrant
Two law enforcement officers assigned to a U.S. Marshals Service task force were shot Wednesday afternoon in northeast Baltimore while serving a felony arrest warrant for a man wanted for attempted murder, Maryland Gov. Larry Hogan's office confirmed to Fox News.
The shooting unfolded shortly after noon in the city's Frankford neighborhood, the Baltimore Sun reported. One officer was injured in the leg and the other in the stomach, U.S. Marshals Service spokesman David Lutz told The Associated Press in an email.
Paramedics rushed both officers to a nearby hospital for treatment. Their injuries were believed to be non-life threatening.
The suspect was killed in the shooting, Lutz said. Hogan confirmed that the suspect was a former state corrections official who recently had left his job and was under investigation for attempted murder in Pennsylvania.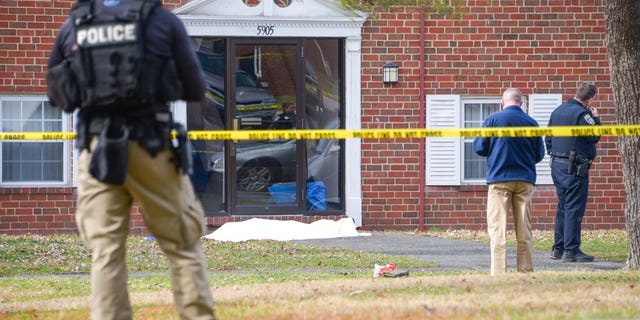 One officer was a Baltimore County detective; the other was a detective in the city of Baltimore. Both were assigned to the Capital Area Regional Fugitive Task Force with the U.S. Marshals Service.
Baltimore County Police Department spokeswoman Natalie Litofsky confirmed that one of the department's officers was shot and taken to Maryland Shock Trauma for treatment.
Hogan told reporters during an afternoon news conference that the officer injured in the leg was "doing well" and expected to make a full recovery. He said the other officer had undergone surgery and was in "serious, but stable condition."
Police blocked off a street near the hospital where the officers were taken. Baltimore Mayor Bernard C. "Jack" Young and Baltimore County Police Chief Melissa Hyatt were among those seen at the hospital.
ARKANSAS WALMART SHOOTING WOUNDS 2 POLICE OFFICERS; SUSPECT DEAD, INVESTIGATORS SAY
The officers' names were not released.
Police and federal agents from the Bureau of Alcohol, Tobacco, Firearms and Explosives (ATF) were responding to the scene, Fox 45 reported. Neighbors at the scene told the Sun a man was shooting at a group of officers from inside his apartment building.
In a separate shooting about 10 miles away, two people died and another suffered gunshot wounds around 11 a.m. in Baltimore's Cherry Hill neighborhood, WBAL-TV reported.
CLICK HERE TO GET THE FOX NEWS APP
Baltimore has been plagued with gun violence for decades. The city ended 2019 with nearly 350 homicides, its fifth year in a row with more than 300 slayings. As of Wednesday morning, authorities had recorded 40 homicides and 56 nonfatal shootings in 2020.
Fox News' Lillian LeCroy and The Associated Press contributed to this report.