Alaska hit by dozens of small earthquakes in wake of Friday's major temblor
Dozens of small temblors shook parts of Alaska Saturday, a day after a powerful 7.0-magnitude earthquake buckled roads, damaged buildings, knocked out power and frayed nerves, according to reports.
There were no reports of deaths or serious injuries following Friday's quake near Anchorage and a 5.7 aftershock minutes later.
"It was probably a good 30 to 40 seconds of slow-motion disaster," said Chris Riekena, an engineer with the Alaska Department of Transportation.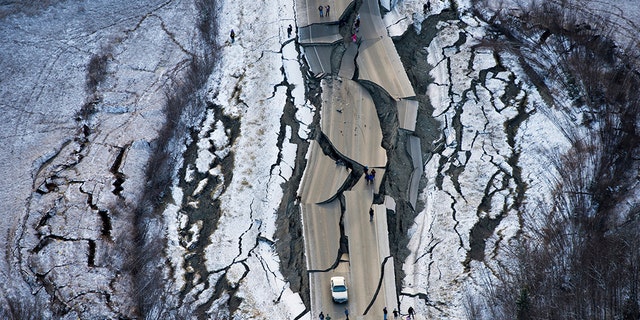 Riekena was on a freeway driving his seven-year-old son to school when the rumbling started and the road started splitting apart.
ALASKA EARTHQUAKE ROCKS ANCHORAGE BUILDINGS, BUCKLES ROADS, SHOCKING VIDEOS AND PHOTOS REVEAL
"Thankfully I pulled over when I did," he said. "I've walked around the site enough over the last few hours that I've replayed that a few times."
About 30,000 customers were without power as utility companies scrambled to restore the lights, USA Today reported.
Enstar Natural Gas Company was adding workers from Michigan to help with recovery and survey 3,488 miles of pipeline for leaks, according to the paper.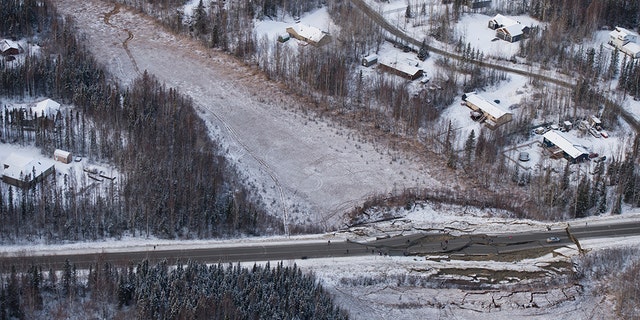 Gov. Bill Walker issued a disaster declaration.
President Trump also issued an emergency declaration for Alaska.
ALASKA EARTHQUAKE CLAIMED NO LIVES, OFFICIALS SAY, BUT INFRASTRUCTURE DAMAGE IS ANOTHER STORY
Alaska state seismologist Mike West said Friday's earthquake was the "most significant" to strike Anchorage since a 9.2-magnitute quake in 1964 that killed 129 people—the most powerful ever recorded in the U.S.
"There is quite a bit of damage across Anchorage," West said in a Facebook Live interview, according to the paper. "I'm not aware of large-scale building collapses, but I think it's safe to say there are thousands of homes and businesses and buildings that were damaged in some fashion, be it a deck that slid downhill, a cracked foundation, a gas line disconnected from the house."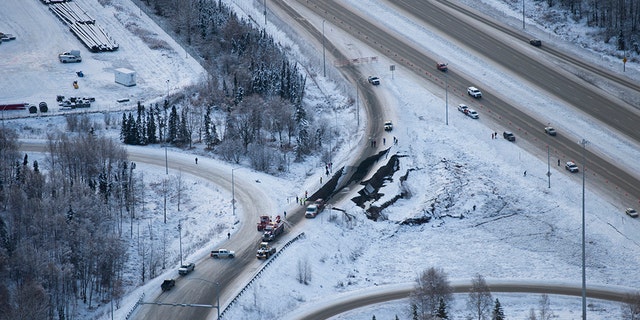 The state averages 40,000 earthquakes a year, with more large quakes than the 49 other states combined. Southern Alaska has a high risk of earthquakes because the Earth's plates slide past each other under the region.
Alaska has been hit by a number of powerful quakes over 7.0 in recent decades, including a 7.9 last January southeast of Kodiak Island. But it is rare for a quake this big to strike so close to such a heavily populated area.
The Associated Press contributed to this report.