After Charlottesville, Baltimore and other cities mull over what to do with removed Confederate statues
Contractors in Baltimore worked through the dark, early morning hours on Wednesday to quietly remove a massive bronze statue of Confederate Gens. Robert E. Lee and Thomas J. "Stonewall" Jackson that had stood just steps from the city's main art museum and John Hopkins University since 1948.
After violent clashes last weekend between white supremacists and counter-protestors over the planned removal of another Robert E. Lee statue in Charlottesville, Virginia, Baltimore Mayor Catherine Pugh promptly ordered the Lee-Jackson Monument and her city's three other Confederate-linked memorials taken down and shipped away on flatbed trucks.
But where are they going?
That is one of the biggest questions being asked as cities and towns from Baltimore to Los Angeles hasten their plans to remove the 718 statues, plaques and other homages to the Confederacy amid a nationwide debate over whether they should be on public display.
Some private groups are clamoring to receive some Confederate monuments while other statues could end up at museums or cemeteries. Others may be destroyed.
While their fate is unclear, what is certain is that the violence that broke out in Charlottesville is fast-tracking plans nationwide to take down monuments honoring Confederate soldiers.
"The South seceding from the Union made the process of ending slavery happen much more quickly than if they hadn't left," John Fabian Witt, a professor at Yale Law School, told Fox News. "It seems now like neo-Nazis and white supremacists are doing the same thing. Their protests are only making the monuments come down quicker."
In Baltimore, Pugh said that while she will soon provide details on the cost of the monument removals, the city is keeping the ultimate location of the statues a secret. The same goes for a little-known monument commemorating Confederate veterans that stood for decades in Los Angeles' Hollywood Forever Cemetery.
While some cities are choosing to stay quiet about what they plan to do with their newly removed monuments, others have been less coy.
In the college town of Gainesville, Fla., the United Daughters of the Confederacy were given a statue of a Confederate soldier known as "Ole Joe" on Monday after a local history museum declined to accept it and a veterans group objected to its transfer to a nearby park. The United Daughters of the Confederacy, a heritage group that has been accused of supporting white supremacist ideas, erected the monument in 1904 in front of the Alachua County courthouse.
Aside from private groups, some smaller municipalities and even private businesses have been open to accepting Confederate monuments.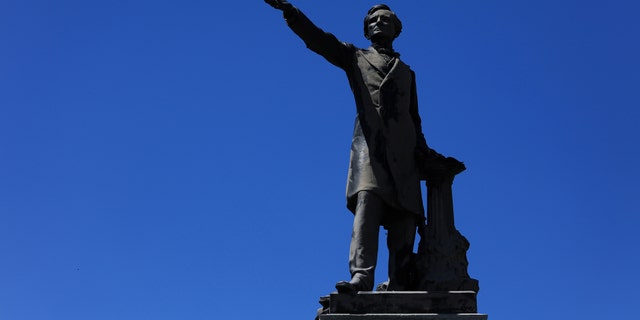 The small Kentucky city of Brandenburg earlier this year accepted a 70-foot-tall concrete plinth with an oversized statue of a rebel soldier that the University of Louisville had removed after years of criticism from faculty and students. Brandenburg Mayor Ronnie Joyner, who placed the monument in a riverside park that hosts a biennial Civil War reenactment, said that he didn't see the monument as "a black vs. white issue" or as "a slavery issue."
"The way I look at it, it's part of our history," Joyner told Reuters. "We need to preserve our history."
Following the 2015 massacre on nine people inside a Charleston, South Carolina by white supremacist Dylan Roof, Maryland's Montgomery County executive decided to remove a Confederate monument in the Washington D.C. suburb of Rockville. The 13-ton statue of the Confederate soldier, which had stood in the town since 1913, was transferred to White's Ferry, a privately run Potomac River ferry named after a Confederate general.
Another place where Confederate monuments have ended up after being removed from parks and other public locations are in cemeteries dedicated to Confederate soldiers. Orlando city officials in June moved a statue known as "Johnny Reb" to a section of the nearby Greenwood Cemetery where 37 Confederate soldiers are interred.
"This is the Confederate section of the cemetery so, historically, it belongs here," Don Price, sexton for the cemetery, told the Orlando Sentinel. "We're the keeper of the history."
In the case of the Lee-Jackson monument in Baltimore there are numerous cemeteries that are the final resting places of Confederate soldiers – the U.S. Department of Veterans Affairs alone owns three in Maryland – but the Baltimore Sun reported that there have not been any requests for the burial grounds to accept the statue.
"Some monuments already in cemeteries should be left in place if they commemorate the dead rather than honor their cause," Ilya Somin, a law professor at George Mason University, told Fox News. "There are cemeteries in Germany where the dead from World War I and World War II are buried and there is more about remembering those who died while not harkening back to the cause."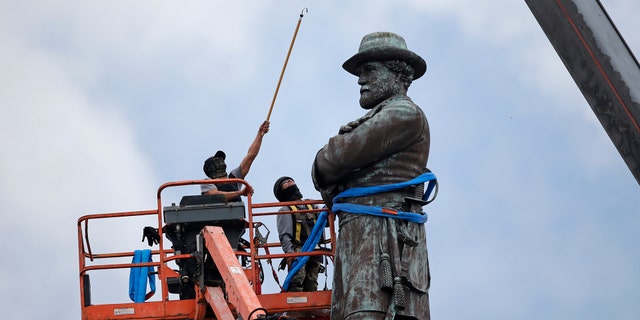 There have so far been no suggestions of creating parks where these statues can been displayed collectively – like in the countries of the former Soviet Union, where outdoor exhibitions in cities have been constructed to house massive busts of Lenin, Stalin and Marx.
One of the logical places for some of these monuments would be museums, where experts say they can be preserved for history and as a teaching tool.
"Putting these statues in museums would be a great idea," Witt said. "That way we are able to keep these things and allow people to learn about an ugly part of this country's history, but keep them outside of the public space."
Not all museums, however, are willing to accept these monuments. The Smithsonian flatly denied it was going to take the monuments that were recently removed from the New Orleans area.
"The Smithsonian does not collect monuments or memorials," Smithsonian chief spokesperson Linda St. Thomas told Newsweek. "The Civil War, protest movements, segregation, the civil rights movement and many other eras in American history are well represented in our collections."
Instead of heading to the Smithsonian, New Orleans' Confederate monuments – like many of the other memorials that remain in limbo – have been tucked away in a city warehouse where they will either be destroyed or relocated to a new home sometime in the future.
"It may desirable to keep some of these monuments in museums if there is an educational value and helps people learn about what these figures did," Somin said "But there are some cases where there isn't any historical, educational or artistic value and it is the best move just to destroy them."