Sick of walking through long airport terminals? Just ride on your suitcase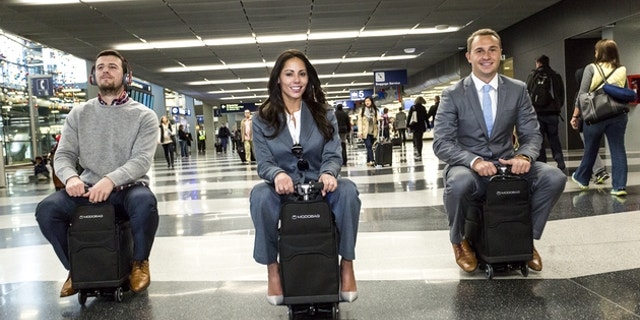 NEWYou can now listen to Fox News articles!
The worst aspect of modern luggage isn't its size or style. It's not even that you have to check it or take it with you and stuff it in an overhead compartment. It's that you can't ride the dang thing.
Well, that's changed thanks to the good people over at Modobag, the world's first motorized and rideable bag.
I had the pleasure of speaking with CEO Kevin O'Donnell who explained a bit more on the carry-on conveyance that will soon sweep through an airport near you.
For the uninitiated, the Modobag is exactly what you're thinking it is. It's carry-on luggage that you can sit on and ride around, well, wherever.
This means you can leave TSA, hop on your bag and yell, "Suckers" at everyone else who is simply praying there is a moving walkway in their future.
The following video illustrates things rather nicely:
Say it with us now, "Wheee!"
O'Donnell explained the impetus behind the wild innovation that is just crazy enough to work, saying that he once met with a previously homeless family of breakdancers known as the Chi-Town Finest Breakers. O'Donnell traveled with the family to perform for the Paula Abdul show "Live to Dance."
Being that there were six kids, transporting the crew through the airport was a bit of a chore. As O'Donnell states, he was pulling luggage with DJ E"Fresh" Lil Turbo sitting on top when he proclaimed, "You know what, we are going to put motors in these."
And that's how it came to pass that many of you will soon blast around the airport at breakneck speeds of five miles per hour (8 MPH speed outside).
The first thing you are probably thinking is, how does this thing handle on the freeway? Or, perhaps, can you get a hitch on that thing to tow a boat? We strongly discourage both. Because both go against the motivating drive behind Modobag – besides offering the travel industry's coolest innovation.
O'Donnell explains, "The main concern was safety, especially everything you heard with hoverboards and their batteries."
The CEO continues on how Modobag caters to those worried about safety: "Our technology is way advanced. We are using a new style lithium battery that gets to 80 percent charge within 15 minutes. It's super safe. It's safer than most laptop batteries. This new technology, as far as the FAA and UN regulations, it meets and exceeds all of the safety tests for air travel. So that was the biggest thing was the batteries and the safety aspects. We've accomplished [that]. We've jumped that hurdle."
Now I wanted to know what it's like to hop on one of these and bump around an airport. O'Donnell proclaimed, "Its definitely a head turner and for whoever rides them it puts a smile on your face, because it's not only functional it's super fun."
Now you can get your very own Modobag and become one of the cool kids on the block over at Indiegogo.
At the moment, you can become an early bird supporter and procure a bag at $995, which represents a discount from the regular price of $1,495.
A lot of you will scoff at the price. And it's indeed expensive, but did we mention that now your luggage will get you to the gate?
O'Donnell explains that the price point was the outcome of trying to create luggage that met impressive quality, durability, safety and weight standards.
Despite the fact that it's a bag that gets us ever closer to playing Mario Kart in an airport, it weighs all of 19 pounds. And it still boasts 85 percent of the normal packing capacity of normal luggage, which is impressive when you consider it has a motor (one that can also be taken out with all of 16 screws for later upgrades), a battery charger and GPS tracking system that works in tandem with an accompanying app.
There is a one-year warranty on the purchase, but you probably won't need it.
This baby will take 4,000 lifetime charges, which means a great distance. O'Donnell states, "Basically you're able to do 32,000 miles as long as you don't run the wheels off of it."
Now all that is left is to remember to pack away your driving gloves.