Flights delayed after Heathrow Airport experiences 'technical issues' with runway lighting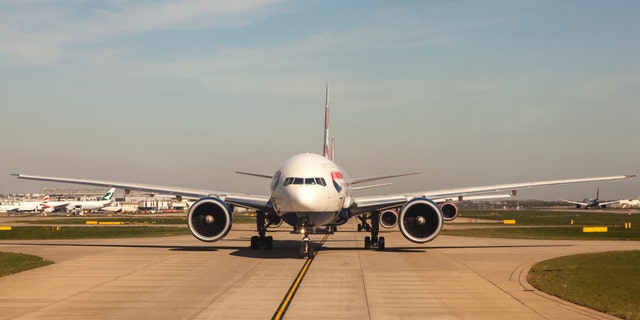 Heathrow Airport faced issues with delays this morning after "technical issues" with its runways which may have delayed passengers' flights.
The airport has announced that the problems were to do with the lighting on its runways.
Though the issues were sorted out by 6.05 a.m., passengers have been told to check the status of their flights before traveling.
SEE IT: AIRPORT CALLS UNICODE'S PLANE-LANDING EMOJI 'A LITTLE TOO… CRASH-Y'
British Airways is advising that passengers flying long-haul to destinations such as Las Vegas, San Francisco, New York, Chicago, Abu Dhabi and Mexico City could face delays of an hour or more.
A spokesperson said: "We anticipate there will be some delays at the airport throughout this morning. For the latest information, passengers should check their flight status with their airlines before traveling to the airport.
"We apologize for any impact this might have on our passengers."
The lighting issue left some London-bound passengers stranded on the tarmac in the U.S., although BA made their waits easier with snacks and drinks.
Passenger Davey Hunt tweeted: "On the ground in Atlanta due to Heathrow light failure. The bar is open and I'm not working tomorrow so not that fussed."
Other passengers were less patient as they waited for updates from BA staff.
FLIGHT THAT LEFT 200 PASSENGERS ON AIRPORT FLOOR FINALLY LANDS — 3 DAYS LATER
Twitter user Shaan Khan wrote: "We are on BA116 and ground staff at JFK Airport not opening the door so we can talk to someone. Pilot growing impatient as are passengers."
Nearly one in seven flights due to land at Heathrow between 6 a.m. and 8.59 a.m. were delayed, affecting 16 flights, according to aviation data firm FlightStats.
Out of 22 scheduled departures between 6 a.m. and 6.59 a.m., there was one cancellation and two flights delayed.
A spokeswoman for British Airways added: "There was an issue with Heathrow Airport's airfield lighting during the night."
"Contingency plans were quickly activated and we plan to operate our full schedule today, albeit with some delays. We're asking customers that are due to travel with us today to continue to monitor ba.com for any updates to their flight."
FOLLOW US ON FACEBOOK FOR MORE FOX LIFESTYLE NEWS
Sun Online Travel previously revealed a job at Heathrow that pays 100,000 pounds per year (upwards of $131,000) and allows for four-day weekends, and you don't even need a university degree.
This article originally appeared on The Sun. Read more content from The Sun here.