Airports ask Unicode to change plane-landing emoji: 'The other one is a little too… crash-y'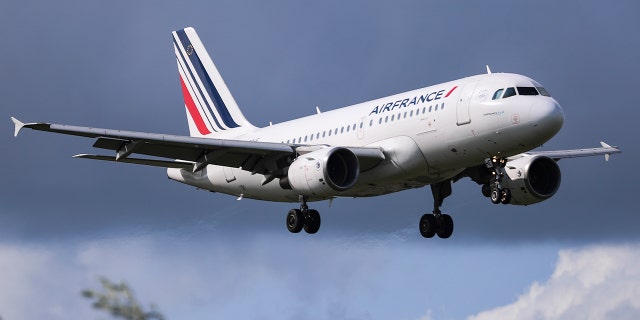 A handful of airports across the country are pushing Unicode for a new plane-landing emoji after claiming the current one appears too "crash-y."
The social media team behind the Dallas/Fort Worth International Airport (DFW) took to Twitter on Tuesday to commend Unicode for its new emoji, but added one simple request.
PILOT CREDITS 'GOD' WITH LANDING PLANE AFTER DECLARING EMERGENCY
"On behalf of #AirportTwitter and pilots everywhere, we'd like to kindly request a re-angling," the airport posted, alongside a photo of Unicode's current plane-landing emoji – which shows the plane's nose pointing downward toward a runway – and the airport's suggested replacement, which shows the plane's nose pointing more parallel to the ground.
"That's a plane crashing, not a plane landing," said Craig Civale, the social media manager at DFW, in an interview with CBS News.
Civale also said the airport was only being "tongue-in-cheek" with its request, the Los Angeles Times reported, and that they were "not really meaning to create change." But other airports soon responded to the tweet, and openly agreed with DFW's assessment.
The Memphis International Airport, for example, thanked DFW for pointing out the issue and called the emoji "too… crash-y," while the St. Louis Lambert International Airport stated, "Thank goodness someone said it."
TOURIST SPILLS SECRETS OF 'SEX ISLAND' WHERE GUESTS PAY TO PARTY WITH PROSTITUTES
The Miami International Airport, the Detroit Metropolitan Airport and the Ronald Reagan National Airport in Arlington, Va., all chimed in as well, each sharing a GIF to convey their solidarity with DFW.
Another commenter, meanwhile, suggested that the emoji was simply meant to symbolize a flight's arrival and asked DFW if they were guilty of using the same symbols in their arrivals areas. But DFW responded by pointing out that, no, they do not.
FOLLOW US ON FACEBOOK FOR MORE FOX LIFESTYLE NEWS
A representative for the Unicode Consortium, which the DFW airport had mentioned in its tweet, was not immediately available to confirm any amendments to the emoji for Fox News.
CNET notes that the current iteration of the plane-landing emoji has existed since 2014.