Five tips for flying with kids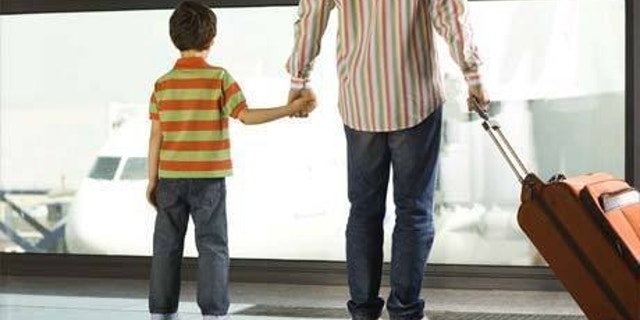 The prospect of flying on your own can be stressful enough - security lines, potential delays and angst over finding space in which to cram your carry-on can daunt even the most experienced traveler. While adding children to the equation can amplify the anxiety, flying with your family doesn't have to be traumatic. Here are five tips for keeping the peace in the airport and at 30,000 feet:
Get their energy out while you can
Sitting at the gate waiting to board can try kids' patience. Instead, Cheapflights.com recommends searching for an open space where your little ones can run free before they're cooped up on the plane. If two parents are traveling and the gate agent allows it, send one parent to your seats with all carry-on items while the other stays with the kids to squeeze in an extra few minutes of frolicking, the website suggests. With any luck, this extra playtime in the airport will lead to naptime on the plane.
Bring a bag of tricks
Diana Heather, author of ParentingsATrip.com and mother of two little girls under the age of three, recommends toting some unexpected items you likely already have around the house. Among her unconventional suggestions is blue painters tape, which she says is made to pull off easily without causing any damage.
"Kids can have a blast taping up everything in sight, and you can quickly pull it off before you deplane or leave the airport," says Heather, who is also the author of The Family Travel Guide blog on Community.HomeAway.com.
She also suggests packing magnets, yarn and sticker books with reusable stickers.
Travelocity.com's tips for family travel recommends giving kids disposable cameras. Most are inexpensive, and they'll allow your little ones to capture your trip from their own perspective.
Pack some sustenance
"Though the airline might provide snacks, children aren't always the best at waiting for a meal," notes Cheapflights.com. The website recommends bringing sippy cups or water bottles for kids to fill once you're through security; these also minimize the potential for a mess on the plane.
Healthy and tasty items that are good for traveling include bananas, raisins, rice cakes, dried fruit and small boxes of cereal.
Embrace technology
Cheapflights.com says parents should try to choose an airline with seat-back movies and video games. If your airline doesn't feature such digital diversions, bring your own. Packing a portable DVD player, iPad, laptop or even a mobile phone preloaded with videos and games can keep kids busy for hours on end.
Travelocity.com also recommends parents invest in a headphone splitter so kids can watch the same movie together.
Fly direct and fly early
In addition, Travelocity.com urges parents to fly direct whenever possible. If you miss your connection, it can be very difficult to book your entire family onto another flight. If you do have to connect, make sure to leave lots of time between deplaning your first flight and boarding your second.
The website also suggests booking early-morning flights to reduce the odds of being delayed by an inbound flight.
"You'll also reduce the odds of the little tykes getting fidgety with boredom!" the site notes.