6 tips for traveling with your baby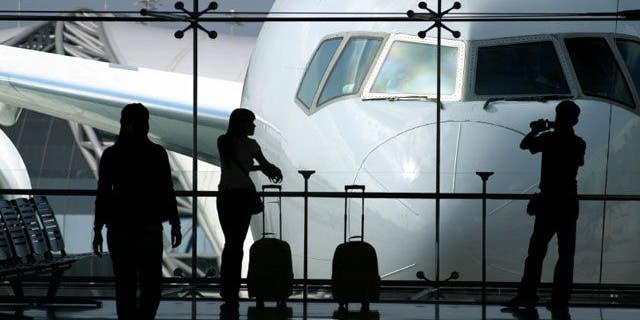 Planning a vacation or a visit with grandparents? Traveling with your baby in tow can be a little more complicated than traveling solo, but with some planning and flexibility, the trip will be seamless and enjoyable for the whole family. Bon voyage!
1. Arrive early.
You might be tempted to spend as little time as possible at the airport, but rushing to catch your flight can leave you frazzled. "If you're stressed out, then the kids are going to sense it too and then they're going to get agitated," according to Katie Dillon, author of Flying with Kids: Safe and Sane Air Travel with Your Baby, Toddler or Young Child. Aim for an extra 30 minutes for diaper changes, feedings, or the unexpected. Some airports in the U.S. also have family lanes which can make going through security easier.
2. Time the flight.
Booking your flight during your baby's nap time can make for an easier trip. If your destination is in a different time zone, experts suggest immediately adapting to the new time zone. If your baby is tired when you land, let him nap but keep it short. If you're able to get your baby to bed at his regular bed time on the first day, chances are naps will fall into place for the rest of the trip. "The great thing about kids is that they're really resilient and they're really sensitive to light and dark," said Diana Heather, author of ParentingsATrip.com and The Family Travel Guide blog on community.homeaway.com.
3. Pack light.
Yes, it's possible. If you'll be bringing your car seat and stroller, gate check them before you board the plane. If your baby will be sitting on your lap, nix the car seat and request one from your rental car company instead. Heather recommended a diaper clutch for the plane; it's much smaller than a diaper bag but holds everything you'll need.
Book a hotel that offers laundry service or a vacation rental that has a washer and dryer and you'll only have to pack for one or two days. Instead of packing diapers, wipes, and food for your entire trip, just bring what you need for travel days and purchase the rest at your destination.
4. Expect the unexpected.
"There's nothing worse than traveling with a sick child," according to Heather, who said before you leave, get the names of doctors, hospitals, and urgent care facilities in your area and confirm that they're covered by insurance. If you're traveling overseas, make sure your whole family is properly vaccinated and speak with friends who have taken the same trip about the healthcare system at your destination. Dillon recommended finding out what your destination's equivalent of 911 is so you don't panic if there was an emergency.
Bring a first aid kit and any medications your baby might need too. Got a crawler or walker? Some hotels offer baby proofing services if you call in advance.
On the plane, nurse, bottle feed, or offer your baby food during take-off and landing. "It will relieve the discomfort of changing air pressure in the ears and will distract the baby from strange noises or turbulence," said Dr. Michelle Terry, attending physician at Seattle Children's Hospital.
5. Do your homework.
The more information you can find out about the flight and your destination ahead of time, the smoother your trip will be. For example, if you purchased a ticket so your baby can sit in the car seat, be sure it's FAA approved and will fit. Also, some international airlines offer bassinets but it's on a first come, first served basis, so be sure to request it in advance. If you're traveling with pumped breast milk, formula, or baby food, find out if there are any security guidelines you should know about.

6. Be flexible.
It's inevitable that your baby's schedule will vary, but do your best to keep a routine and the rest of the time, go with the flow. She may also be cranky because of the new environment so be sure to bring her favorite toys, books, and blankets which will ease the transition and make bedtime easier.
Julie Revelant is a freelance writer specializing in parenting, health, and women's issues and a mom. Learn more about Julie at revelantwriting.com