A Flight Attendant's Top Recommended Kid Carry-On Essentials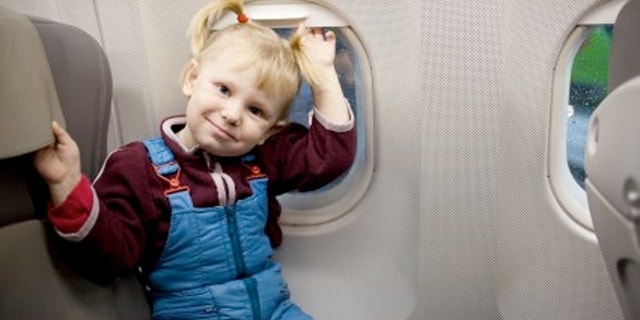 Relief comes over you as the plane pulls back from the gate. Somehow you managed to entertain a three-year-old and a six-month-old during the three-hour delay at the gate, but it wasn't easy.
You're all settled in your seat with the kids buckled in, both looking sleepy, when a jolting announcement comes over the PA: "This is your captain speaking. Sorry to inform you folks that ATC has just extended our delay. We're going to park the plane out here on the tarmac. Should be about an hour before we're are airborne."
Just then your baby starts screaming and wakes the other child who now decides they're too cold. You don't have a blanket, the flight attendants don't have a blanket, you've used your last diaper and have nothing to keep the kids occupied during the delays. Talk about Travel Hell.
As a flight attendant you would be surprised how often I see the scenario play out. My daughter's first plane ride was when she was three weeks old and she has flown almost once a month since. I have had the advantage of watching families travel for fifteen years before I had to do it, so I am not here to judge; I'm only here to help!
One of the most important things you do can when traveling with kids is to properly pack your carry-on. Follow these tips and you'll find yourself prepared for whatever the airlines throw at you...
Top Five Carry-on Essentials for an infant/baby
1. Diapers and wipes: My rule of thumb is one for every hour of travel plus five. You need to plan for mechanicals and other delays.
2. An adequate food supply: If you're breast feeding then you're all set. If not, bring enough formula with extra for delays. You are not restricted to the 3.4oz rule when you are traveling with a baby. Check with TSA.gov for more information.
3. Extra clothes: Not just for baby! A shirt for mom and/or dad is advisable in case of spit ups. Also, a small blanket.
4. Ziploc bags: Great for soiled clothes, soiled diapers and even leftover snacks.
5. Ear plugs: Bring enough for your neighbors, as handouts like this will take some stress off potentially tense situations with a screaming or crying child.
Top Five Carry-on Essentials for a toddler or preschool flier
1. Snacks: Think on the healthy side; save the sugar treat for your destination. Your kids need to maintain a steady blood sugar level. Think of some things they enjoy at home—carrot sticks, granola bars. I actually pack veggies frozen so they stay good throughout the day.
2. Disposable place mats and wipes: You can find these at most grocery stores or online. They fit the tray table and your child can eat and play without worrying about the germs.
3. Empty water bottles, like Sigg or Kleenkanteen: You can fill them up at a water fountain once beyond security.
4. Activities: Think of quiet activities your kids like to do at home. DVD players, paper dolls, activity books, paper and triangle crayons (so they don't roll off the table) are a few ideas. Make sure you bring a variety!
5. A CARES harness: This is an acronym for Child Aviation Restraint System. It's a one pound device that becomes a seat belt harness for kids 22-44lbs. It straps around a regular airplane seat and easily packs into your carry-on.
Got any other kid travel tips? Share in the comments!
About the Author: Sara Keagle is a Flight Attendant for a major U.S. Airline with over twenty years of experience. On her blog TheFlyingPinto.com she shares advice on making air travel less stressful for all and offers peeks behind the galley curtain. She also co-hosts The Crew Lounge, a weekly podcast that gives insight into the career of a flight attendant.
Check out other Jaunted content
The Top Ten Gross Things Flight Attendants Have Seen Passengers Do on Airplanes
The Pros and Cons of Sitting in a Plane's Bulkhead Row
Five Airport Bars Made From Actual Old Airplanes
An Up-Close, Exclusive Look at London's Olympic White Water Rafting Course
2011 US Airline In-Flight Entertainment Guide