Azamara Cruises: Surprisingly Excellent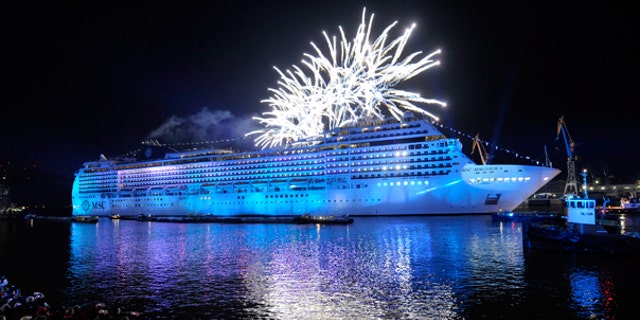 I just finished my first voyage on a small cruise line that's been on my radar for years: Azamara Club Cruises. It was rewarding in ways I had not expected, and definitely worth the wait.
Azamara is a two-ship cruise line in the Royal Caribbean (NYSE:RCL) family, I was on Azamara Journey, the identical sister ship is Azamara Quest. Both of them came from the family of eight R-ships originally built by Renaissance Cruises between 1992 and 1996.
You can say Azamara is now under new management, figuratively speaking, since Royal Caribbean brought in cruise industry veteran Larry Pimentel as president of the line in late 2009, giving him free rein to make the Azamara product unique. Pimentel brought in his favorite sidekick, Edie Bornstein, who worked at his side at both Cunard Line and the Yachts of Seabourn, both of them luxury lines with exemplary credentials.
On my sailing last week, Bornstein served as my hostess for two days of behind-the-scenes demonstrations. For the rest of the eight-night cruise to the Sea of Cortes, I was free to experience the ship like a regular passenger and form my own opinions.
Overall, Azamara surpassed my expectations, offering excellent food, and friendly, efficient service. Even more important: Azamara fulfilled Bornstein's goal of being a "destination immersive" cruise line.
Also onboard was Azamara's destination planner, Claudius Docekal, who has been around the world to research itineraries several times over. His first priority was to map out the most interesting destinations and found the best ways to make those ports accessible to Azamara passengers.
There are basically two types of cruisers. The first type enjoys the simple cruise lifestyle, with languid days anywhere in the world. But I belong to the other type, those who want to see the world, hopefully visiting a different, fascinating port of call every day. (I'll admit there are times when a day at sea can be a welcome respite in an otherwise vigorous vacation.)
Azamara's two ships are quite small at 30,000 tons and able to carry 700 passengers -- about a quarter of the size of the average mainstream cruise vessel. Docekal takes advantage of the ship's small stature to get it into places bigger ships can't fit.
Azamara's ships have docked in downtown London, for example, on the Thames not far from Tower Bridge. Even Cunard Line's ships cannot get any closer to London than Southampton, which is a three-hour train ride. Azamara's ships can sail up the Seine to Rouen, just a few hours from Paris by coach. They dock on the Neva River within sight of the Hermitage Museum in St. Petersburg.
While cruising in Europe, I have occasionally had to disembark in industrial shipyards miles from the center of towns. Stockholm is one city where smaller ships can dock within site of the Royal Palace, but bigger ships must tie up at facilities 45 minutes away by shuttle bus.
Azamara includes a free shuttle to transport passengers to the nearest sight of significance in every port. Mexico is not exactly a cruise haven these days, but Azamara gave us a different port for each of the last five days we were onboard, shuttle included.
In the port of Topolobampo, where the primary attraction is access to the Copper Canyon railway, Azamara provided an alternative free shuttle to the city of Los Mochis, a 45-minute ride. I have seen competing cruise lines charge $10 or more for similar shuttle rides. Even worse, I have been left to whims of local taxi drivers, who often display the pack behavior of sharks.
The best thing about destination cruising is having your "home" travel with you. And with Azamara, you couldn't ask for a better home away from home--especially in the suite categories.
Every passenger gets free wine with lunch and dinner--and the wine list includes boutique selections from South Africa, Spain, Portugal, Australia and other unique regions. You can also get custom coffee drinks at any time at no extra charge.
There are two specialty restaurants onboard: Prime C Grill, which serves up steaks and chops, and Aqualina, mostly for seafood. My meal in Prime C was one of the best I have ever eaten anywhere, and that is saying a lot. Specialty restaurants are always complimentary for suite passengers and $15 per person for regular passengers. The other dining venues -- main dining room, Destinations, and the terrace buffet, Windows -- are open seating every night. The dress code on the ship is a constant "country club casual."
Not everything on my cruise was perfect. I have seen better entertainment, and guest relations presented a few challenges with my departure documents and restaurant reservations. Keep in mind that Azamara is not in the luxury category like Seabourn, Silversea, Crystal and Regent. Its competitors in price and style are in the deluxe category, like Oceania Cruises and Windstar, for example. However, Azamara has chosen to define its category niche as "upscale" rather than deluxe, and it is very competitive in pricing.
Here is the link to the line's brochure. Rates start at about $350 per person per day, including special coffees, soda, and wine with meals; all gratuities; free shuttles; and umbrellas, binoculars and tote bags for all passengers.
The number of amenities included with Azamara's suites is overwhelming, so I will just hit the highlights:
• Free chilled Mumm Champagne on arrival
• Free wine by the glass from room service
• Breakfast, lunch or dinner in your stateroom, served one course at a time by your butler
• Two free liters of spirits in your stateroom (mine had Dewar's Scotch and Absolute Vodka)
• Free soda and drinking water throughout the cruise
• Free laundry and shoeshine; two hairdryers, Elemis bath products
• Tea and hors d'oeuvres in your stateroom each afternoon
• Binoculars, umbrella, bathrobes, slippers
Cruising 101
As always – if you need to know more about cruising we urge you to consult our Cruising101 FAQ.
I started writing about stock market investing for Motley Fool in 1995, but previously I worked aboard cruise ships. I co-founded CruiseMates.com, the first cruise travel guide on the Internet in New York City in 1999. CruiseMates, one the Web's top cruise travel guides was acquired by Internet Brands (NASD: INET) in 2006. Once CEO, I am now the editor of CruiseMates – Paul Motter.