Disney Dream Arrives in Florida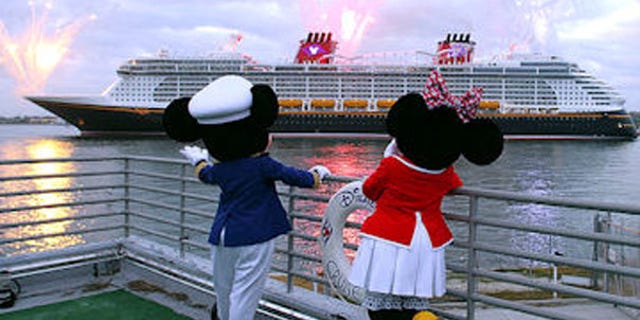 Disney Dream, the first new Disney cruise ship since 1999, arrived to its home in Port Canaveral last Monday.
Dream is a larger ship at 130,000 tons and boasts a capacity of 4,000 passengers. All staterooms sleep at least two adults plus one or two children in pull-down or convertible sofa beds.
Like the two original Disney ships, Magic and Wonder, Dream has extensive children's facilities and devotes a deck to playrooms for kids of all ages. Activities are age appropriate and supervised in small, manageable groups.
Starting with the It's a Small World Nursery, kids ranging from three months to three years will be watched by professional nannies throughout the day and has three separate areas: an acclimation zone, a play room and a napping area for babies and toddlers.
For kids ages three to 10, there are two distinct areas with similar sounding names but different attractions; the Oceaneer Club and the Oceaneer Lab.
Oceaneer Club features a central rotunda with playrooms based on Andy's Room from Toy Story, Monster's Academy, Pixie Hollow and the submarine-themed "Explorer Pod" based on the movie Finding Nemo. There are banks of computer games and a giant TV screen for showing Disney movies.
The Oceaneer Lab, also for ages three to 10, is dedicated to adventure and exploration. Animator's Studio is for sketching on paper or computer animation software and the Wheelhouse features "Life at Sea" computer games. Kids can sing karaoke and record their music videos in the Sound Studio or mold clay and other workable materials in the Craft Studio. In a special story-telling area, Disney characters come to visit the kids and spin yarns.
For that awkward 11-to-13 year old age group known as "tweens," The Edge features an interactive video screen sure to impress at 8 feet wide and over five feet tall located in a smokestack (decorative only) on Deck 13. And here's the biggest thrill: riders on the 765-foot AquaDuck water coaster come whooshing through the room.
For teens ages 14 to 17 the ship offers Vibe, an indoor/outdoor club hidden from sight on the forward bow by 10-foot walls. The sun deck has splash pools with pop jets and misters and games like ping pong and foosball. Entry to Vibe requires navigating a labyrinthine corridor extending more than 100 feet.
The indoor portion of Vibe has another coffee bar, a DJ booth and dance floor in air-conditioned comfort. During dance parties, kids can compete in karaoke contests, talent shows and dance offs. For the wall-flower types, video games and a private computer social networking systems are available.
But make no mistake: Disney Dream is not just for kids, adults are equally indulged.
Adults can escape to the "District" which includes interconnected nightclubs with different and unique themes. But there is one thing missing: children.
The District Lounge is a large relaxing space with a live pianist and acts as the gateway to other nightclubs. The cocktail bar Skyline offers a relaxing atmosphere where virtual windows show the sun setting over a different world-class city every night; one night could be Paris, next Manhattan. These virtual windows are really custom designed video screens that appear like real windows in a "top of the world" nightclub.
Sports bar 687 continuously broadcasts sports programs on multiple flat screen TVS with digital surround sound. During the day it is open to all ages and offers family games. At 9:00 p.m. it becomes an adults-only sports pub featuring exotic ales and other fun adult treats.
Pink is the bubbly Art Nouveau champagne bar that features back-lit glass bubbles set in the walls and sculpted glass light fixtures to accentuate the theme. The room is styled in luxurious velvet, marble and wood finishes with crystalline barstools and separate nooks for couples.
The District culminates with the Evolution Nightclub--where a pulsating dance beat beckons the "inner child" to dance. The theme is "chrysalis," represented by giant sculpted butterfly wings enveloping the entire room. During the day the room offers adult trivia and other games while at night it hosts themed parties, cabaret shows and comedy acts.
Disney ships are the ultimate in specialized fun for people of all ages. They allow parents and children to spend quality time together having fun, but also offer escapes for more personal adventures.
Family activities include the AquaDuck water coaster--the longest water ride at sea at 765 feet. The Buena Vista Theater is the largest 3-D movie theater at sea with a spectacular art deco decor. It shows first-run Disney movies the same day they premiere in theaters on land. The Walt Disney Theater is the showplace for live production shows of the highest Disney standards.
Dinner is also a family activity and the ship has several distinct restaurants and a system called "rotational dining" which guarantees every family gets to try each main dining room onboard at least once.
The ship will sail three and four-day cruises to Nassau and the Disney private island Castaway Cay through May. The first passenger cruise on Jan.26, 2011, is nearly full, but there is limited availability on the second voyage, a four-night cruise sailing Jan. 30.

For the best value, book any cruise sailing before June 3. The ship begins sailing longer four and five-day itineraries starting June 12, but the per diem price rises considerably when summer vacation starts. Package deals including the Magic Kingdom are always available.
Go to the Disney Cruise Line Web site for more information and to book your cruise. To search for cruises on Disney Dream enter "The Bahamas" as your destination.
Cruising 101
As always if you need to know more about cruising we urge you to consult our Cruising101 FAQ.

I started writing about stock market investing for Motley Fool in 1995, but previously I worked aboard cruise ships. I co-founded CruiseMates.com, the first cruise travel guide on the Internet in New York City in 1999. CruiseMates, one the Web's top cruise travel guides was acquired by Internet Brands (NASD: INET) in 2006. Once CEO, I am now the editor of CruiseMates Paul Motter.