Handgun designed for the military now available to law enforcement and civilians
Designed to surpass U.S. Army requirements, the FN 509 Tactical handgun is now available for law enforcement and civilians too.
Among the giant combat vehicles, drones, laser weapons and helicopters at the Association of the United States Army (AUSA) Annual Meeting and Exposition last week a number of smaller items also generated lots of buzz.
The FN 509 Tactical was getting a lot of interest at AUSA, which is the largest land warfare exhibition on the continent. There was a steady stream of American soldiers of all ages and ranks curious to see the weapon up close and get a first look.
The U.S. Army is issuing soldiers with a new sidearm pistol to replace the Beretta M9, which has been in use for more than three decades.
Sidearms can be vital as a weapon of last resort when soldiers are face-to-face with the enemy. However, they can also play an important role as an offensive tool.
SAPPHIRE GEM-BASED 'TRANSPARENT' ARMOR PROTECTS SOLDIERS FROM SNIPERS
Many factors have increased the need for innovation in outfitting warfighters to not just match military requirements, but to also exceed the capabilities of potentially hostile militarily advanced countries. For example, close-quarter battle may become more common and this is a scenario where advanced handguns could provide crucial advantages to U.S. soldiers.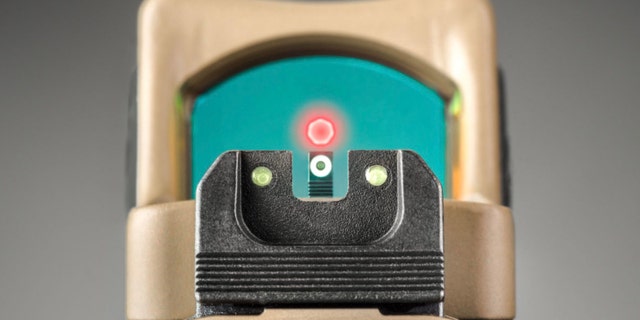 The Army decided it was time for an upgrade and launched the search to arm soldiers with a new pistol. The initiative was dubbed the "Modular Handgun System program." The U.S. firearms industry rose to the challenge determined to provide the absolute best for American soldiers.
FN took their already very popular civilian model FN 509 and gave it a mega upgrade to suit military purposes.

With all the companies taking the mission very seriously, the results were world class so the selection of just one pistol was intense. In the end, the Army decided to give the contract to Sig Sauer for their P320. Testing was not conducted Army-wide, but interest in the shooting performance of the new pistols has been widespread.
AUSA 2018 IN PICTURES: THE BIGGEST LAND WARFARE SHOWCASE IN YEARS

Hence all the attention that the souped-up FN 509 Tactical received at AUSA.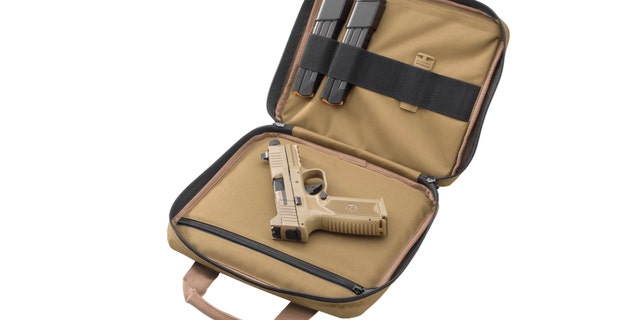 FN's decision to make a model incorporating its excellent enhancements commercially available is also excellent news for those serving in law enforcement who can now leverage the advancements.
Those in the market for personal defense and home defense will also now have the opportunity to benefit from all the FN research and development to match the highest military standards for their family's protection and their own self-protection.
Here's a quick look at some of its standout features:
PODCAST: SOUTHERN HUNTER TURNED MARINE RECON SNIPER
FN 509 TACTICAL
The 9mm FN 509 Tactical weighs 27.9 ounces and comes in a tan or black color. When rapid follow-up shots are necessary in tough conditions, FN has integrated an enhanced grip texture.
'TERMINATOR' TANKS WITH 'INVISIBILITY' CLOAKING WILL FIGHT FUTURE WARS

For law enforcement, self-defense and home defense, racking the slide against a boot, belt, ground, or other expedient hard surfaces may prove necessary. This model has raised sight wings on the slide cap that could prove very handy in tight situations where the user needs to shoot one-handed, for example.
Overall, this double-action handgun's length is 7.9 inches with a 4.5-inch cold hammer-forged, stainless-steel threaded barrel and recessed target crown. The polymer construction incorporates a replaceable steel frame and slide rails.
One of the key differences to the standard FN 509 is the extended slide release.
The handgun utilizes a striker-fired autoloader and users will find a trigger pull of 5.5 to 7.5 pounds. To tailor the handgrip size, this handgun has the flexibility to change up the backstrap.
PODCAST: MASTER CLASS IN TACTICAL SHOOTING WITH DELTA LEGEND MIKE PANNONE
GETTING TACTICAL
Compatible with many 9mm suppressors, it incorporates an O ring approach.
The night sights are suppressor height and the optics mounting system is specially designed to be low profile.
NEW US NUCLEAR BOMBS AND FUTURISTIC STEALTH AIRCRAFT TO PROVIDE MIND-BOGGLING MILITARY MIGHT

So what about optics? The handgun is compatible with more than ten commercially-available miniature red dot optics.
A MIL-STD-1913 accessory mounting rail is incorporated into the design and provides heaps of opportunity to further enhance the weapon for specific tactical requirements.
The magazine capacity is excellent and another key enhancement. The FN 509 Tactical can take magazines up to 24-rounds and also handily features a loaded chamber indicator. The standard FN 509 takes fewer rounds (10 or 17 magazines).
Both the slide stop lever and magazine release are ambidextrous, providing more operating flexibility in tactical situations and for general users.
For the range, users have the option of training with lighter rounds using a different spring strength.
The FN 509 Tactical is available for $1,049 and the standard FN 509 for $649.