Like water for phones: Best waterproof phones tested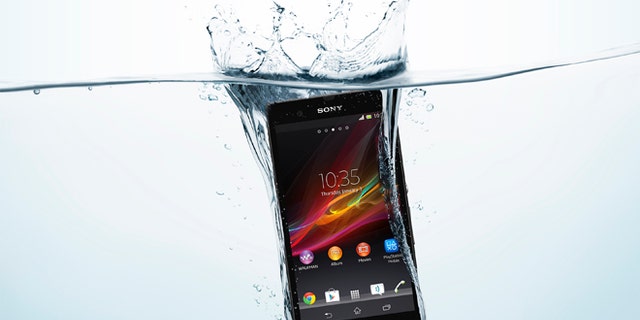 Like oil, electronics don't mix well with water.
But a growing array of smartphones is designed to handle the rough and tumble realities of people using their handsets on the beach and in the bathroom. And thank goodness for that.
You may never drop your phone down the toilet or have a clumsy bar mate spill a pint of Guinness on your phone, but I'm betting you know someone to whom this has happened. As insurance against such mishaps, a rugged or water-resistant model makes sense. None of the Android 4G LTE models here is water proof in the sense of being able to go on regular scuba sorties, but they'll all take a licking and keep on ticking.
Samsung Galaxy S4 Active, $200 (AT&T)
One needn't give up cutting-edge smartphone smarts to get a model that resists the elements. To wit, the Active version of Samsung's Galaxy S4. This phone has nearly all of the features of the regular model, including a quad-core processor, a high-definition 5-inch screen, face recognition, and "air view," which senses when a finger is hovering over the screen. The major differences are that the Active model has an 8-megapixel camera (versus 13), raised command buttons, and is slightly thicker and heavier (less than three quarters of an ounce) than the standard model. It's also only available from AT&T at the moment.
With the ports plugged, the Active can handle about 3 feet of water for about 30 minutes. I didn't hold it under for that long, and used only fresh water (salt water and chlorine are usually not recommended). Everything worked after the dunking, even the short, under-water video I recorded using the phone's Aqua mode was fine, if not exactly an artistic success.
Kyocera Hydro Xtrm, $30 (U.S. Cellular)
Kyocera may no longer be a household name in the U.S. but the company has been building water-resistant phones for years. Like the Samsung Active model, the Hydro Xtrm bears no overt markings that it is a special, rugged design (there isn't even a plug to cover the USB port). Perfect for budget conscious buyers, the Hydro Xtrm has a less powerful dual-core processor, lower resolution 4-inch screen, and 5-megapixel rear camera.
The phone is well able to handle all the typical smartphone tasks, however, and it has one interesting technology: a Smart Sonic Receiver. This essentially turns the whole screen into a vibrating transducer (in other words, it becomes a speaker). It actually improves audio clarity and means you don't have to keep shifting the phone to find the speaker-to-ear sweet spot. Slap it on the side of your head and you'll hear just fine. Furthermore, it's rated for the same dunking abilities as the Samsung model, and it meets the Military Standard 810G spec for withstanding multiple drops. I didn't toss the phone around very much, but I did leave it in the tub for more than an hour (I got distracted). The Hydro was none the worse for the water.
Casio G'zOne Commando, $100 (Verizon)
If there's a sportsman's smartphone, the Casio G'zOne is it. With design highlights reminiscent of walkie talkies and GPS locators, the G'zOne has a rubber bumper and exposed screws. The phone has all the requisite smartphone features, including a dual-core processor, 4-inch touch screen, 8-megapixel rear camera, and global roaming capabilities.
You can't operate it in the arctic with mittens on, but you can check messages and make phone calls wearing a thin pair of gloves thanks to a glove mode app. There are also several outdoorsy Casio apps, including the G'zWorld app for geotagging fanatics. The Commando is water resistant like the Samsung, and shock resistant like the Kyocera. It also complies with military specs for enduring salt water spray for 24 hours and dusty environs. I didn't have a chance to take it to the beach or to the Sahara, but the phone did survive my bathtub test.
NEC Terrain, $100 (AT&T)
NEC's rugged phone exudes military machismo, and it matches the Military Standard 810G endurance abilities of the Casio phone. It also has a dual-core processor and a 5-megapixel rear camera. On the downside, it's running an older version of Google's Android software, and it has a comparatively tiny 3.1-inch screen. So this phone isn't for Instagram addicts or Angry Bird fans. The big attractions here are the physical QWERTY keypad and push-to-talk feature (complimented by a pair of loud, front-facing speakers).
Mobile technicians, construction pros, and anyone else who has to juggle multiple clients out in the open will welcome these features. Being able to drop it in a bucket of water or off the back of a truck is an added bonus.
Follow John R. Quain on Twitter @jqontech or find more tech coverage at J-Q.com.