Kill the gag order on NSA's spying, Microsoft asks Attorney General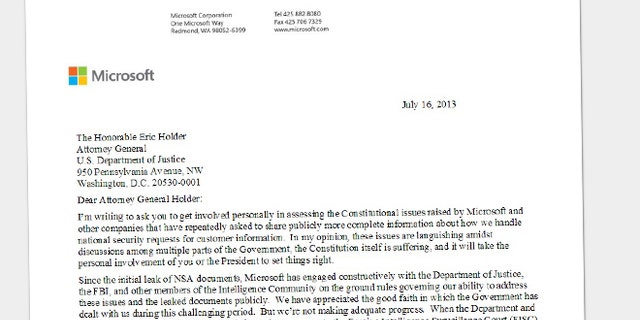 Microsoft sent a letter to attorney general Eric Holder on Tuesday asking him to personally lift at least part of the gag order preventing the company from talking discussing many aspects of the government's secret spy programs.
Called Prism and revealed by whistleblower Edward Snowden last month, the government's mammoth spy program collects data from telephone calls, emails, video conferencing and more from a number of top Internet companies, also including Google, Yahoo, Facebook and others.
In the letter, Microsoft's top lawyer says the incredible secrecy prevents the company from telling the truth about the program -- to the detriment of America itself.
[pullquote]
"The Constitution itself is suffering, and it will take the personal involvement of you or the President to set things right," wrote Brad Smith, general counsel and executive vice president at Microsoft.
"I'm writing to ask you to get involved personally in assessing the Constitutional issues raised by Microsoft and other companies that have repeatedly asked to share publicly more complete information about how we handle national security requests for customer information," the letter says.
The company told FoxNews.com Smith was not available for an interview on the topic. But in a blog post detailing the letter, Smith stressed that Microsoft has resisted the government where it could: It does not provide the government with direct access to its servers and it did not give the government keys to its encryption.
There have been some cracks in the secrecy recently: On Monday a court ruled in favor of Yahoo, demanding that the Department of Justice reveal classified documents from 2008 that prove the company fought back against the layers of secrecy.
&quotThe Government shall conduct a declassification review of this Court's Memorandum Opinion of [Yahoo's case] and the legal briefs submitted by the parties to this Court,&quot the ruling reads. The Department of Justice has two weeks to estimate how long it'll take to declassify the documents and can still redact the parts it finds contains classified information.
In mid-June, Google's chief legal officer told FoxNews.com his company had sent a similar letter to Holder.
"A serious misperception has been created in the wake of the disclosures around the Verizon national security order, around phone records as well as the disclosures about the so-called PRISM program," Drummond told Fox News.