IPhone users are more vain than Android users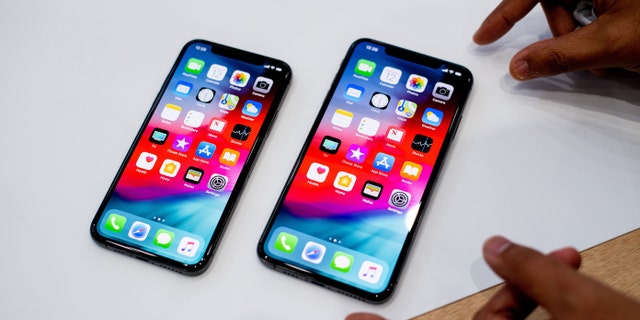 You're so vain, you probably think this survey is about you.
A new survey shows that iPhone users make more money and can be considered more spendthrift than their Android counterparts, but they are also more image-conscious.
Conducted by Slickdeals, the survey shows that iPhone users make on average, $53,251 per year, compared to $37,040 for Android users. That difference in income gets spent on a wide variety of image and beauty-related products, including $117.13 per month on clothing, $100.88 per month on technology and $82.71 per month on beauty/cosmetic products.
APPLE SHOWS OFF NEW MACS, IPADS IN MASSIVE UPDATE
By comparison, Android users spend $62.36 per month on clothing, $50.83 per month on technology and $40.40 per month on beauty/cosmetic products.
"This survey indicates that Android users are generally more frugal than their iPhone counterparts, and on the hunt for savings when shopping," Slickdeals CEO Josh Meyers said in a statement. Meanwhile, iPhone users tend to spend more, particularly on items related to self-image such as clothing and cosmetics."
The difference in spending habits doesn't stop there though: the survey, which interviewed 1,000 iPhone users and 1,000 Android users, shows that iPhone users would rather spend their weekend nights "out and about with friends," while Android users prefer to be "curled up on the couch watching TV/movie or reading a book."
iPhone users also take more leisure trips per year, taking 4 on average, compared to 3 for Android users.
Aside from the differences in spending habits, iPhone users use and consume media in vastly different ways, perhaps tied to their higher spending on beauty and cosmetic products.
Those who have iPhones take 12 selfies per day on average, compared to 7 for Android users. They also send 58 texts per day and spend, on average, 4 hours and 54 minutes looking at their phone; Android users send 26 texts a day and spend just 3 hours, 42 minutes a day looking at their phone, on average.
APPLE REVEALS SECRET IPHONE SECURITY TRICKS YOU NEVER KNEW EXISTED
TV shows such as "Game of Thrones," "Grey's Anatomy," "Friends" and "The Walking Dead" tend to be favorites among iPhone users, while Android users prefer "NCIS," "Law & Order" and "SNL."
"Overall, we've seen a rapid shift from desktop to mobile shopping for consumers," said Meyers. "With people spending at least five hours a day on their phone, continued migration towards mobile seems almost inevitable."
Though smartphone usage has been linked to depression in the past, it appears as if iPhone users are "generally happier than Android users," according to the study. That may be attributed "to the fact that iPhone and Android users generally appreciate different things and have contrasting personality traits."
One thing the survey did not mention? Whether Warren Beatty has iPhone or Android.
Follow Chris Ciaccia on Twitter @Chris_Ciaccia