Google gets empty chair treatment at Senate Intel hearing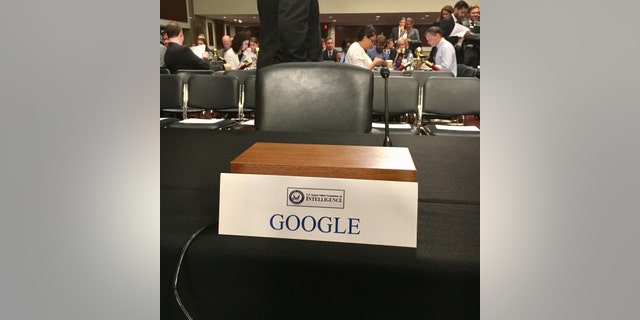 Google was given "the empty chair treatment" at the Senate Intelligence Committee hearing on Wednesday, a sign lawmakers are fuming that neither CEO Sundar Pichai or Larry Page, chairman of parent company Alphabet, chose to attend the event to discuss election interference.
Instead of Pichai or Page, Mountain View, Calif.-based Google offered its top lawyer, Kent Walker, to the committee, an offer that was declined. Facebook sent its Chief Operating Officer Sheryl Sandberg and Twitter sent its CEO Jack Dorsey.
REPORT REVEALS GOOGLE IS TRACKING YOU IF YOU LIKE IT OR NOT
Alphabet is the holding company, founded in 2015, that holds Google, along with several other businesses, including autonomous cars.
Lawmakers are unhappy
News of a "empty chair treatment" first emerged when Sen. Mark Warner (D.-Va.) told CNBC last week it could be a possibility.
"Chances are there's going to be an empty chair there," Sen. Warner told the financial news outlet last week. "I think there will be a lot more questions raised that could have been actually dealt with if they sent a senior decision-maker and not simply their counsel."
In his opening statement, Warner again expressed his dismay that Google did not send its top executives.
"I'm deeply disappointed that Google – one of the most influential digital platforms in the world – chose not to send its own top corporate leadership to engage this committee," Warner said.
Warner continued: "I know our members have a series of difficult questions about structural vulnerabilities on a number of Google's platforms that we will need answered. From Google Search, which continues to have problems surfacing absurd conspiracies….To YouTube, where Russian-backed disinformation agents promoted hundreds of divisive videos….To Gmail, where state-sponsored operatives attempt countless hacking attempts, Google has an immense responsibility in this space. Given its size and influence, I would have thought the leadership at Google would want to demonstrate how seriously it takes these challenges and to lead this important public discussion."
Google did not respond to Fox News' request on Pichai or Page's whereabouts. It did however offer a statement, noting that over the past 18 months, it has met with "dozens of Committee Members and briefed major Congreessional Committees numerous times" on its work to prevent foreign interference in U.S. elections.
A Google spokesman said that Walker, its SVP of Global Affairs and Chief Legal Officer, is in Washington D.C. today to deliver "written testimony, brief Members of Congress on our work and answer any questions they have," before adding the company understood Walker would be "an appropriate witness for this hearing" when it discussed this in late July.
Senate Intelligence Committee Chairman Richard Burr said Tuesday that Google doesn't "understand the problem" if it doesn't want to work with the government to find solutions.
HOW TO FIND AND DELETE WHERE GOOGLE KNOWS YOU'VE BEEN
Google's rocky relationship with Washington
The back-and-forth with Google is the latest in a year's worth of attempts by Congress to force the companies to focus more sharply on the Russian interference issue. While Burr says he believes Facebook and Twitter do understand the problem, it took both companies several months last year to acknowledge they had been manipulated.
It also underscores how difficult the problem may be to solve. While the companies have made many changes around their policies and have caught and banned hordes of malicious accounts over the past year, their business models — free services that rely on attracting as many users as possible for as long as possible and finding out as much about them as possible — remain the same. Some critics have charged that unless they change this, they will continue to contend with bad actors taking advantage of their systems.
The company has come under pressure from lawmakers on both sides of the aisle in recent weeks. President Trump also accused the tech giant of snubbing his State of the Union address.
Google refuted the accusation that it snubbed his State of the Union address after years of promoting President Obama's addresses.
"On January 30 2018, we highlighted the livestream of President Trump's State of the Union on the google.com homepage," a Google spokesperson told Fox News. "We have historically not promoted the first address to Congress by a new President, which is technically not a State of the Union address. As a result, we didn't include a promotion on google.com for this address in either 2009 or 2017."
GOOGLE IS FINED $5B BY EU IN ANDROID ANTITRUST CASE
A widely circulated screenshot from the Internet Archive's Wayback Machine shows Google's promotion of President Trump's 2018 State of the Union address dated Jan. 31, 2018. On Twitter, @WrockBro said that the date discrepancy is because the Wayback Machine follows GMT.
Trump's 2018 State of the Union address began at 9:15 p.m. ET on Jan 30, which was 2:10 a.m. GMT on Jan 31.
The Internet Archive's Wayback Machine documents more than 336 billion Web pages.
The claims were made in a 24-second video posted on Twitter by Trump on Wednesday. The president also tweeted the hashtag "#StopTheBias."
Last month, the president said Google and other tech companies are "treading on very, very troubled territory." Trump's chief economic advisor, Larry Kudlow, also said the administration is looking at "regulating" Google.
The company has also come under pressure from human rights groups, as well as its own employees about a potential search engine in China, which would be censored to the needs of the Chinese government.
This story has been updated to include Google's response.
Fox News' Kristin Brown, James Rogers, Chad Pergram and the Associated Press contributed to this report. Follow Chris Ciaccia on Twitter @Chris_Ciaccia