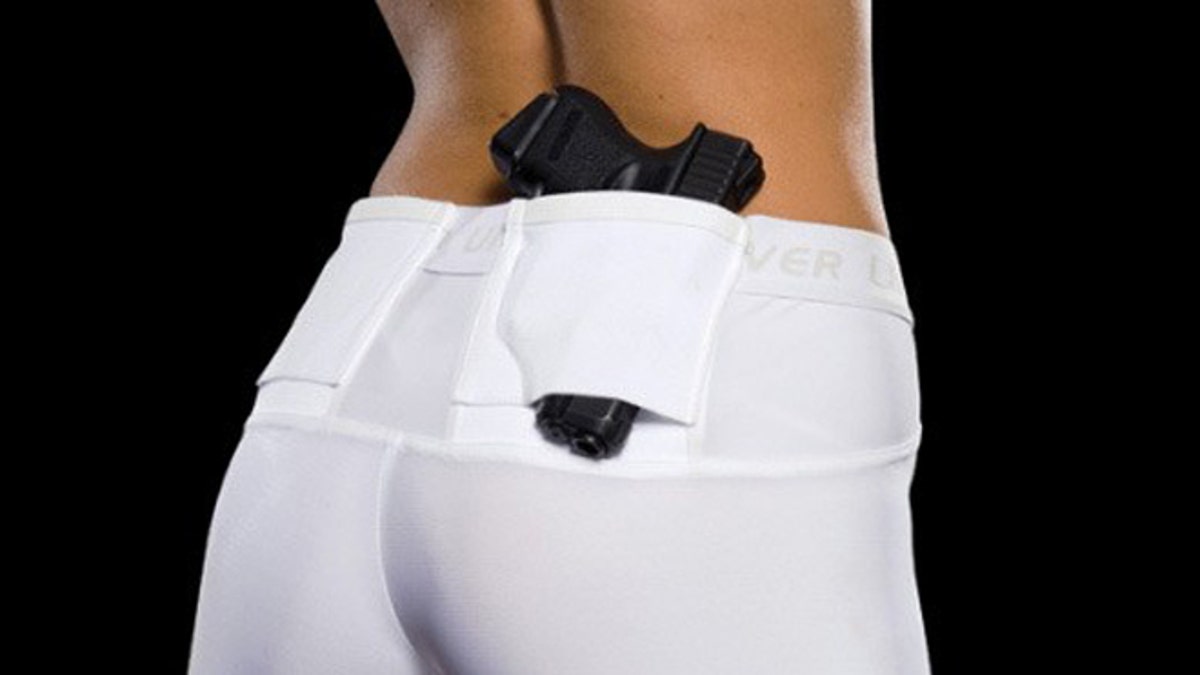 Standard concealed carry of weapons isn't always practical -- and this year's SHOT show brought a range of alternatives to keep a low profile.
From Jan. 14 through 17, more than 60,000 industry professionals convened in Las Vegas for the 36th Shooting, Hunting and Outdoor Trade Show (SHOT Show). It's the world's largest gun show, with over 12.5 miles of weapons, and more than 1,600 exhibitors are showcasing their latest and greatest.
And some of what they showed was meant to be hidden.
Revolvers hidden in the handles of briefcases, ladies handbags, going Storm Grey, cutting-edge suppressors -- they're all meant to keep your weapon status on the QT. There were heaps of traditional concealed carry methods at the 2014 SHOT Show, but for those looking for holster-less options, here are a few that had attendees talking.
The not-so-boring briefcase
For those shopping for stuff you would find in James Bond's Q's workshop, K-Var Corp. had some solutions.
Need to carry a briefcase AND a firearm? No problem. K-Var's solution is a briefcase with a revolver concealed in the handle -- which is arguably more "Get Smart" than 007, but cool either way. This option is part of a very limited release of three guns in .22 short with five shots.
If bayonets are more your thing than briefcases, K-Var (a distributor for Arsenal Firearms) also has a revolver concealed within an M16 Bayonet. More of a fixed blade type? The third option in this line has the gun concealed within the fixed blade.
How does it work? By hiding the revolver's cylinder in the handle of the briefcase or knife. When the handle is opened and the cylinder loaded, the handle cocks the action with the trigger popping out from the handle.
Fully functional, all three are milled from a single piece of steel.
None of them have aiming mechanisms, however, as the company was quick to point out. If you're going to use a firearm built into your briefcase handle then you're probably at point blank range anyhow.
Good luck getting your hands on one, however: Only 19 will be released in total, and one of these one-off's sells for approximately $3,500.
Clutch in a clutch
If you're trying to conceal a weapon on your torso, then shoulder holsters that restrict what you can wear can be a big challenge for women.
Vendors responded to the growing women's market, bringing to SHOT Show a wider selection of compression garments and purses designed for concealed carry. Undertech Undercover's Bebe purse was getting a lot of attention from the ladies, for example.
The new Bebe is a compact leather clutch that can be used with jeans or that little black dress. In addition to your lipstick and whatnot, it's made to fit compact semiautomatic pistols and small-frame double-action revolvers.
The full-length zipper along the handbag's upper rear edge opens to a lined compartment with an elasticized holster and for added security it has a locking zipper.
Designed to keep a compact handgun available and quickly accessible for personal defense, it retails for about $180.
The Bebe was just one of a proliferation of handbags for women and for guys looking for a concealment man bag -- the selection wasn't nearly as good as for the ladies, in fact.
Conceal yourself
Some buyers were hunting the floors for smart methods to conceal weapons and themselves.
Tactical gear company 5.11's research led to an odd conclusion: Grey is the new black for the tactical world – and not just any grey. The company has gone with "storm grey" as the most effective to conceal an operator, and introduced a whole new Storm Grey collection with 18 pieces of clothes, gear and boots.
Coyote Tan, OD Green and Black tend to dominate the tactical color options on the SHOT Show floors, but working with professional customers 5.11 concluded that users found grey blended in better with certain terrains, notably urban.
Shirts, boots, chest rigs, plate carriers, gear covers and the Stryke pants will all be available. Cold weather options will become available as well.
Conceal your sound with silence: The suppressor
Keeping your weapon low profile when its in use requires some smart tech like the new Heckler & Koch/OSS silencer approach.
For many, mammoth Heckler & Koch's partnership with the smaller silencer newcomer OSS, or Operator Suppressor Systems, to provide a cutting-edge suppressor tech came as a surprise.
This move prompted a lot of curiosity traffic at the company's booth to investigate the MR762A1 and MR556A1 rifle with OSS's atypical suppressor design. Their Combined Technology Unit is rather different from the average bear CTU.
A modular system, each part with its own function, it can be easily disassembled and serviced.
Its over-the-barrel design, or reflex, provides signature reduction while keeping the overall length of the rifle as short as possible.
The suppressor has two main components: the Back Pressure Regulator, or BPR, and the Signature Reduction Module, or SRM. The BPR traps escaping gas, prevents it from re-entering the barrel and overgassing the rifle – meaning less wear on guns.
The SRM is an expansion chamber that is mounted forward of the back pressure regulator. Its baffles and end cap can be swapped out to have essentially a multi-caliber suppressor.
The OSS visual signature reducer flash hider can be mounted in front and the whole system mounts onto its unique muzzle device that redirects gas into the suppressor system.
Ballet dancer turned defense specialist Allison Barrie has traveled around the world covering the military, terrorism, weapons advancements and life on the front line. You can reach her at wargames@foxnews.com or follow her on Twitter @Allison_Barrie.