Top tactical stocking stuffers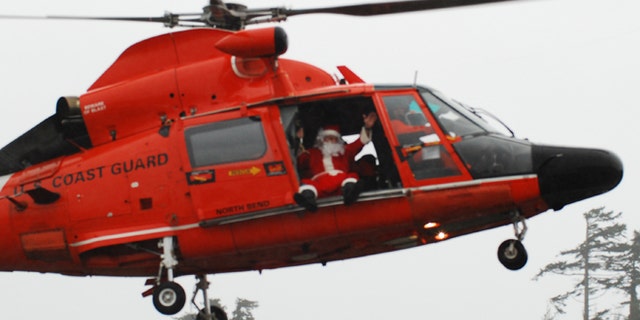 Looking for last-minute stocking stuffers for the military man or woman in your life?
From a spin on the traditional stocking to kits great for outdoor hunting over the holidays, here are some top picks for anyone who loves the outdoors.
Start with a Tactical Stocking
Nothing says "I love you" like a pair of . . . socks.
But don't rush to judgment: The new Arc'teryx Mattock Drysock takes socks to an entirely different level. Great for stocking-stuffing, it also makes a great tactical alternative to the traditional stocking for the mantle.
The Drysock is an integrated sock and gaiter that can be worn repeatedly inside a boot and is a great choice for wet terrain.
It has a fully windproof and waterproof all-in-one design and breathable GORE-TEX that protects feet in the worst of conditions, keeping moisture away from the skin and drying quickly.
For the military professional, the company recommends it for special reconnaissance; for the gift-giver, it's great for anyone who enjoys the outdoors.
It is available for $139 in sizes XS through XXL and comes in two colors: multicam and crocodile.
Something for Playing in the Snow
For many, Christmastime means snow and wet conditions. Rite in the Rain paper is an amazing all-American product that works in the snowiest of winters and makes a great stocking-stuffer.
Nothing says "I love you" like a pair of . . . socks.
Manufactured in Tacoma, Wash., since the 1920s, Rite in the Rain products can be found all over the world, in the hands of U.S. military personnel on operations and among teams on Indiana Jones-type expeditions.
The company's motto says it all: "Outdoor writing products for outdoor writing people."
Their paper products continue to work in extreme weather, resisting all the environmental factors that make normal paper pointless. Rain, sweat, grime and snow can't defeat their stuff.
For the holidays, a great $29.29 kit is available at riteintherain.com. It includes the Universal 3 x 5 Tactical Pocket Notebook, Black All Weather Pen and Tan Cordura fabric cover.
The spiral bound Tactical Pocket Notebook in tan is the global standard for tactical colored notebooks, and the kit's Cordura fabric cover has a rugged zipper closure and holds up to four pens or pencils.
A pencil works well on their paper, but this kit also includes all-weather pens that can write upside-down, and in temperatures from -30F to 250F, in the event you need to write something at 38 degrees above boiling.
Not only will it write easily on wet paper, the ink won't leak, evaporate or blow up in your pocket.
Christmas Lights
How about tucking some tactical light in a stocking and lighting up more than a tree this Christmas?
Gerber Legendary Blades created the Cortex Compact for tactical professionals and police officers.
Built in Portland, Ore., this flashlight is designed to be discreet and smart. Its practical design, with the option to run on a single Lithium CR123 battery or AA battery, means an operator can use any power source available.
For tactical applications, it includes a strobe mode, and its 125-lumen output can momentarily blind an aggressor's night-adapted vision.
It weighs only 2.12 ounces, so it is light enough to carry anytime. It's available for $82 at Gerber Legendary Blades.
Showing Weapons some Christmas Spirit
FrogLube is perfect for go bags, gun cases AND Christmas stockings.
You need your gun to work, and that means you need to take care of it.
Whether you are stuffing a stocking for someone whose daily job requires going into harm's way, or for someone who has invested in a quality weapon, FrogLube is a great choice.
A $29.99 FrogLube ClamShell startup kit contains an ounce of FrogLube Solvent, one and a half ounces of FrogLube CLP Squeeze Tube, and a brush.
The biodegradable lubricant, cleaner and protectant doesn't contain any petroleum or water, and it dissolves carbon on contact. Designed with natural ingredients, it reduces residue, is non-flammable and the company says it improves accuracy.
It also features a nice, non-toxic, fresh minty smell, meaning you won't have to endure unpleasant fumes.
Spec Ops proven, FrogLube will give your weapon many years of extended service.
Ballet dancer turned defense specialist Allison Barrie has traveled around the world covering the military, terrorism, weapons advancements and life on the front line. You can reach her at wargames@foxnews.com or follow her on Twitter @Allison_Barrie.