Amazon is the latest big tech company to face employee revolt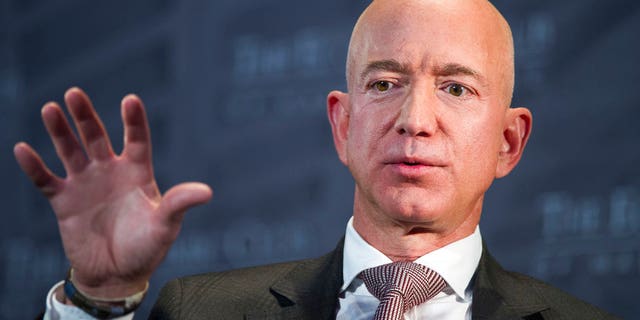 Workers at tech giants are beginning to take action when they don't like what their powerful employers are up to.
This week, Amazon employees reportedly are looking to force chief executive Jeff Bezos to address the company's controversial sale of facial recognition technology to law enforcement agencies, including ICE.
The plan, according to emails viewed by Recode, is to flood the digital question box at Amazon's semiannual all-hands meeting with so many queries that it will be impossible for Bezos to ignore.
"We think that if enough people submit questions, there is a greater chance we can hold leadership accountable," an employee activist wrote in an email.
The aggressive ploy comes on the heels of recent upheavals at Google and Facebook, where workers are showing an increasing willingness to speak up — particularly when it comes to big issues plaguing Silicon Valley, including sexism, political controversies and the consequences of aggressive growth.
"Talented tech workers are a hot commodity, and I think they have power. I'm glad to see them beginning to use it," says Cindy Cohn, executive director of the Electronic Frontier Foundation, a nonprofit group that defends free speech online.
"I think that these tech workers are pointing out that these tech companies may have lost their way a bit in terms of their commitment to building things that make the world better," Cohn said.
Last week, more than 20,000 Google employees staged a worldwide walkout to protest fat severance packages the search giant reportedly gave to execs despite sexual misconduct allegations. While workers were mostly tight-lipped at the event, a few signaled that it was about more than just sexual harassment.
"Sexual misconduct is kind of the tip of the iceberg of the things that women deal with in a work environment where they are a minority," said 25-year-old Google programmer Amelia Brunner. "I think that people will doubt my work a lot more than they will doubt a male colleague's."
Earlier in June, Google engineers signed a petition demanding their company end its work with the Pentagon's Project Maven, an artificial intelligence operation that analyzes drone footage.
Google announced soon after that it wouldn't seek additional work on the controversial project and that it will no longer use AI in applications related to weapons and surveillance that violate international norms or threaten human rights.
Meanwhile, Facebook's Mark Zuckerberg was grilled by the rank and file at a weekly Q&A last month after top executive Joel Kaplan was spotted sitting behind Brett Kavanaugh's family at the Supreme Court nominee's confirmation hearing.
Facebook, bowing to the pressure, said in response that it had "made mistakes" over Kaplan's appearance, which critics claimed looked like a show of support for Kavanaugh amid sexual assault accusations.
This story originally appeared in the New York Post.