Amazon met with ICE officials over facial-recognition system to identify immigrants
Amazon pitched its facial-recognition system to Immigration and Customs Enforcement (ICE) officials this summer as a way for the agency to target or identify immigrants, according to newly disclosed emails released this week.
The emails, which were first published by the Daily Beast, were revealed as part of a Freedom of Information Act request by the advocacy group Project on Government Oversight, show that officials from ICE and Amazon discussed using the tech giant's controversial Rekognition face-scanning platform to assist with homeland security work.
An Amazon Web Services official writes in one of the emails: "We are ready and willing to support the vital (Homeland Security Investigations) mission."
Amazon Web Services, which develops and sells cloud computing, told Fox News in a statement, "We participated with a number of other technology companies in technology 'boot camps' sponsored by McKinsey Company, where a number of technologies were discussed, including Rekognition." Amazon said it "followed up with customers who were interested in learning more about how to use our services (Immigration and Customs Enforcement was one of those organizations where there was follow-up discussion)."
On Wednesday, the ACLU filed a Freedom of Information Act request demanding that the Department of Homeland Security disclose if or how ICE plans to use Amazon's facial recognition technology.
GOOGLE BRINGS PRIVACY, DATA CONTROLS TO SEARCH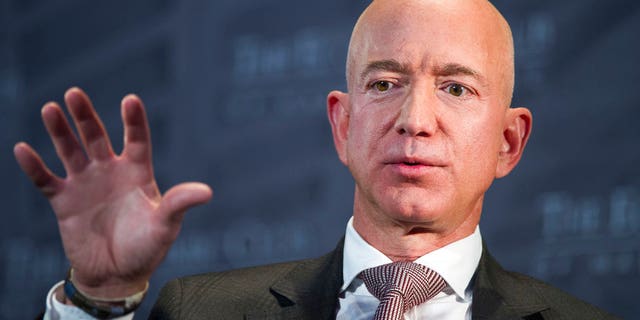 The revelation is the latest in a series of controversies roiling big tech, which, despite its longstanding ties to the U.S. government, is now seeing some of its employees revolt against any cooperation with ICE or the Department of Defense under the Trump administration.
A group of 450 Amazon employees signed a letter to CEO Jeff Bezos saying that its facial-recognition should not be used by police officers nationwide; 300 workers at Microsoft protested that company's $19.4 million contract with ICE; and Google has faced intense pressure from some employees over its planned censored Chinese search engine, Dragonfly, and its artificial intelligence work on a Defense Department initiative known as Project Maven.
F-35 COMBAT MISSIONS NOW HAVE OPERATIONAL 'THREAT LIBRARY' OF MISSION DATA FILES
"If they have this technology, I can see it being used in any way they think will help them increase the numbers of detentions, apprehensions, and removals," Alonzo Peña, who served as deputy director of ICE and was previously special agent-in-charge of its field offices in San Antonio, Phoenix and Houston, told the Daily Beast. Possible abuse "should be an area of concern, given this new technology—there's potential for its use to be very widespread."
Meanwhile, ICE spokesman Matthew Bourke told The Post that the immigration enforcement agency "may use various investigative techniques and technological tools to accomplish its mission to protect the United States from cross-border crimes and illegal immigration that threaten national security and public safety."
Bezos defended his company's cooperation with the U.S. government, telling a tech conference gathering recently that "we are in big trouble" if tech companies turn their back on the Pentagon, adding: "This is a great country, and it does need to be defended."