1970s quarter selling for thousands on eBay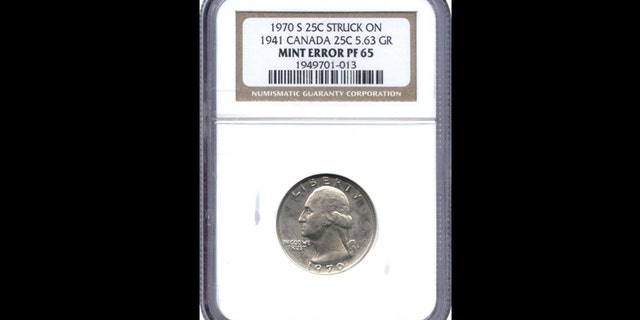 An eBay sale of a 1970 US quarter may at first glance appear routine, but a closer look reveals what its seller calls "one of the most fascinating and intriguing proof mint errors ever discovered"—and a sky-high price to match.
Woman's World says AOL.com first brought notice to this nusismatist's dream, a 46-year-old US coin that was actually formed over a 1941 Canadian quarter. Eagle eyes will spot a faint upside-down "1941" mark on the back of the quarter, right above where the word "dollar" appears; a blown-up photo on the eBay page points out the hard-to-see 1941.
Mike Byers, the eBay seller who's trying to dump the coin (and an expert at finding such currency flaws), reveals the backstory for this particular sample, which he has listed on eBay for $35,000.
His terms of sale explain he "sometimes" accepts offers below list, though it depends on whether it is a unique piece, as he elsewhere asserts this coin is.
It turns out the 1941-turned-1970 quarter was part of a collection containing a small group of press mistakes, originally checked out and released by the Secret Service to the state of California, which then auctioned off the entire collection.
But while Country Living encourages everyone to rummage through their couch cushions and piggy banks in the hopes of finding a coin like this, the website Snopes suggests that would be a wasted effort: It confirms the odd quarter to be legit, but notes that as a "proof" coin, it never entered circulation.
It's not clear why the quarter was struck over a Canadian one in the first place. More typical mistakes often include off-center and double-strike samples—when a planchet (the round metal disk that's struck to become a coin) doesn't eject properly and gets struck more than once.
(Uzbekistan boasts the world's least valuable coin—worth just 1/1999th of a penny.)
This article originally appeared on Newser: 1970 Quarter Selling for Thousands on eBay
More From Newser