World Series: Pujols Miscue Hurts St. Louis Cardinals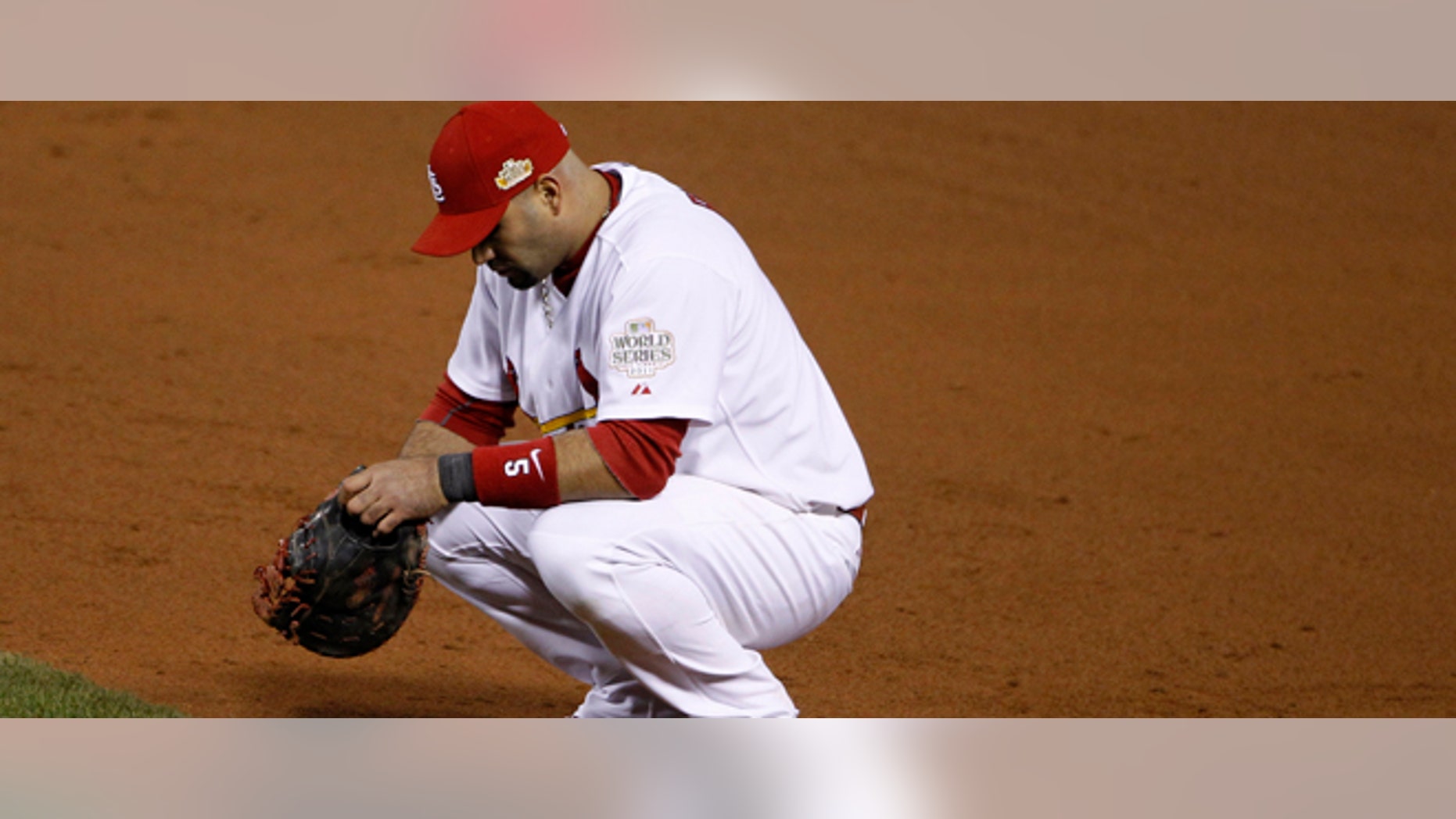 The St. Louis Cardinals couldn't hold a ninth inning lead falling victim to the Texas Rangers' two-run rally for a 2-1 victory Thursday night that evened the World Series at a game apiece.
Jason Motte faltered for the first time in the postseason. Albert Pujols closed his glove on air.
"It stings," Motte said. "But that's the way the game is. We'll be ready to go."
Before the ninth, nearly everything had gone right for the wild-card Cardinals in the postseason. The last inning was way too messy, ending the team's remarkable run of 15 consecutive victories on getaway day accompanied by onfield celebrations of "Happy Flight! Happy Flight!"
But players weren't fretting too much about one that got away.
"That's OK, baseball is like that," shortstop Rafael Furcal said. "You've got to get 27 outs and everybody knows they've got a pretty good team.
"We lost already and we don't have to think about this game any more."
Motte, who had allowed only one hit in nine postseason innings, was yanked after allowing two hits and a steal to open the ninth. The Rangers had runners on second and third with none out after an error by Pujols, a two-time Gold Glove first baseman.
Pujols failed to make the catch on center fielder Jon Jay's relay after Elvis Andrus singled, and when the ball got away Andrus took second. A pair of sacrifice flies by Josh Hamilton off Arthur Rhodes and by Michael Young off Lance Lynn put the Rangers in front.
It was a rare postseason failure by the St. Louis bullpen, which had given up just four runs in 31 2-3 innings since the start of the NLCS. They'll try not to dwell on it.
"We've got a day off tomorrow, just blow it off," Rhodes said. "Everybody keeps their heads up, we've got some more games to go in Texas."
Pujols left Busch Stadium without speaking to reporters. Manager Tony La Russa said he didn't get a good view of the play from the dugout, but remembered Pujols talking with catcher Yadier Molina afterward.
"He's a heady player and obviously we don't want the lead runner — the back runner — to go to second base," La Russa said. "I don't know exactly what happened there but that was an important extra base."
Jay said his throw could have been better but also said it was important to "get rid of it quick. "It just tailed a little bit, I mean, it was inches," Jay added. "So it was just the way it went."
Was Pujols correctly lined up? "I don't know," Jay said. "It all happened so fast."
La Russa has steadfastly refused to designate Motte the Cardinals' closer but made it clear that Motte remains his ninth-inning guy.
"I know that if we get the lead on Saturday, he'll be 100 percent ready to go," the manager said. "He caught a tough break, which is baseball.
"Next time they'll hit a line drive right at somebody and we'll get an out."
The ninth spoiled a stellar performance from Jaime Garcia, the 25-year-old lefty who's a lot more comfortable on the Busch Stadium mound than on the road.
"He's done that for us a bunch of times his first two years, but you could have considered this situation and these circumstances," La Russa said. "That's huge for us, and for him."
Garcia had seven strikeouts and outdueled Colby Lewis for seven innings of three-hit ball, totally taming the Rangers' big bats and setting the stage another big pinch hit from Allen Craig. Garcia has a 1.93 ERA in three home starts in the playoffs, and allowed six runs in four innings in his lone road appearance.
Garcia was a 14-game winner and finished third in the NL rookie of year balloting last season and the sophomore season was almost as good, moving the Cardinals to sign him to a four-year contract in June. He's the first Mexican-born pitcher to start in the World Series since the Dodgers' Fernando Valenzuela in 1981.
Based on reporting by the Associated Press.
Follow us on twitter.com/foxnewslatino
Like us at facebook.com/foxnewslatino