World Cup 2014: Argentina Team Profile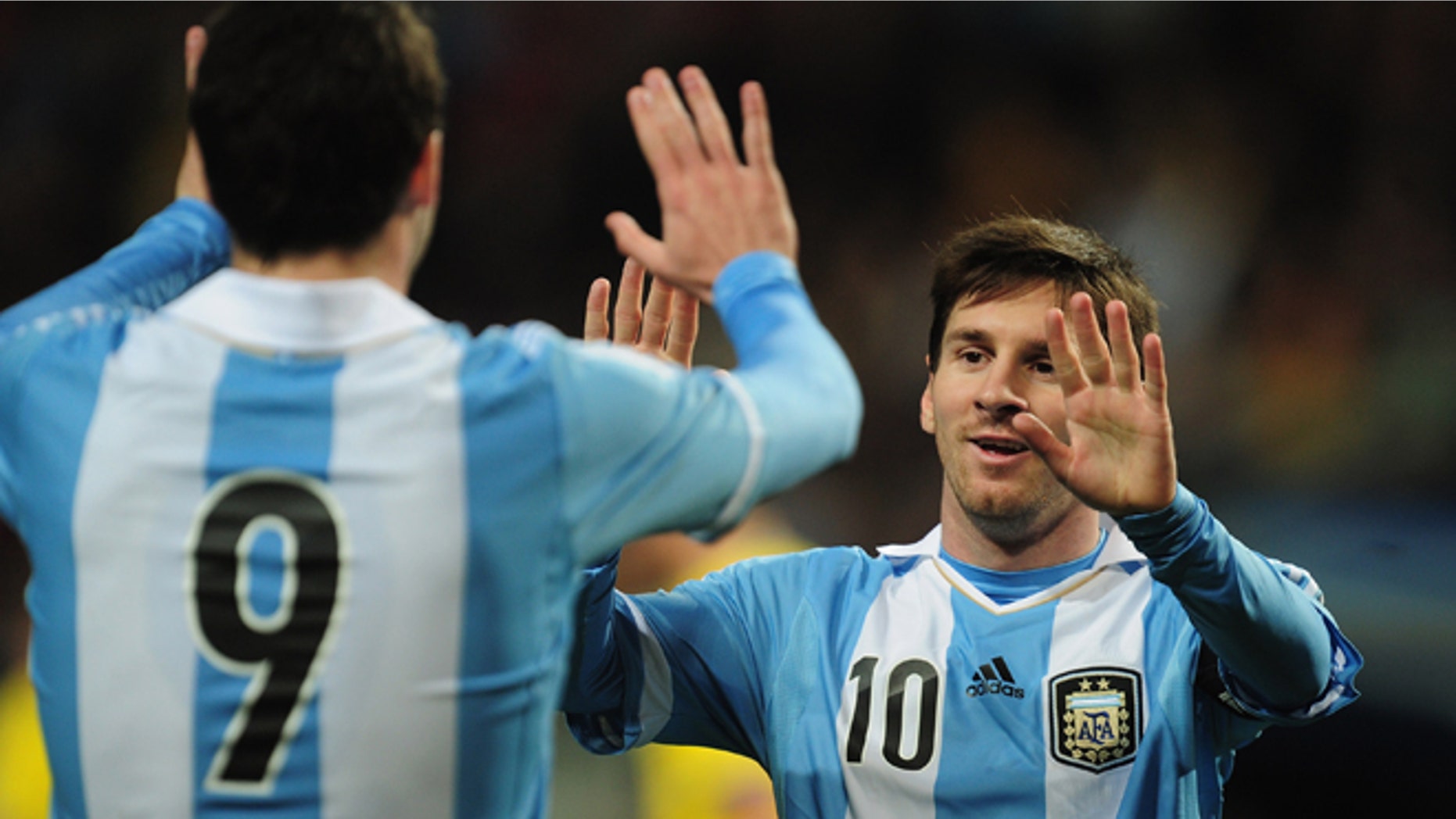 A perennial favorite since the playing days of the great Maradona, Argentina has not lived up to its hype since it claimed the World Cup in 1986 in Mexico. But that hasn't diminished the quadrennial expectations of every fan of los Albicelestes.
Maybe this year Argentina can make good on that hope.
Arguably the best player in the world – and some say of all-time – Lionel Messi is both seasoned enough and still young enough to have the World Cup he's hoped for, rather than those less-than-stellar appearances of 2006 and 2010. Adding to the team's chance is a star-studded lineup that features attackers Sergio Agüero and Gonzalo Higuaín.
Los Albicelestes present an almost unlimited number of worries for defenders.
After quarterfinal exits in Germany in 2006 and South Africa in 2010, Argentina – and its fans – not doubt expect a better showing in Brazil. A lot will depend on whether or not Messi can find the back of the net consistently.
Players to Watch
Lionel Messi: If the Messi who plays on Barcelona shows up in Brazil, he will not only be a player to watch but the player to watch. The pint-sized powerhouse has won four FIFA Ballon d'Or awards and helped his club win two Champion's League titles, but so far has yet to make an impression at the World Cup – something he will surely want to rectify in Brazil.
Gonzalo Higuaín: Playing the to Messi's Batman, the French-born Higuaín will need to continue the offensive output he had in qualifying (scoring nine goals to Messi's 10). The 26-year-old Napoli player is a fast and lethal finisher who has scored 21 goals in 36 appearances for Argentina.
Sergio Agüero: The 27-year old striker limped off field in early May during a game with his club team, Manchester City, causing small heart attacks in all of Argentina. Agüero struggled with hamstring injuries all season, but still managed to score 28 goals in 33 appearances for City, and it's being reported that he's close to full strength. Good news for the Albiceleste.
Angel di María: The attacking midfielder shined brightest at the recent Champions League final between Real Madrid and Atlético Madrid. It was his blazingly fast run up the left-hand side of the pitch and shot that ricocheted off the hands of Atlético keeper, Thibaut Courtois, and straigh to the head of Gareth Bale for the winning score.
Javier Mascherano: The 29-year-old holding midfielder will anchor the Argentinian defense, which, let's face it, is the big question mark for the team. Some of the stalwarts of the Albiceleste's back line – Hugo Campagnaro, Martín Demichelis – are aging quickly. Others were never that great. Sabella may be forced to drop the Barcelona standout back to center-back to keep opponents from scoring.
Coach
Alejandro Sabella: The last manager in a long line of controversial choices, Sabella has neither the big-time name recognition of some of his predecessors (remember the infamous Maradona freak show of 2010?) nor the technical résumé of others, but that may be a good thing for a nation that's becoming accustomed to falling short of high expectations. Sabella has spent time with club teams in Brazil, Italy, Mexico and Uruguay, but as a head coach, he has had most success with Argentina's Estudiantes de La Plata, which he led to a Copa Libertadores title in 2009.
His record with the Argentinian squad since July 2011 is not exceptional, but neither is it terrible – the team has won around 60 percent of its games (19-4-9). Possibly the best thing about Sabella? He ain't Maradona.
Group
If los Albicelestes doesn't make it out of group play, it would be a national tragedy. Drawn into one of the easiest groups in the World Cup, Group F, the main challenge for the Argentinians will be a familiar opponent, Nigeria. Messi and the Super Eagles' midfielder, John Obi Mikel, have done battle at three major competitions at different levels: the U-20 final in the Netherlands in 2005, the Olympic gold medal match in Beijing in 2008 and during the group phase in South Africa in 2010. Argentina prevailed all three times. Besides Nigeria, if Argentina doesn't make any gross errors and Messi remembers how to dribble a soccer ball, the matches against Iran and Bosnia and Herzegovina should foregone conclusions.
Quirk
Argentina's World Cup record fits perfectly into the hemispheric advantage. The two Cups they were on this side of the Atlantic (in 1978 on their home turf and in 1986 in Mexico). So with the return to the Americas, history could once again smile on los Albicelestes.
Schedule
v. Bosnia and Herzegovina, Sun. June 15, 6 p.m., Rio de Janeiro
v. Iran, Sat. June 21, 12 p.m., Belo Horizonte
v. Nigeria, Weds. June 25, 12 p.m., Porto Alegre
All times Eastern 
Follow us on twitter.com/foxnewslatino
Like us at facebook.com/foxnewslatino