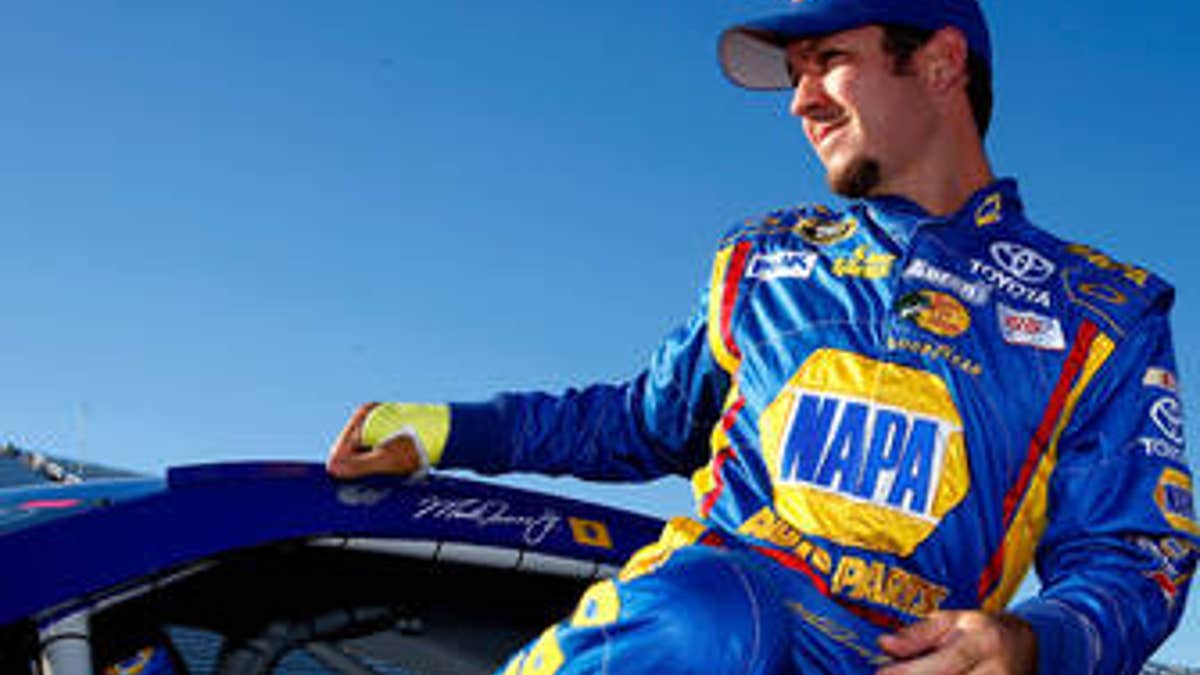 SHOULD I STAY OR SHOULD I GO? -- With long-time sponsor NAPA set to bolt at the end of the year, Martin Truex Jr. admitted Friday afternoon that he wasn't sure whether he'd be back for a fourth season with Michael Waltrip Racing next year.
"I don't know. It's just too early to tell," Truex said after qualifying fifth for the Sylvania 300 at New Hampshire Motor Speedway. "I wish I knew. This is not the time of year you want to find out that you really don't have a ride for next year."
NAPA announced Thursday that it was leaving MWR after just one year of a new three-year contract in the wake of the "Spingate" scandal at Richmond International Raceway two weeks earlier. Team owner Michael Waltrip said earlier in the day that his plan was to run three cars next year and find sponsorship for Truex's Toyota, but Waltrip added he wouldn't stand in Truex's way if he wanted to drive somewhere else.
ROCKET MAN RULES -- Nobody gets around New Hampshire Motor Speedway like Ryan Newman, at least not during qualifying. Newman, in his final season at Stewart-Haas Racing, won his 51st career NASCAR Sprint Cup and seventh at the 1.058-mile oval Friday afternoon. Newman's lap of 136.497 miles per hour was good enough to put him in the No. 1 starting spot -- and give him the critical first pit stall -- for Sunday's Sylvania 300 at NHMS.
And for the 16th time in 28 NASCAR Sprint Cup races this season, a new track record was set in qualifying, as the new Generation-6 cars continue to show great speed, with Newman leading the way.
Also breaking the track record were Hendrick Motorsports teammates Kasey Kahne and Jeff Gordon, who qualified at 135.434 mph and 133.806 mph, respectively, good enough for second and third. Kurt Busch and Martin Truex Jr. completed the top five. Among the other title contenders, points leader Matt Kenseth qualified ninth, with Jimmie Johnson 11th and Kyle Busch 12th.
The most bizarre moment of qualifying occurred when a right-front shock absorber broke on Josh Wise's Front Row Motorsports Ford as he was coming to take the green flag to start his run. The shock flew up through the sheetmetal of Wise's car, coming to rest on the track.
The last time Newman won the pole here was two years ago, when he went on to win the race.
"Everything about qualifying weighs in to having a better chance in the race with the pit selection and with track position to start and obviously knowing you have a fast race car," said Newman. "We will see what we can do with our Quicken Loans Chevrolet tomorrow in race trim. We have been in qualifying trim the entire day so I'm pretty sure and pretty confident we can make it all pay off."
KYLE COMING ON -- In years past, the Chase for the Sprint Cup has often proved daunting for Kyle Busch, but he comes into Loudon, N.H., trailing only his Joe Gibbs Racing teammate Matt Kenseth in the Sprint Cup points standings. Those two, along with five-time Cup champion Jimmie Johnson are the overwhelming championship favorites right now, even though the Chase is just getting started.
Although Busch and JGR appear to be at the top of their respective games right now, Busch said he's not ready to declare JGR the top team in the garage.
"I don't know. That's a tough question to ask," Busch said Friday morning at New Hampshire Motor Speedway. "I think this sport goes in circles all the time. You see a lot of teams that prosper and do really well and then they sort of go back on their down swing and sometimes you see them, they hit bottom or whatnot or if it's a circle graph or if it's a line graph you can always see it going up and down like a rollercoaster."
Busch said it's too early to make a definitive call. "I think it happens to every team and whether or not we're on top, I don't think that's an answer that can be written until after Homestead (Miami-Speedway)," he said of the final race of the year.
CREAM RISES TO THE TOP -- Not surprisingly, the top of the practice chart at New Hampshire Motor Speedway was heavily populated by drivers in the Chase for the Sprint Cup Friday afternoon. Kurt Busch set the fastest lap during the 90-minute session in advance of Sunday's Sylvania 300, as 11 of the top 13 drivers were title contenders. Busch ran 26 laps around the 1.058-mile oval during the 90-minutes session, with a best lap of 134.853 miles per hour.
Busch, a three-time New Hampshire winner, knows what it takes to get around here. "You cannot sacrifice short-run speed, and that's where I think our Furniture Row car got in trouble in the first race is that our car was a bit too vulnerable," Busch said earlier this week. "We couldn't be aggressive on restarts and we got spun around by (Matt) Kenseth, our championship leader, earlier this year. We have to protect our car better on short-run speed and still have that long-run speed in case it comes back to play."
The top four in practice at NHMS were all Chevrolets, with Kasey Kahne second at 134.477 mph, followed by Ryan Newman's Stewart-Haas Racing entry, and Kahne's Hendrick Motorsports Chevrolet teammate Jeff Gordon. Then came a pair of Joe Gibbs Racing Toyotas, with Kyle Busch fifth ahead of teammate Denny Hamlin, the fastest non-Chase driver in the field. Next was Joey Logano in the first Ford, out of the Penske Racing stables, and Kevin Harvick in a Richard Childress Racing Chevrolet.
The fastest eight drivers were all past New Hampshire winners, representing a total of 15 Sprint Cup victories here.
GAME ON -- After winning four of the first 18 races in the NASCAR Sprint Cup season, Jimmie Johnson is zero for the last nine. But the five-time series champion professed not to be worried now that the Chase for the Sprint Cup is here. Having won all of his championships in the Chase format, Johnson probably has a valid point.
"When you get to the Chase, at least my focal point, you can't look back on the regular season," said Johnson, who was 10th in the day's lone practice session prior to qualifying 11th. "It doesn't matter if you dominated it or if you've been behind. It's a 10-race stretch of it's own. With that in mind, I haven't won in a week. I finished fifth and had a shot to win last week. So, that's how you have to look at it, honestly."
For his career, Johnson has won 22 of 90 Chase races run since 2004, double the total of his closest competitor, Tony Stewart. And he's looking to add to those gaudy stats soon.
"I know that Dover, Martinsville, our performance on the plate tracks this year, and on 1.5-miles in general, I know there are very good opportunities for us ahead," said Johnson. "So, blinders on. Focus on the No. 48. Focus on what we need to do and not let the outside opinions or what goes on to be a distraction for us. We need to run our best 10. I honestly feel if we put together our 10 best races, we'll be in contention for the championship."