WATCH: Jordy Nelson surprises Packers fan at fantasy football draft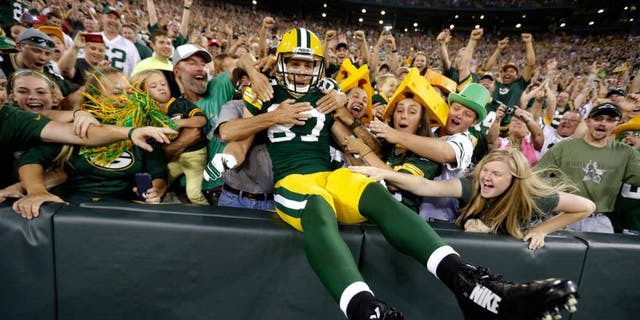 A lot of Green Bay Packers fans have had their heart broken by Jordy Nelson's season-ending knee injury. The Pro Bowl receiver made it up to one lucky fan, though, by showing up unexpectedly to his fantasy football draft party, according to Ben Krumholz of FOX 11 News.
Zac Casey's fantasy football league with his coworkers had their draft party at a Buffalo Wild Wings in Ashwaubenon, Wisconsin, last week. Nelson surprised Casey and helped him make his first five picks.
"Jordy was amazing," said Casey, per FOX 11 News. "He gave me awesome advice on players, a real personable guy, really, really awesome guy."
Nelson, who set career-high reception (98) and yardage (1,519) figures last season, says he'll come back from his torn ACL as a sleeper pick in 2016.
"We'll be maybe a little bit of a sleeper because people will be wondering, but we'll be back strong and ready to go and put up numbers," Nelson said, via FOX 11 News.
Watch Nelson make his surprise visit in the video player below.
(h/t FOX 11 News)