Warriors coach Steve Kerr isnt thinking about retirement despite health concerns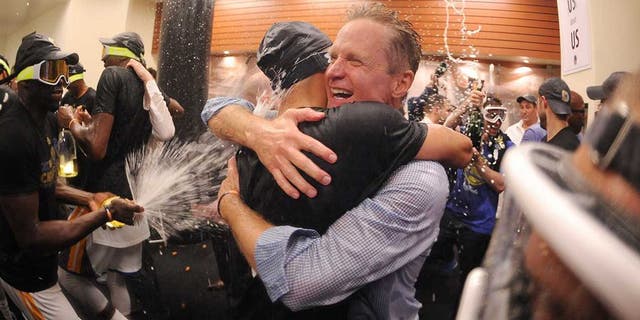 NEWYou can now listen to Fox News articles!
Despite missing a month of the Golden State Warriors playoff run this year due to complications from back surgery, head coach Steve Kerr isnt thinking about leaving the sideline any time soon.
Kerr told ESPN that hes planning to coach for a long time after guiding the Warriors to their second title in three years. The 51-year-old reigning NBA Coach of the Year sat out from the middle of the first round until the final four games of the NBA Finals after experiencing debilitating headaches stemming from back surgery he had two years ago.
Kerr, who missed the first 43 games of the 2015-16 season shortly after having the procedure, has helped transform Golden State into one of the most dominantteams in recent memory. Since he took over before the 2014-15 season, the Warriors have won at least 67 games each year and reached the Finals three years in a row.
"This kind of stuff happens very rarely in the NBA, where you get a group of players this talented who are together in their primes. It's so rare so I know exactly how lucky I am," he said.
"I love it, I love the group, I love coaching them every day, and this is what I want to do for a long time. That's the plan, so I just got to keep pushing forward."
The Warriors just completed a 16-1 playoff run, outscoring opponents by 13.5 points per game. The team is expected to re-sign Kevin Durant and Stephen Curry this offseason, keeping intact its core group of stars.
Kelley L Cox-USA TODAY Sports | Kelley L Cox