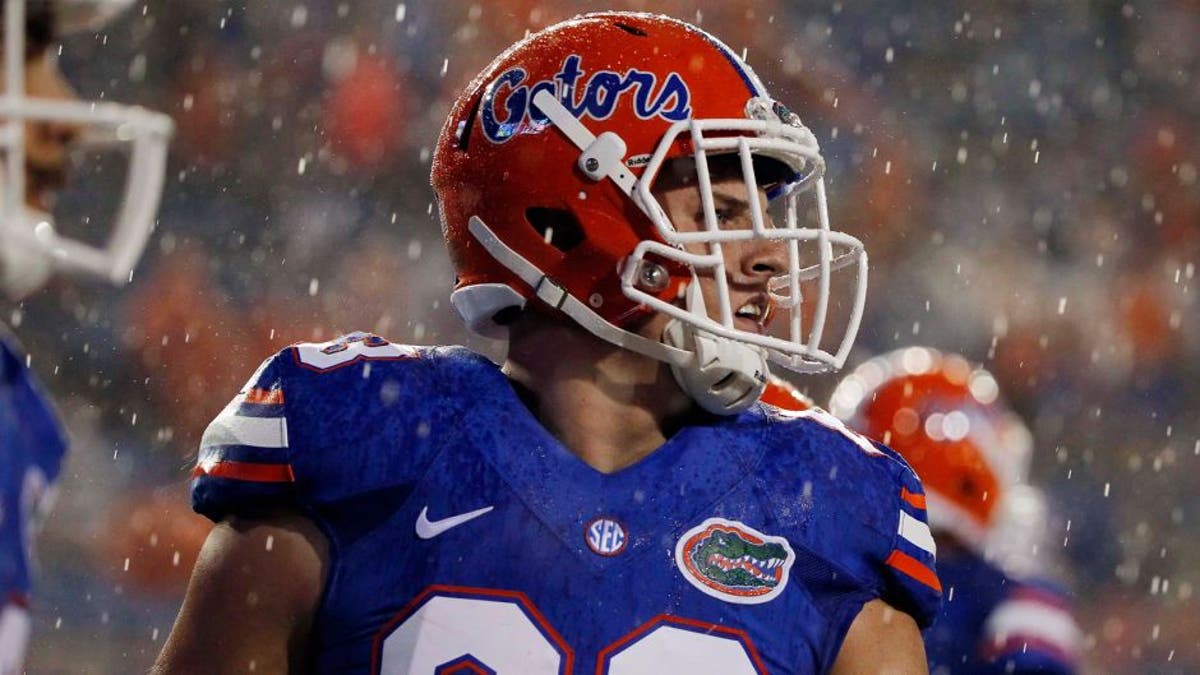 GAINESVILLE, Fla. -- After about 15 minutes or so of station work Thursday, the bullhorn blasted and the Florida Gators rushed en mass to huddle around Jim McElwain. After a brief chat, the head coach turned his squad loose for its first fall practice under his watch.
When the players broke, they scurried into warmup formation; four lines facing the middle of the field, with one player tabbed by the coaching staff to take center stage as front man for a day and get everyone going with a set of "Swamp Jacks."
Out stepped tight end Jake McGee.
"Gators! Are you ready?"
"Yes!"
"I said, Gators are you READY?"
"YES!"
Swamp Jacks ... Ready ... Begin
S ... W ... A ... M ... P ... SWAMP! ... SWAMP! ... GATORS!
And off into the 2015 season they went.
The fact that McGee, the sixth-year senior who transferred from Virginia last year, was the one chosen to do the ceremonial opening-day send off speaks to the stature with which he's held by both his coaches and teammates.
Especially considering McGee's never caught a pass in a Florida uniform.
"There's that adage, the one about out of bad comes good," strength and conditioning coach Mike Kent said. "Well, that's the way Jake approached his situation. Yeah, it happened, but he challenged himself to respond to it."
To review, McGee transferred to UF in 2014 from Virginia and by NCAA rules was eligible to play immediately because he graduated in four years and still had a fifth season left. With the Cavaliers, the 6-foot-6, 249-pounder had caught 71 passes for 769 from 2011-13, including 43 receptions his final season. A big target (and a savvy veteran one) with good hands and speed coming off the line, with ability to hit the seam of a defense, McGee was going to make an instant impact for the Gators.
Until he broke two bones in his right leg in the first half of Florida's first game.
Repeat: first half, first game.
"I didn't know what had happened. I just knew it was bad," McGee recalled of that afternoon against Eastern Michigan. "When you finally hear the doctors give you that news and tell you it's going to be a long process -- they said six months -- it's something that knocks you down."
Just as his teammates were getting to know McGee the player, he was taken from them.
"That was definitely tough," sophomore tight end DeAndre Goolsby said. "He had so much experience and, for me, he had really helped me learn the ropes, me being so young and all, and getting ready for my first year of college football. You felt bad and just hated to see that happen."
Added defensive lineman Jonathan Bullard: "When something like that happens, all you can do is grab the guy by the shoulder and tell him how much we care about him and how we're going to be there for him."
Certainly, McGee appreciated so many supporters coming to his side. He didn't, however, want a pity party, nor did he need encouragement to commence a comeback.
"I'm a positive guy by nature and I knew the faster I picked myself up and got after my rehab, the faster I'd be playing again," said McGee. "Any injury like that, the disappointment, you can never prepare for it. But I reacted the only way I really know how."
For the Gators, that meant being a positive influence on the sidelines during what turned out to be a difficult season, all the while rehabbing with the UF training staff for his future. What that future was, no one really knew.
There was no guarantee the NCAA would sign off on a sixth year of eligibility, even though McGee participated in just nine snaps as a Gator. There was just hope.
"It was all about staying patient," said McGee, who figured if the NCAA ruling didn't come through he was training for the NFL draft. "My goal was always just to get myself back to being the same player I was before, whatever that took."
So McGee went about it with a smile on his face.
The only way he knew how.
"Jake is really a happy guy, like all the time," Goolsby said. "I mean, he never let it get him down."
After some dark rehab days, the firing of one head coach, the transition to another, it was Jan. 20 when the NCAA informed McGee he'd been cleared for a sixth season. He was limited from contact during most of spring practices, but thoroughly impressed Kent during the new staff's first offseason by setting a tone in the south end zone weight room and during conditioning sessions on the field.
"His actions, his purpose, his passion were just outstanding," Kent said. "And as a teammate, how can you not work hard knowing how positive he is coming off such a traumatic injury and taking it upon himself to go out and lead these guys?"
Now it's time for a payoff.
In McElwain, the Gators brought in a head coach with a reputation for moving the ball and scoring points on offense. McGee factors prominently in that equation.
"Having him back is huge at that position. We like to use tight ends," said McElwain, who often used (quite creatively, in fact) double-tight end sets -- sometimes flanking them out; sometimes even to the same side -- in running up big numbers at Colorado State. "Tight ends really need to be able to function in a lot of different roles with the shifts and motions we do with them. He's a guy who will be able to handle that."
Easily. UF fans don't know just how good McGee can be. He averaged nearly 11 yards a reception during his time at UVa, with seven touchdown grabs. In a game against Maryland, he caught eight balls for 114 yards. He had catches of 44 and 38 yards in games, with the former in the final moments against Penn State.
The possibilities are intriguing, sure.
Best of all, though, Jake McGee is just plain here, available and so very ready.
Ready for much more than Swamp Jacks.
"I think we've all let last year go," he said. "We've thrown out all that stuff and now we're just looking to a fresh start with this coaching staff. I know, for me, I'm as excited for this season as I've ever been for a season."