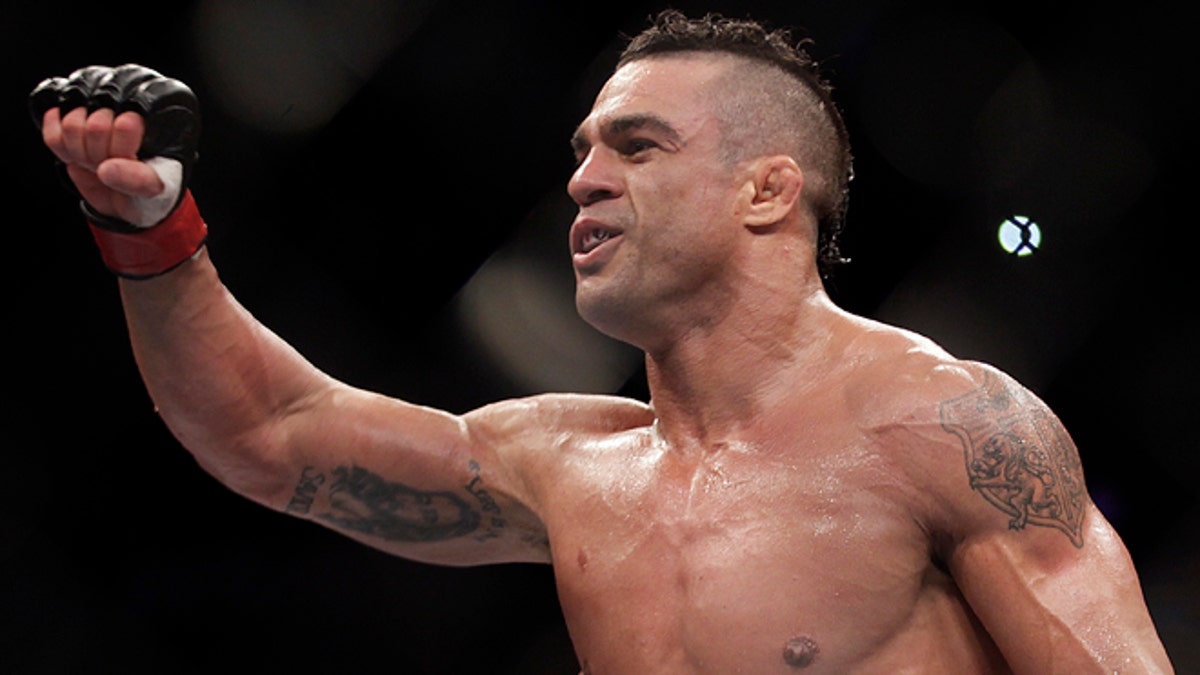 Chris Weidman and Vitor Belfort have been waiting to trade punches since early last year. Way back then, Weidman was a new champion with no real injury problems, and Belfort had just knocked out his last three opponents with spectacular head kicks.
They'll finally get into the cage at UFC 187 in Las Vegas on Saturday night. Weidman is returning from two significant injuries, while Belfort is a different man entirely — no longer enhanced by the sanctioned steroid use that his critics feel contributed greatly to his incredible late-career surge.
After three postponements, Weidman and Belfort are eager to close this prolonged chapter when they fight for Weidman's middleweight belt at the MGM Grand Garden.
"I knew at some point we would have to face each other. It's inevitable," Weidman said. "He's a guy who is on a three-fight winning streak, and he's never looked better. People are forgetting about that because he's been out for so long, and I'm prepared for the best Vitor we've ever seen."
Weidman (12-0) and Belfort (24-10) will fight shortly before Anthony "Rumble" Johnson and Daniel Cormier meet for the vacant UFC light heavyweight title.
The UFC's traditional Memorial Day weekend event is stacked, with an undercard including ironman lightweight Donald "Cowboy" Cerrone, heavyweight contender Travis Browne, the return of "The Ultimate Fighter" standouts Rose Namajunas and Uriah Hall, and two flyweight bouts with championship implications: John Dodson against Zach Makovsky and Joseph Benavidez against John Moraga.
No fight has been more anticipated than Belfort's attempt to become just the third fighter to hold UFC belts in two weight classes.
His brief reign as the light heavyweight champion in 2004 was a highlight of an 18-year MMA career for a veteran who won a two-fight heavyweight tournament way back at UFC 12 in 1997, when he was only 19 years old. Only Anderson Silva has won more UFC fights by stoppage than Belfort.
Yet Belfort has spent the last few years as the most visible example of mixed martial arts' problems with performance-enhancing drugs. Several years after getting busted in the Pride promotion in 2006, he gleefully used testosterone replacement therapy that was allowed at the time, but eventually banned in the sport for its obvious competitive advantages.
He says he is clean now, and he intends to prove he can be a champion naturally.
"You've got the haters, but that's life," Belfort said. "I've been here before, and I'm blessed to be here. How many guys from my era are still around?"
Belfort hasn't fought since November 2013, when he head-kicked Dan Henderson or his third straight highlight-reel knockout victory. Belfort also stopped Michael Bisping and Luke Rockhold in similarly spectacular fashion in 2013 while fighting in his native Brazil.
Weidman watched Belfort's surge with incredulity. The Long Island native has taken shots at Belfort's enhanced physique and subsequent deflation on social media and in interviews for most of the past three years.
This matchup originally was scheduled for May 2014, but Belfort dropped out after the Nevada Athletic Commission closed the loophole on his steroid-test workaround. Weidman took on Lyoto Machida instead, winning a grueling decision last July.
Weidman and Belfort then were slated for December 2014, but Weidman broke his hand in September. The matchup was rescheduled for last February, but Weidman injured his ribs four weeks before the event.
Weidman says the UFC considered staging an interim title bout, as it did in the heavyweight division after champion Cain Velasquez's repeated injury woes. Instead, he healed and kept his date with Belfort.
Weidman is still an undefeated champion with an eight-fight winning streak, and he intends to get rolling again by violently ending Belfort's late-career renaissance.
"I've been off now for a while," Weidman said. "I've worked on a lot of different new techniques. I have a lot of new magic tricks to bring to the game, and I'm excited to be comfortable enough to do it in the octagon. To be able to bring yourself to another level, to do it in a fight in front of millions of people ... that's how you grow."