Tom Thibodeau takes the high road when asked about Phil Jackson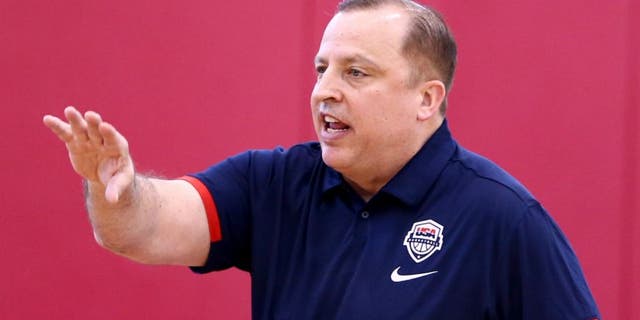 NEWYou can now listen to Fox News articles!
Two longtime Chicago Bulls stars joined the New York Knicks this offseason, but the same can't be said for their former coach.
Point guard Derrick Rose was dealt to the Knicks, who signed free-agent center Joakim Noah just a few days later. However, the Knicks balked at the idea of hiring Tom Thibodeau to take over as head coach -- despite his name being mentioned prominently as a candidate. As it turns out, Knicks president Phil Jackson reportedly never even contacted Thibodeau about the job before ultimately hiring Jeff Hornacek.
But if you think Thibodeau is going to vent to the media about the perceived snub, think again. Thibodeau is the new head coach of the up-and-coming Minnesota Timberwolves, and he isn't playing the "what if?" game and isn't going to take any verbal jabs at Jackson.
"I'm not going there,'' Thibodeau said after Team USA's Olympic practice, per the New York Post. "I'm fine. I got the job I wanted. I'm happy. I wish them well."
In fact, Thibodeau went on to praise the new-look Knicks, with whom he served as an assistant coach from 1996-2003. Specifically, he expects big things from Rose and Noah.
"I think they're both great,'' Thibodeau said. "They've already proven themselves. I think it's good for them. I think it will work out. They got a good team. The way [Carmelo Anthony] plays, [Kristaps] Porzingis, Courtney Lee, they're going to be good."