Titans TE Coffman stands out in preseason win over Rams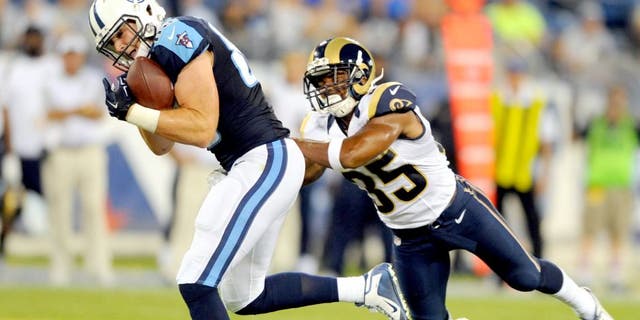 With Delanie Walker, Anthony Fasano and Craig Stevens in place, tight end is a position of strength for the Tennessee Titans.
Sunday night against the St. Louis rams, veteran Chase Coffman made a compelling case for the Titans to keep at least one more tight end on the 53-man roster.
Coffman caught two touchdown passes in Tennessee's 27-14 win, including a 56-yard reception from Alex Tanney in the fourth quarter.
"We are deep at that position and that's a good place to be deep because it's hard to find those guys," head coach Ken Whisenhunt said, per the Tennesssean. "Chase has done a nice job in camp and we'll get a chance to see him do more things. Obviously he's got to be able to help us with the blocking and contribute in special teams."
Coffman, a six-year veteran, played in 13 games for the Titans last season, making six catches for 64 yards and a touchdown.
"Whenever the ball comes my way, I've got to make catches and try to make something happen -- blocking, hustling, finishing every play, just giving them the trust in me that whenever they put me up there, they know that they don't have to worry about anything," Coffman said.
Another backup tight end, Phillip Supernaw, also made a contribution on offense in the win over the Rams, with three receptions for 24 yards.
Whisenhunt said last week the team was open to the possibility of keeping four tight ends on the roster.
"If you get one that you can feel like can make a contribution, you certainly have to consider it. ... There's a lot of factors that have to go into that," Whisenhunt said.
(h/t The Tennessean)