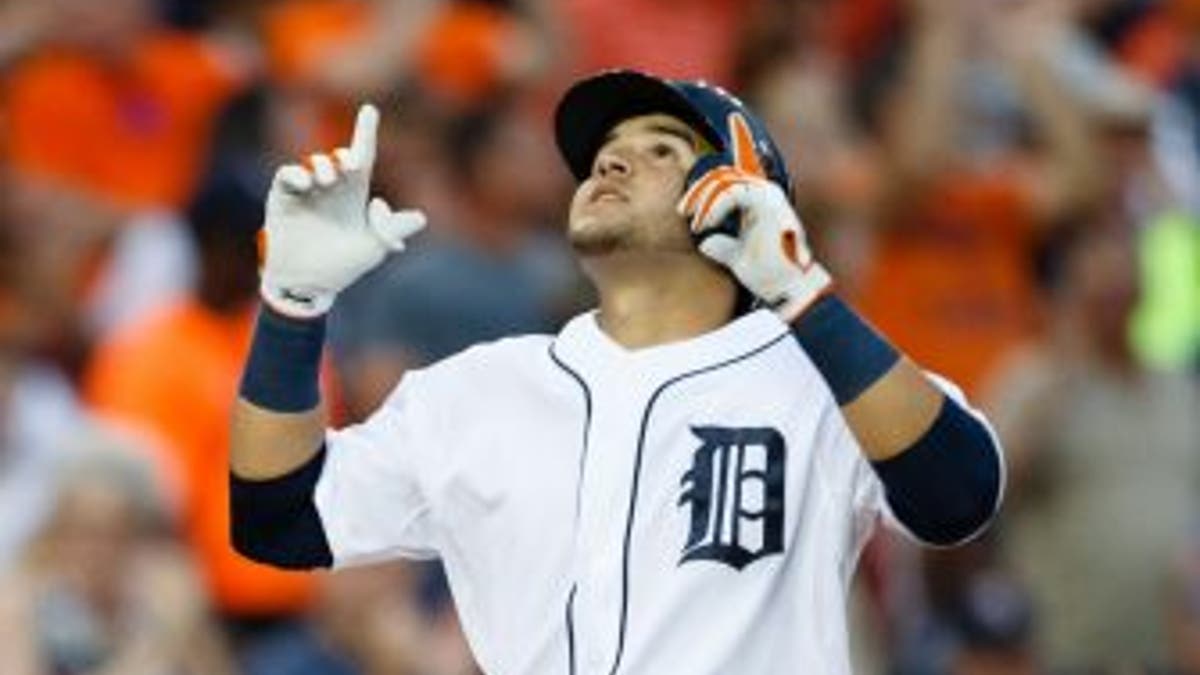 Tigers manager Brad Ausmus, speaking to the Fox broadcasters on Saturday, offered a restrained assessment of his new shortstop, Eugenio Suarez.
Average range, good arm, good hands, Ausmus said. Will hit eventually, but will experience normal ups and downs, make mistakes due to his inexperience.
"It's not ideal," Ausmus acknowledged. "He's here a little bit before his time."
As it turned out, Suarez was a revelation in his first two major-league starts, hitting his first career homer Saturday, then delivering two hits and two RBIs on Sunday.
But the way the Tigers are going – and the way the trade market is shaping up – Suarez might need to hold down short for the rest of the season. And that's a lot to ask of a 22-year-old who began last season in Class A.
If the Tigers trade for a shortstop, they will want a stopgap; Jose Iglesias is expected to return next season, and Suarez also could be in the picture. The problem is, finding the right short-term fit will be difficult -- and the Tigers' bigger need is late-inning relief.
Joba Chamberlain isn't the issue -- he had produced 12 straight scoreless appearances in a setup role before giving up David Ortiz's stunning, go-ahead three-run homer while trying to protect a 3-2 ninth-inning lead on Sunday night.
No, the issue is closer Joe Nathan, who was unavailable Sunday after pitching both of the previous days and all but melting down in a 32-pitch appearance Saturday while barely protecting a four-run lead.
Ausmus predicted before that game that Nathan would be fine. Nathan said he felt no different than last season, when he converted 43 of 46 chances with a 1.39 ERA for the Rangers.
Well, he sure looked different.
He looked nervous, shaken, almost panicky. The Red Sox, watching video of him afterward, noticed the difference in his body language, sensing that Nathan knew that he was pitching with diminished stuff.
Maybe, as Ausmus suggested, Nathan will return to form. But if not, then what? Right-hander Joel Hanrahan, recovering from Tommy John surgery in May 2013, isn't expected to join the team until around the All-Star break. It probably is unrealistic to expect him to close right away, if at all this season.
Relievers generally are in plentiful supply before the non-waiver deadline, so the Tigers can explore other possibilities. A short-term shortstop, on the other hand, would not be nearly as easy to acquire.
The potential free agents at the position -- the Dodgers' Hanley Ramirez, Orioles' J.J. Hardy, Indians' Asdrubal Cabrera and Athletics' Jed Lowrie -- all play for contenders.
The White Sox's Alexei Ramirez is signed through next season. The Phillies' Jimmy Rollins likely will vest his option for 2015 and might not approve a trade, let alone one to Detroit. The Rays' Ben Zobrist, a possibility raised by ESPN's Buster Olney, would be interesting; he could play short the rest of '14, then bounce around in '15, the final year of his contract. But Zobrist, 33, has started only 14 games at short the past two seasons.
Actually, the best outside alternative still would be Stephen Drew, if the Red Sox failed to rebound and wanted to flip him.
Drew, 31, is exempt from a qualifying offer because he signed after Opening Day, so any team that traded for him could not bank on a draft pick, effectively lowering the acquisition cost. Ideally, though, the Tigers would not expend any prospects on Drew at all.
They need a reliever. And maybe more than just one.