The world's top kickboxer is now targeting MMA's best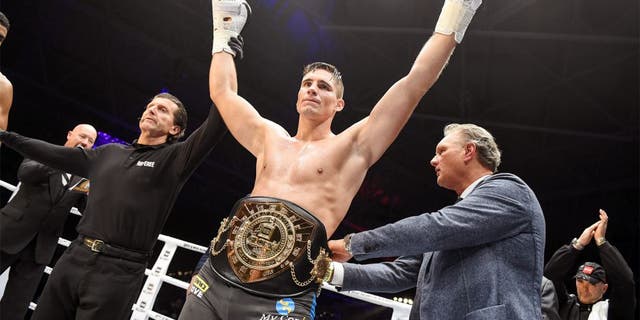 NEWYou can now listen to Fox News articles!
When it comes to the sport of kickboxing, 26-year old Dutch heavyweight Rico Verhoeven is considered the best of the best right now but he's not content with just being considered the top striker in his own sport.
He wants to tackle the greatest fighters in mixed martial arts as well.
Standing over 6'4" tall and weighing 250 pounds, Verhoeven is a natural heavyweight who currently sits on top of the world as the GLORY heavyweight kickboxing champion but he's already eyeing a move to MMA following his first bout last year that he won by knockout.
At home, Verhoeven has already trained with top 10 middleweight Gegard Mousasi and just recently he signed a deal with Paradigm Sports Management, the same team behind UFC champion Conor McGregor, Chris Weidman and several other top MMA fighters.
"The experience was good. It was new, it was definitely a new adventure. It gives me new excitement," Verhoeven told FOX Sports about his transition to MMA. "I've been kickboxing since forever, for me I feel like I've done everything in kickboxing so I'm trying to feel something new. A new challenge. Just tasting different sides. Now I'm in LA trying to find a good gym and I can learn even more MMA and better MMA.
"I signed with (Paradigm) and I'm just trying something new. It doesn't mean I'm not kickboxing anymore but let's see what happens. Maybe fight kickboxing and MMA."
When he's not kickboxing or doing MMA, Verhoeven also spends a lot of time boxing where he works with current heavyweight champion Tyson Fury and his team in England.
As much as Verhoeven has confidence in his striking as it stands, he believes the boxing aspect is what will give him a big edge over the best fighters in the world doing MMA currently because he can present looks that few have seen and even few will be ready to deal with in the cage.
"What I felt from my first fight, it is a little bit different but I feel I would have an advantage because I have been boxing a lot in the last few years. I've been boxing with Tyson Fury and then my footwork has just gotten so much better," Verhoeven said. "I think that I see what's missing in the heavyweight game -- strong footwork game and a good boxing game.
"Of course they can land and it's a strong punch but there are not a lot of good boxers. They're big heavyweights and they're slow and when they step in they punch strong but in the end that's not always the solution."
Verhoeven isn't trying to jump ahead of himself just yet and start calling out the elite fighters from the heavyweight division just yet, but he also knows he's not too far away from matching up with those athletes if he dedicates himself to learning MMA.
Currently, Verhoeven is in Los Angeles auditioning for some film roles as well as getting ready for a seminar he'll teach on striking at the Paradise Warrior's Retreat in California but the trip to the United States is also a chance to check out some new gyms.
Verhoeven says he's exploring options to find a full time MMA team to work with as he continues to make his push into the sport during 2016. As he looks at the best heavyweights in the world right now, Verhoeven is confident there are more than a few that he could knock out without another day of MMA training under his belt.
But if he adds on a complete MMA game to compliment his world class striking, Verhoeven knows he can be the best in the world and that's the only reason he ever does anything.
"When I do something, I want to be the best. If you look at a different sport, you've got to look at your competition to even stand a chance. I think that's really important. You've got to be realistic. I always ask advice and I always want people to tell me the truth," Verhoeven said.
"We've looked at the heavyweight division in different organizations and I think the division isn't that thick. It's the same as in kickboxing where there are like five guys who are elite and really good. The rest, I already would have a good shot right now. Of course, I need more experience and that's what I'm trying to do right now. Let's see what it brings."
Verhoeven isn't making any bold predictions yet on where he'll be by the end of the year or if a promotion like the UFC would take a chance on signing him right away without a ton of actual MMA experience.
What Verhoeven knows for sure is if he dedicates himself to becoming the best MMA fighter the same way he worked to become the top kickboxer in the world, the offers will come and then he will conquer yet another sport.
"For me, I'll follow wherever the best fighters are," Verhoeven said. "If the best fighters are in the UFC, I'll go to the UFC. You can't predict the future so you can't tell what's going to happen or where the heavyweights will go, but if I'm competing I want to compete with the best.
"If it's in America, or Japan, for me it doesn't matter. I want to compete on the highest level. If it's the UFC, let's do it."