The top 2016 NFL MVP candidate for every division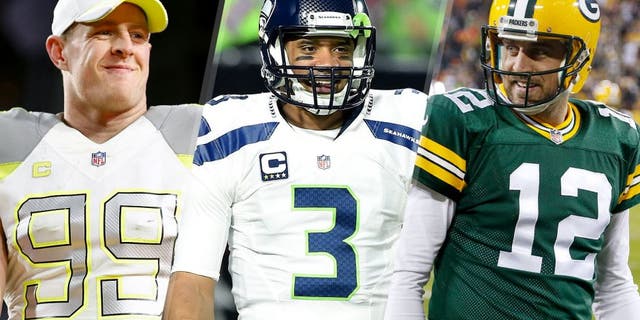 NEWYou can now listen to Fox News articles!
The NFL MVP award almost always goes to the best quarterback in the league. In the past nine years, only one non-quarterback has taken home the honor, and that was running back Adrian Peterson in 2012. Whether signal callers dominating the award is right or wrong, it's hard to argue that there is a more valuable position in sports than that of quarterback.
But the 2016 season could be one of the few where someone other than a QB could win the MVP. Tom Brady is suspended for a quarter of the season and two defensive players are poised to make a run at the award with eye-popping sack numbers. Here are the best MVP candidates from each of the eight divisions.
Rob Gronkowski, TE, New England Patriots
The easy pick here would be Brady, and it's the logical one. But his four-game suspension could very well keep him from winning the award. Sure, if the Patriots lose all four games and the offense is stagnant, it will further prove Brady's value, but that won't be enough to net him an MVP. Instead, Rob Gronkowski is the favorite in an extremely weak division with less than stellar quarterback play outside of Brady. He's going to put up massive numbers even with Jimmy Garoppolo throwing him the football, given his huge catch radius and red zone dominance. A tight end has never won an MVP and may never do so, but Gronk is a rare talent. His touchdown numbers are going to be huge once again this year.
Runner-up: Tom Brady, QB, New England Patriots
J.J. Watt, DE, Houston Texans
The quarterbacks in the AFC South are all very young and somewhat unproven outside of Andrew Luck, whose supporting cast isn't exactly great. He's the most valuable player on his team, but he struggled mightily even when healthy last season. He's expected to bounce back in 2016, but Watt will continue to make a run at being the first defender to win an MVP since Lawrence Taylor in 1986. You can pretty much mark down 18-plus sacks and at least 75 tackles for Watt right now, with the potential to elevate those numbers further thanks to guys like Whitney Mercilus and Jadeveon Clowney. Watt could break the single-season sacks record and dominate on his way to winning Defensive Player of the Year and MVP awards.
Runner-up: Andrew Luck, QB, Indianapolis Colts
Ben Roethlisberger, QB, Pittsburgh Steelers
This is one of the tougher divisions to pull an MVP candidate from. Joe Flacco and Andy Dalton aren't necessarily considered elite quarterbacks, but both are incredibly valuable and could put up big numbers. Roethlisberger, however, has the weapons around him necessary to lead the league in passing yards and touchdowns. Running back Le'Veon Bell and wideout Antonio Brown are dark horse candidates as well, but the majority of the Steelers' offense will go through Big Ben. Provided he stays healthy, Roethlisberger could very well win the MVP to the tune of 5,000 passing yards and 40-plus TD passes. The loss of Martavis Brown hurts greatly, but Brown will make plays and elevate Roethlisberger's numbers.
Runner-up: Le'Veon Bell, RB, Pittsburgh Steelers
Von Miller, OLB, Denver Broncos
If Watt can finish second in MVP voting two years ago, why can't Von Miller win it this season? There's little reason to believe he can't. The Super Bowl MVP was absolutely unstoppable in the postseason, and he should carry that over to 2016 -- especially now that he's playing stress-free without the worry of a contract dispute looming. Miller should surpass his career-high 18.5 sacks this season and bring down the quarterback 20-plus times. If he's able to add a handful of forced turnovers and at least 60 tackles, he could vault his name into the conversation. He's in Watt's realm as one of the best players in all of football, and he'll prove it in 2016.
Runner-up: Derek Carr, QB, Oakland Raiders
Tony Romo, QB, Dallas Cowboys
Yes, Romo is a legitimate MVP candidate. He showed why last season and has throughout his career when he's been sidelined. Why? Because the Cowboys can't win without him, and that's a testament to his effectiveness. No player in the NFC East is more valuable than Romo, though Eli Manning merits some consideration. When healthy, Romo is one of the eight best quarterbacks in the league. His career quarterback rating is 97.1, which is the third-highest in NFL history. With Dez Bryant healthy and Ezekiel Elliott in the fold, Romo is going to return to his 2014 form, when he threw 34 touchdown passes and nine interceptions with a rating of 113.2.
Runner-up: Eli Manning, QB, New York Giants
Cam Newton, QB, Carolina Panthers
How could the reigning MVP not be the NFC South favorite to win it again? Drew Brees isn't the player he once was, and Matt Ryan turns the ball over far too much, though Jameis Winston could be a candidate a few years down the line. Newton, however, is on a different level. He carried the Panthers all the way to the Super Bowl last season and could do the same again -- this time with wide receiver Kelvin Benjamin at his disposal. Newton has gotten better each and every season, and it's not crazy to think he'll continue to do so in 2016 with a better supporting cast. His dual-threat ability makes him nearly impossible to game plan for, making him a nightmare to stop. Surpassing his 45 total touchdowns from a year ago will be challenging, but it's within the realm of possibility. He's among the two or three favorites in all of football to win the award.
Runner-up: Drew Brees, QB, New Orleans Saints
Aaron Rodgers, QB, Green Bay Packers
Without Jordy Nelson and throwing to an unreliable receiving corps last season, Rodgers wasn't himself. Yet, despite not having his full supporting cast, he was still outstanding. Rodgers tossed 31 touchdown passes with just eight interceptions, though his completion percentage was down. Nelson will be back and healthy this time around, which should add to Rodgers' numbers significantly. He'll break the 40-touchdown pass mark and have fewer than 10 interceptions, the latter of which he's done each year since 2011. The two-time MVP could be in line for a third award in 2016 so long as he and his most important target remain healthy. Adrian Peterson is really the only other player to warrant consideration in this division.
Runner-up: Adrian Peterson, RB, Minnesota Vikings
Russell Wilson, QB, Seattle Seahawks
The NFC West could very well be the best division in football. The Seahawks and Cardinals are head and shoulders above the rest, but the Rams are a talented team with a ton of potential -- if their quarterback play is somewhat decent. Russell Wilson is undoubtedly the best player among the four teams, though. He took his play to another level in the second half of last season, throwing 25 touchdown passes and just two interceptions in the final eight games. Wilson proved he's more than a game manager, even without running back Marshawn Lynch. He's expected to throw the ball even more this season without Beast Mode, and with the emergence of Doug Baldwin and Tyler Lockett's explosiveness, Wilson's numbers are going to be staggering. He'll have similar numbers to those of Cam Newton's last season.
Runner-up: Carson Palmer, QB, Arizona Cardinals