The Sky Is The Limit For Nairo Quintana, Colombia's Newest Cycling Phenom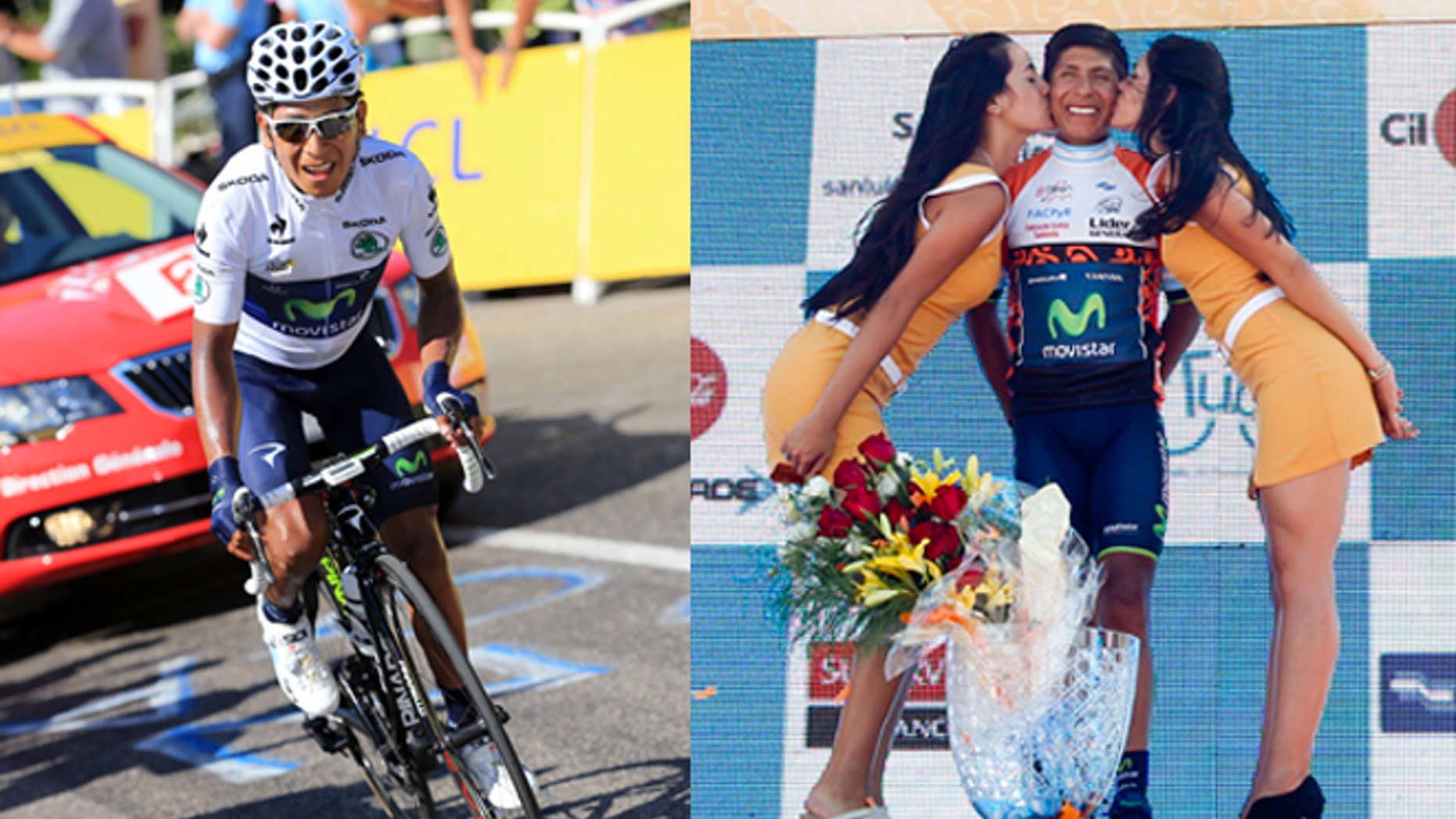 Nobody has ever expected very much from Nairo Quintana.
Even so, the Colombian cyclist has climbed to the very summit of the professional circuit, finishing second at last year's Tour de France—winning the white jersey, for being the race's best young rider, and the polka-dot one too, signifying that he was the best climber in the mountain stages.
In all, he finished four-plus minutes behind Tour winner, Chris Froome of England, which would seem to make him an instant contender for this year. And, sure enough, many people in the circuit are predicting that Quintana may win multiple times before all is said and done.
Just don't look for the 24-year-old in France come July. Quintana and his team, Movistar, have other plans for him.
"I don't think taking Nairo to the Tour at his age, plus the pressure of improving on last year's result, is interesting for his future," team manager Eusebio Unzué said, according to CyclingNews.com.
Back home, each victory by the unassuming Quintana has set off a raucous celebration in his hometown of Boyacá, and the love is mutual. He has used his earnings, among other things, to buy his mom a few milk cows and to finance his former team, Boyacá Es Para Vivirla.
****
Nairo Quintana Rojas was born in Tunja, in the mountainous Boyacá province northeast of Bogotá. His father sold fruit by the roadside and eventually opened a small store, according to the Colombian paper El Espectador. But with four brothers and sisters (Nairo is the fourth oldest), there wasn't much money to go around.
It was about 9 miles to Quintana's school in the nearby town of Arcabuco, and steep ones too. So his father saved up and bought Nairo a used mountain bike for the equivalent of $30.
"My principal patron has always been my father," Quintana told the webzine SóloCiclismo.com in 2010.
According to the English-language Colombian website, Cycling Inquisition, even though the young Nairo knew very little about professional cyclists, he pretended to be a racer as he rode to and from school.
He didn't need to make-believe for very long. He turned pro in 2009 with the local squad, Boyacá Es Para Vivirla, and started winning stages and races right away.
He switched to the national team, Colombia Es Pasión (now 4-72 Colombia), the following year. One person familiar with the team during that time remembers that Quintana wasn't considered the star of the group.
At 5-foot-6 and 130 lbs., he has a smaller frame than most top cyclists, though a perfect one for a climber—the cyclists that lead the way over alpine terrain, "pulling" the team's protected racers over mountains so that they don't have to work too hard on the uphills.
But all Quintana has ever done is win. His first major European victory was at the 2010 Tour de l'Avenir—a.k.a., the "race of the future," a stage race in southern France restricted to riders 23 and younger that uses much the same course as the senior Tour.
Not that everything went smoothly. After his Tour de l'Avenir victory, SóloCiclismo.com asked Quintana if he had experienced any racism at the race from the European riders. He recounted an incident during the race involving teammate Jarlinson Pantano Gómez.
"One day, a French rider grabbed his handlebars," Quintana said, "shook them and caused Jarlinson to fall. In retaliation, I went after the cyclist and sent him into a ditch."
Eventually, team managers had to mediate, and Quintana went on to cross the finish line first.
In March 2012, having switched to the Movistar team, he won the Vuelta a Murcia in Spain, and, in September of the same year, he made his Grand Tour debut. (The major races of the cycling calendar are the Giro d'Italia in March, the Tour de France in July and the Vuelta a España in the fall.)
Quintana helped Movistar's principal racer, the Spaniard Alejandro Valverde, to a second-place finish at the Vuelta, and the Colombian managed to end up a very respectable 36th.
With such a track record of success, it shouldn't have surprised anyone when, in April 2013, Quintana took the Tour of the Basque Country in Spain. But NBC Universal Sports commentators Steve Schlanger and Todd Gogulski saw fit to describe the victory as "out of nowhere" and to suggest, possibly because they had never heard of Quintana before, that "it's only fair to ask the question about substances."
Those are Schlanger's words, but Gogulski agreed, adding, "I certainly hope he doesn't get busted and prove that he's not clean."
Schlanger concluded the segment by saying, "For now, he's the champion."
For a while at the 2013 Tour de France last July, the 33-year-old Valverde was cruising along in second place until the 13th stage when a flat tire cost him nearly 10 minutes. Valverde dropped to 16th and he and Quintana flip-flopped as Movistar's lead racer.
Quintana kept climbing in the Tour standings, winding up in second place. Afterward, there was some chatter online and on Twitter about whether Movistar would replace Valverde as lead racer with Quintana, but that ignores the nationalism that rules the world of professional cycling.
Movistar is a Spanish team, sponsored by a Spanish mobile phone company, and it features Valverde, a Spanish rider. Similarly, Tour winner Froome, a U.K. citizen, rides for an English team, Team Sky, with the English TV networks as sponsor, and Lance Armstrong used to ride for the United States Postal Service team.
Movistar decided in late January to hold Quintana out of the Tour de France—leaving Valverde as its principal racer at the premier event on the tour—and instead featuring the Colombian phenom at the Giro d'Italia.
"We think [the Giro] is an extremely interesting race for him to progress on so many aspects, and where he will enjoy full leadership in a Grand Tour for the first time," team manager Unzué told CyclingNews.com.
Quintana, if he has other thoughts, has stayed mum.
In January, he won the Tour de San Luis in Argentina, and then returned to Colombia for the birth of his first child. His first European race of 2014 was the Vuelta a Murcia on Mar. 1.
Quintana finished 23rd. Valverde won.
Follow us on twitter.com/foxnewslatino
Like us at facebook.com/foxnewslatino