The Few, The Proud, The Fans Behind The Alex Rodriguez Protests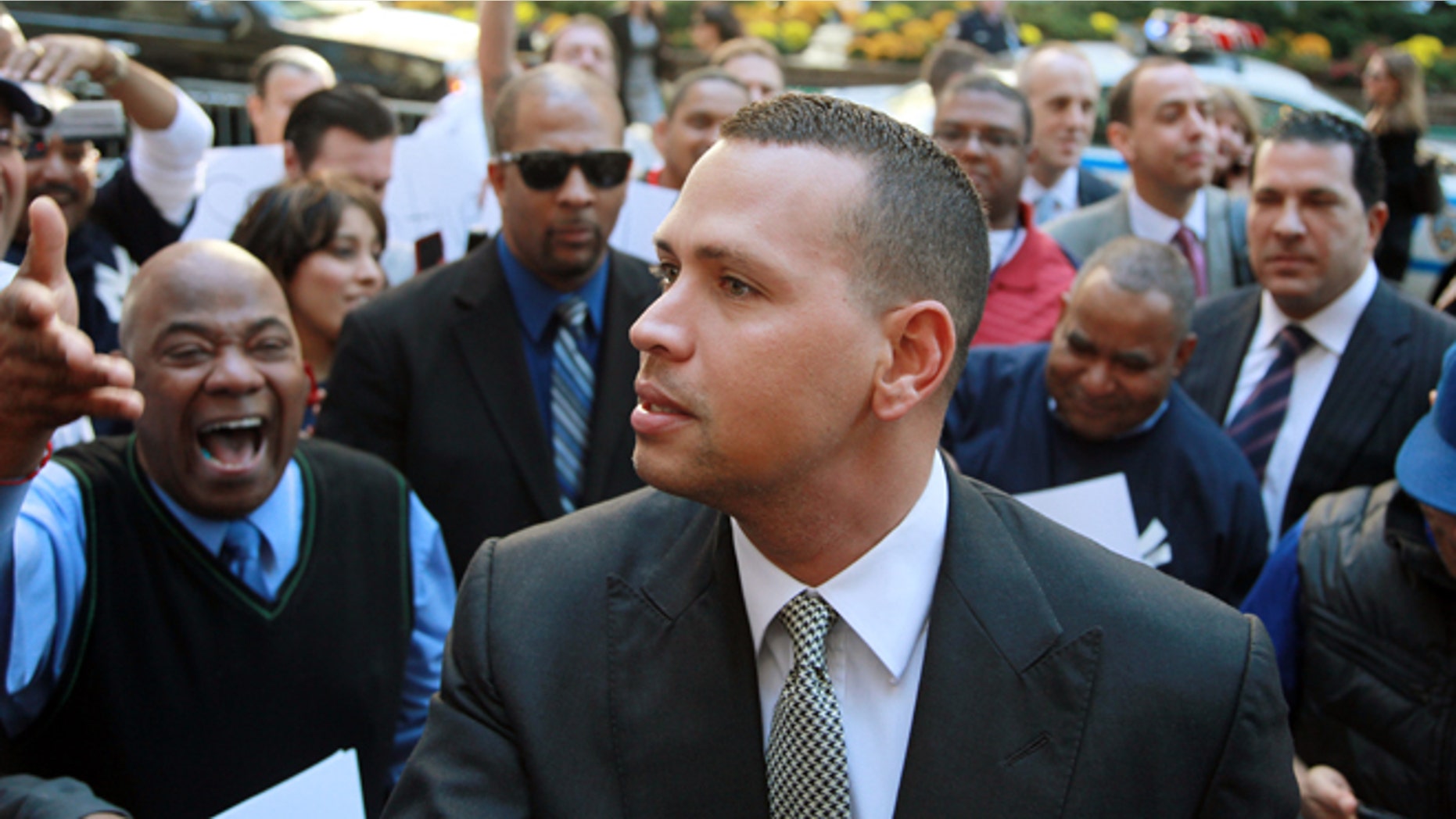 New York, N.Y. – You have probably never heard of them, but they're Alex Rodriguez's biggest fans, despite — perhaps even because of — the doping accusations targeting the baseball star.
Throughout the arbitration hearings to determine the status of A-Rod's 211-game suspension as a result of the Biogenesis clinic investigation, a group called Hispanics Across America has been organizing demonstrations outside Major League Baseball headquarters in New York City, demanding justice and due process for one of the most controversial figures on the American sport scene today.
Last month, Hispanics Across America even took out a full-page ad in the New York Times calling baseball commissioner Bud Selig "a disgrace to the game" and suggesting that "no Hispanic player is safe from unfair treatment."
But, who are the protestors, and what, exactly, is this group unknown to most of us?
The brainchild of New York businessman, Fernando Mateo, 55, the nonprofit is "dedicated to making sure that institutions, government agencies, companies that are doing an injustice to Hispanics know they will have an organized group to contend with," Mateo told Fox News Latino in a telephone interview this week.
"Baseball is going after the most prominent Hispanic athlete ever to live," he added, "by creating its own 'court,' hiring its own arbitrator, and bringing in a 'star witness' that it's paid. Our protest is about fairness and justice."
"Now that [Bud Selig] is stepping down, he just wants to take Alex Rodriguez's head and hang it in his living room as a trophy."
According to group's 2011 IRS filing, its primary purpose has less to do with justice than with more touchy-feely notions: to "promote & develop Hispanic positive self-image."
The filing shows that the group had no paid employees, and net assets of $1.
So how was it able to afford the $106,000 that full-page ad cost in the Times?
"We received $108,000, I think it was," Mateo says, "and were told to use it regarding the A-Rod suspension at our discretion."
Mateo started his own carpet-laying company in the 1970s at age 17 ­— three years after dropping out of school — and has been a public voice for a number of marginalized communities ever since.
In the 1980s and '90s, he created toys-for-guns exchanges, advocated for support for ex-convicts, organized livery cab drivers and bodega owners when both groups were facing high levels of violence.
And who are the people upset enough with baseball's treatment of A-Rod? Unsurprisingly, they are, "The communities we've reached out to the past," Mateo noted, "taxi drivers, seniors, bodega owners, mothers for A-Rod."
His arbitration hearing picks back up Nov. 18, and the first court meeting over Rodriguez's lawsuit against MLB takes place Thursday in lower Manhattan.
As for Selig, the league's top honcho, Mateo said: "He presided over the steroids era, just sat there clapping while Sammy Sosa and Mark McGwire were clubbing all those home runs. If he had been an elected official, he would have been fired a long time ago. Now that he's stepping down, he just wants to take Alex Rodriguez's head and hang it in his living room as a trophy."