The 6-2 Raiders are both the best-and worst-coached team in the NFL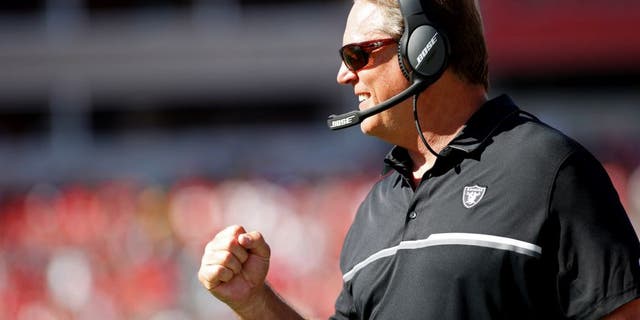 At first glance, it looks like the Oakland Raiders are Super Bowl contenders. They're 6-2 and have one of the best offenses in all of football. Derek Carr is a legitimate MVP candidate with his dynamic wide receiver duo of Michael Crabtree and Amari Cooper. The Raiders' rushing attack has been much better this season, too, which makes one wonder: Do they have a real chance of winning a title?
As bizarre as it sounds, not if they continue to play the way they have been, beginning with Jack Del Rio's job as the head coach. The Raiders are both the best- and worst-coached team in the NFL, and it's going to be their Achilles' heel down the stretch.
Sunday's wild overtime win over the Tampa Bay Buccaneers was a perfect example of just how undisciplined and poorly managed the Raiders are, despite Del Rio helping them win multiple games with gutsy calls and his risk-taking methods.
The Raiders were flagged 23 times for 200 yards against the Buccaneers, the former being a new NFL record. As large as those numbers are, they were mostly avoidable. Rookie safety Karl Joseph was flagged for a helmet-to-helmet hit deep downfield on an incompletion, costing the Raiders 15 yards and a first down. Later in the game, he easily could have been called for another one, but the officials missed it.
In overtime, Amari was called for unnecessary roughness for smacking a defender in the helmet after a reception. Sure, it was a ticky-tack call, but the flag cost Oakland good field position, which led to a missed field goal by Sebastian Janikowski. Had it not been for the flag, the Raiders would have had second-and-6 from the 19 instead of first-and-21 from the 34.
These are just a few of the penalties that cost the Raiders significantly, in addition to offensive pass interference on Crabtree that cost Oakland a touchdown, forcing them to settle for a field goal. It's become a huge problem for the Raiders this season, and they've committed 20 more penalties than any other team in the NFL.
Del Rio didn't even have an explanation for Oakland's staggering number of infractions, saying this:
"I don't have an answer for you on why there were so many penalties. … Those kinds of mistakes cannot happen. The pre-snap things, mistakes like that, the inability to substitute properly -- that is unacceptable. When you're out there battling and you get called for a hold, it could happen. We want to compete and be aggressive so they will happen, but the other stuff has to be eliminated."
The historic number of penalties are obviously a major concern, but Del Rio has other issues, too.
He lost an absolutely pointless challenge early in the game Sunday when he wanted the spot of the ball checked by the officials. He lost a timeout as a result, for no apparent reason.
Even worse, the Raiders' clock management was atrocious at the end of regulation. Following a 10-yard completion to Crabtree, Del Rio let the clock run for 24 seconds before the next play.
He had two timeouts to use.
After an incompletion by Carr, Del Rio opted to call a timeout … when the clock was already stopped. The Raiders were forced to settle for a 50-plus yard field-goal attempt to win it, which was missed by Janikowski. Had they managed the clock even somewhat decent in that situation, they would have won that game in regulation.
I'm not suggesting that Del Rio has been all bad for the Raiders. He's been terrific at times, too. Just take Sunday's win for example. Facing a fourth-and-4 with 1:55 remaining in overtime from the Buccaneers' 41-yard line, Del Rio kept his punter on the sideline and went for it. Carr completed a pass to Seth Roberts, who broke a tackle and took it to the end zone for a walk-off win -- because of course he did.
Del Rio's gutsy calls began in Week 1, when -- trailing by a point -- he had his team attempt a two-point conversion with less than a minute to play. Carr found Crabtree in the corner of the end zone to win the game. Who knows whether the Raiders would have come away with the same result had Del Rio opted for a PAT instead and taken the game into overtime.
One month later, Del Rio did it again. Against the Chargers in Week 5, he put the ball in his quarterback's hands another time. On fourth-and-2 from the 21-yard line, trailing by four, Carr threw a touchdown pass to, who else, Crabtree to take a three-point lead Oakland would never relinquish.
Had any of these three decisions not gone perfectly to plan, the Raiders easily could have lost all three of those games -- or at least tied the most recent one. Had Carr not won the game with outstanding throws to his receivers, Del Rio would look like a daring coach who takes far too many risks.
Instead, he looks like a genius despite Carr being the one actually making the incredibly difficult plays in do-or-die situations. That's partly what makes both of them so great, though. Del Rio puts the ball in his quarterback's hands, and Carr almost never lets him down.
The Raiders are 6-2, but they could easily be 4-4 or worse. Among teams with a 4-2-1 or better record, Oakland has the worst point differential (plus-12). Only the Texans are worse (minus-30) among teams with at least five wins. Oakland has won just one game by more than a touchdown, which came against the putrid Jaguars. That does show the Raiders' ability to win close games, but it also emphasizes their inability to handily beat bad teams.
Unless Del Rio can fix the Raiders' discipline problems, they're going to begin losing close games. You can only overcome so many double-digit-penalty games and continue to win.