Tecia Torres reminds Rose Namajunas that she's not Paige VanZant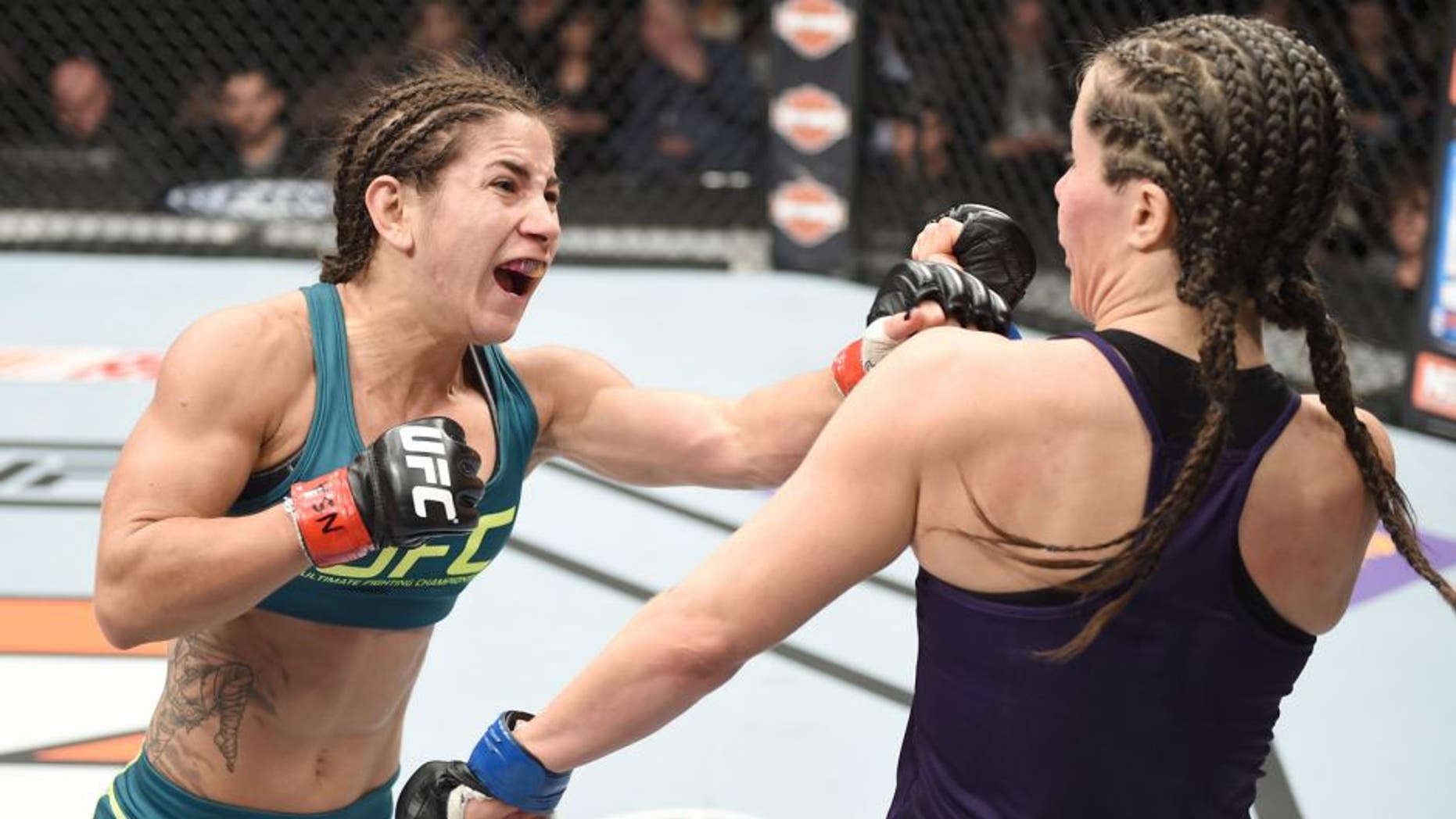 As Tecia Torres prepares for her upcoming showdown with Rose Namajunas in the co-main event at FOX UFC Fight Night in Tampa, she's got her mind on winning, on a title shot and studying for finals the following week.
That last part might sound slightly confusing considering Torres is best known as one of the top five women's strawweights in the world. But when she's not inside the Octagon, she's actively pursuing her graduate degree in college.
Torres has found a balance between education and fighting as she approaches her upcoming bout with her mind drifting between victory and bringing home a 4.0 GPA after her finals are completed.
"In the beginning it was a little bit tougher, but I'm getting used to the whole time management thing," Torres told FOX Sports. "This Monday through Wednesday, that's when I go to school from 7 to 10 at night and those days are jam-packed. I'm still getting in the gym twice a day and I get my second training done by 5 or 6, go home and change and then get into school. Besides that every other day I'm doing homework and reading and doing these assignments.
"It just motivates me more to want to excel at both and do well at both. To show people that I'm able to fight on a world-class level and pursue a graduate degree at the same time and make good grades. I'm shooting for a 4.0 and I'm shooting for a win. Right after this fight I go right into my finals, so to come out of the fight with a win and then get all A's would be two presents in one."
Her study this week has only involved preparation for a rematch with Namajunas, whom she first defeated in 2013 when the two fighters met in Invicta Fighting Championships.
Both fighters have grown and evolved since then, but Torres knew she'd meet Namajunas again one day and now that day has finally arrived.
"I kind of figured I'd fight the winner of the Paige (VanZant) and Rose fight. I expected it," Torres revealed. "Back when we fought in Invicta, I remember "King" Mo (Lawal), who was on commentary, said 'these girls are the future, they're going to fight for the belt one day'.
"We're not fighting for the belt, but I could see us fighting for a No. 1 contender fight. I believe it's coming true. I believe it's going to be even better than the first time around."
Torres is 3-0 in the UFC thus far while Namajunas is coming off a lopsided win over Paige VanZant in her last fight from December.
Namajunas bludgeoned VanZant on the feet and on the ground before finally wrapping up a fifth round rear naked choke victory.
Torres was impressed by Namajunas in that fight, but she's also beaten VanZant in the past. So Torres sends a subtle reminder to her upcoming opponent that she's not fighting VanZant again this time around.
"I think Paige is a great fighter, she's pretty well-rounded, but I don't think she's a top-five fighter," Torres said. "I do believe Rose and I are both top-five fighters.
"This fight definitely won't be one-sided like that with Rose beating up Paige basically for five rounds."
The fight between Torres and Namajunas is not only the co-main event for the card airing on FOX this Saturday night at 8pm ET, but it could also have title implications on the line.
Namajunas is currently ranked No. 3 in the world with Torres right behind her at No. 4.
The strawweight title will be decided in July when champion Joanna Jedrzejczyk meets Claudia Gadelha at "The Ultimate Fighter" 23 finale in Las Vegas, but the winner of the co-main event this weekend could be in prime position to face the winner.
That's how Torres sees things anyway.
"I think whoever comes out of this fight should get a title shot," Torres said. "I think we'd both be deserving of it. With that said, I don't like looking past the next one so my focus has been all about Rose. No matter what there is down the line, she is first. She is my title fight."