StaTuesday: Mauer's multitude of multi-hit games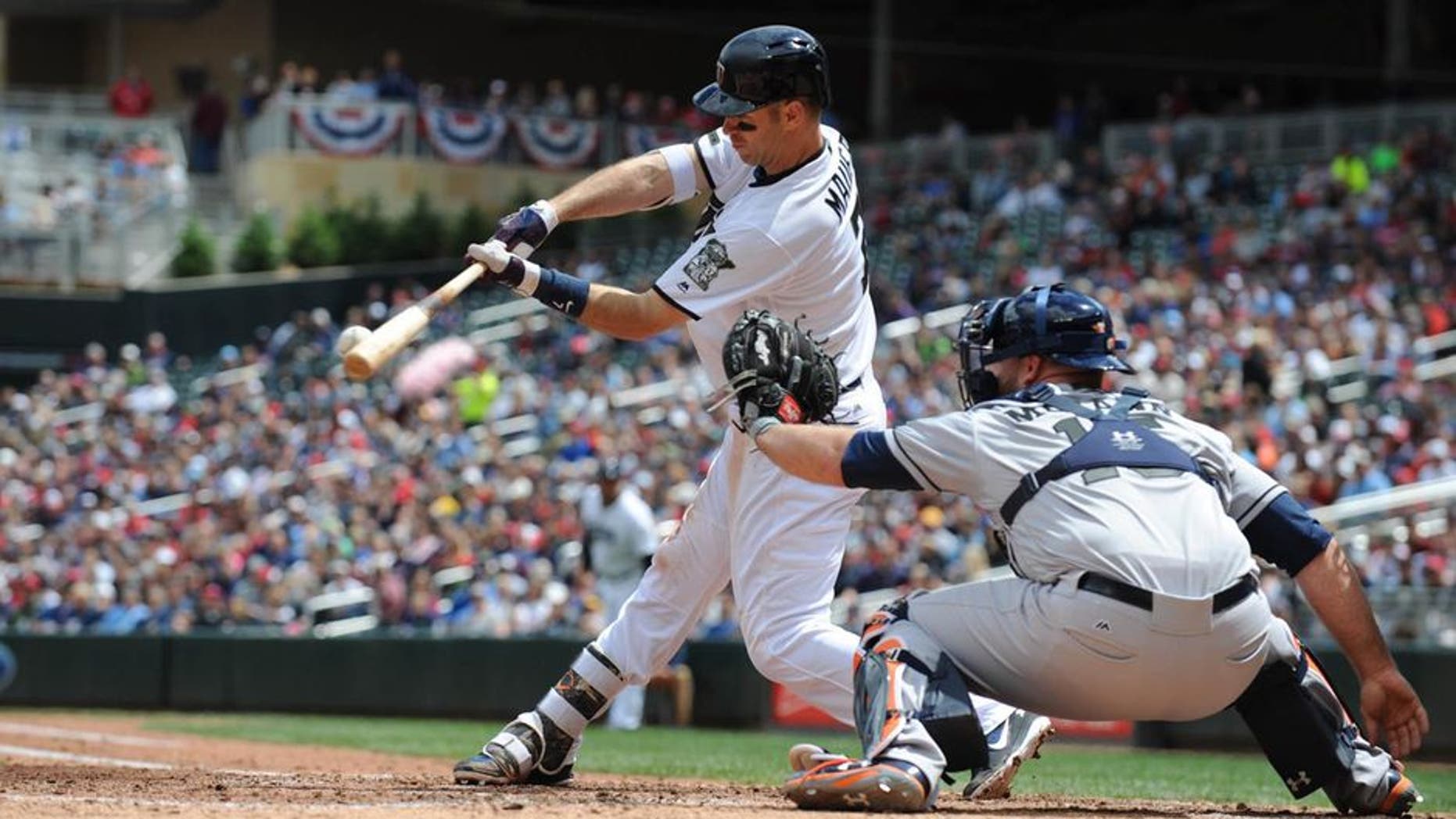 The only Minnesota Twins player to benefit from the 15-inning, 8-6 loss to the Tampa Bay Rays on Sunday might just have been first baseman Joe Mauer, who may have hoped the game wouldve continued for another 15 innings.
He reached safely in seven -- yes, seven -- of his eight plate appearances, finishing 4 of 5 with three walks, two RBI and a run scored.
It was the first time Mauer had reached base seven times in one game. In fact, hes reached safely six times just once -- way back onAug. 10, 2005 against the Seattle Mariners. Mauer, a 22-year-old pup at the time, picked up four hits and was intentionally walked twice to achieve the feat.
Mauer is the first player in this young MLB season to get on base seven times and is the 17th since the turn of the century. San Francisco's Brandon Crawford and Washington's Bryce Harper were the only two players to do it last season. Harper had a boring yet successful day at the plate, walking six times (three intentional) while also being hit by a pitch in a 4-3 loss to the Chicago Cubs last May.
Maybe Harper should get back to walking instead of throwing helmets at pitchers.
Anyway, Sunday marked Mauers 160th career game with at least three hits ranking the 34-year-old at 163rd in MLB history in games with three or more hits since 1913. Notable names just ahead of Mauer on that list include Hall of Famers Barry Larkin, who finished his career with 166 three-hit games, and Frank Thomas with 164. Rod Carew finished his MLB career with 304 three-hit games, well behind the all-time leader Pete Rose (387).
In Twins history, Mauer is third in such games. Rod Carew tops the chart with 214 of his career 304 three-hit games coming in a Twins uniform.
Tony Oliva is just ahead of Mauer by two games in the Twins all-time four-hit performances. Denard Span, who roamed center field for the Twins for only five seasons, ranks fifth in franchise history with 15 4+ hit games. Kirby Puckett began his MLB career with a four-hit performance, so its fitting that he leads the Twins with 47 career 4+ hit games.
Step that up one notch further, and Puckett has the lead again with six 5+ hit games -- just one more than Mauer. Mauer hasnt rallied for a five-hit game since 2013.
Mauers game on Sunday follows a trend throughout the month of May.
After his worst statistical April to date, Mauer followed it up with one of the best months of May in his career. Hismeager .225/.271/.275 April slash line was easily bested bya much-improved .351/.451/.545 mark a month later, highlighted by six multi-hit games and Mauers first career walk-off home run on May 5.
Keep it up, Joe!
Follow Tom Dierberger on Twitter