Spurs win epic Game 5 over Rockets with Kawhi Leonard on the bench in OT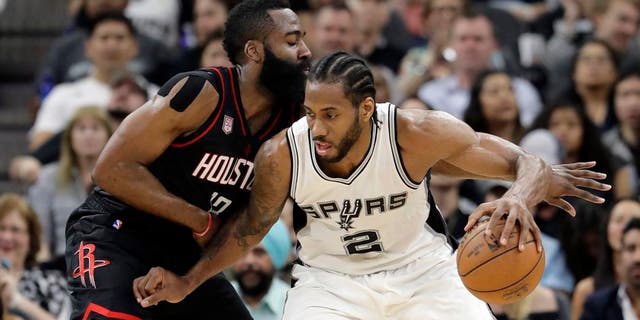 The Spurs got a 110-107 overtime win over the Rockets in Tuesday's Game 5 to take a 3-2 lead in the best-of-seven series. And they did it with their best player in Kawhi Leonard sidelined for the entire overtime session.
Leonard suffered what appeared to be ankle injury earlier in the game, and tried his best to play through it. But once it became clear that he couldn't go, Gregg Popovich made the difficult decision to bench him down the stretch. Thanks to huge plays from Danny Green and Manu Ginobili -- along with some brutal offensive possessions from James Harden and the Rockets, especially in overtime -- San Antonio was able to win in spite of Leonard's absence.
Green hit a huge three with just under a minute to play to give the Spurs the lead, and then converted an and-1 a couple of possessions later on a drive to the basket.
Ginobili, meanwhile, finished with 12 points, seven rebounds and five assists -- along with this critical blocked shot from behind on Harden to seal the victory on the game's final possession.
Harden finished with 33 points, 10 rebounds and 10 assists. But he also committed nine turnovers, while shooting just 4-of-15 from three-point distance.
Houston blew a golden opportunity to steal this one with Leonard out of action. The status of the Spurs' superstar is up in the air at the moment for Thursday's Game 6 back in Houston, but with or without him, the Spurs will have a chance to close the Rockets out.
Chris Nicoll-USA TODAY Sports | Chris Nicoll