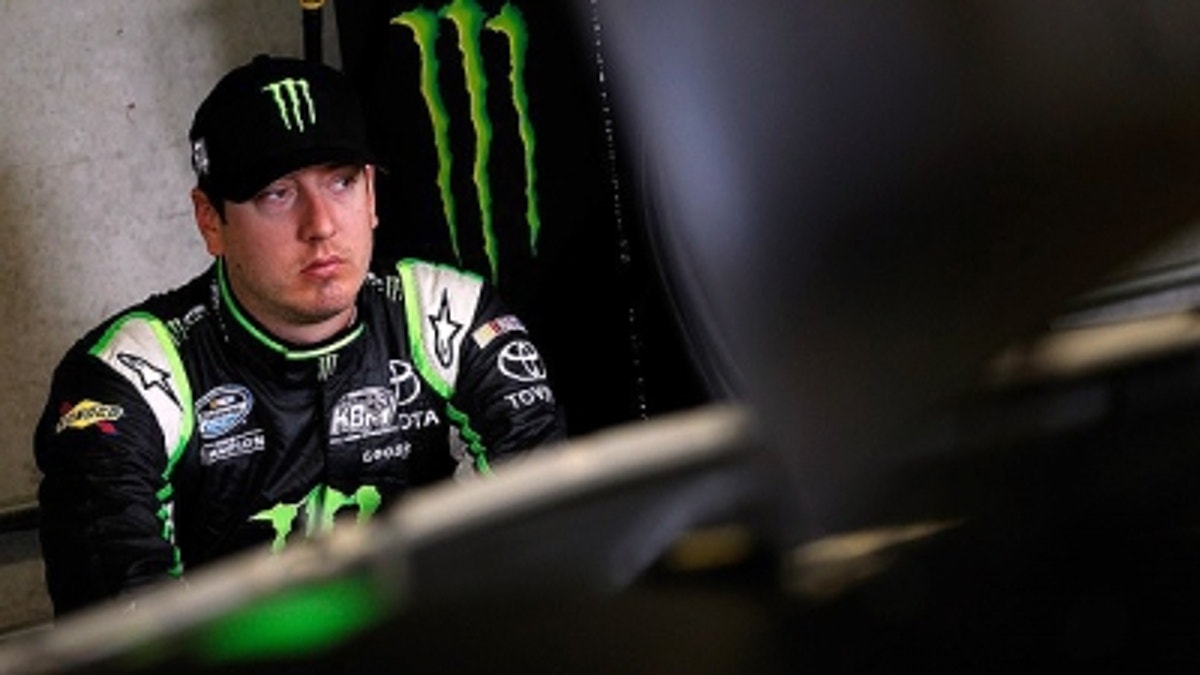 A lot of people have said they saw the same old Kyle Busch -- the one with the horrible attitude -- when he got out of the car at Richmond after failing to make the Chase for the NASCAR Sprint Cup.
I, however, didn't see the same old Kyle. I saw someone else. Someone with problems and not the kind most of his critics are pointing out.
The Kyle of the 2012 NASCAR Sprint Cup Series season isn't the same guy from past seasons. He appears less focused and more stressed than before, and I have to wonder if it's because of the pressure and struggles of running Kyle Busch Motorsports, his NASCAR Camping World Truck Series and Nationwide Series team. Or did being parked last year in the Cup race at Texas after intentionally wrecking Ron Hornaday in the Truck Series race really affect him that much?
Many people suggest the mechanical failures Kyle has had this year as the cause of his frustration and diminished performance in the No. 18 Joe Gibbs Racing Toyota. Yes, he has suffered an undue number of blown motors and other mechanical failures, but I think it boils down to the fact his Truck and Nationwide Series teams are not enjoying the success to which he had become accustomed.
Quite frankly, those teams have hit on hard times this year, and that has hurt Kyle's focus. Back in August, Kyle left Michigan, where the Cup Series was racing on Sunday, to fly to Montreal to compete in his own car in Saturday's Nationwide Series race. He finished 13th in the Cup race and 10th in the Nationwide race. It doesn't appear that back-and-forth helped either side that weekend.
Race weekends like that tell me he needs to focus on driving for Joe Gibbs Racing only and get out from under the burden of owning and driving for his own team. Look at Kevin Harvick. He sold his team, Kevin Harvick Inc., at the end of last season, and now is more carefree. Although his No. 29 Richard Childress Racing Chevrolet team's Cup performance had fallen off this year until the past two weeks, Harvick made the Chase and has dominated many of the Nationwide races he has entered. In 11 Nationwide Series starts for Childress this season, Harvick has posted one win (last week at Richmond), seven top-five and eight top-10 finishes. In the Truck Series this year for Childress, Harvick has earned one win and a third-place finish in only two starts.
Kyle Busch Motorsports, on the other hand, has captured only one Nationwide win this year with his brother, Kurt Busch, behind the wheel. KBM has notched nine top-five and 15 top-10 finishes in 25 races, but that's still not the level of success to which Kyle had become accustomed.
The stress level he is under owning KBM probably is affecting the kid more than he'd like to admit. Plus, he's in a hell of a financial situation when it comes to the money he spent on his shop. However, I certainly don't blame him for making a go at success as an owner while driving for someone else, but it is a long road full of potholes. When I started my Nationwide team years ago, I was fortunate enough to win races and perform well, but if I had it to do over again, I wouldn't have made that leap because it took away from the Cup effort and focus. Nowadays, that is magnified tenfold. I'll never forget Dale Earnhardt Sr. telling me to own my team only as a hobby and not as a business. But running your own team is a business now – not a hobby. I lived through it and discovered that ownership poses a sizeable distraction to your Cup program as a driver for another car owner.
But look at Michael Waltrip. It's pretty cool at the end of your career to operate a team like Michael Waltrip Racing. However, Waltrip struggled mightily in the early years of his team but has been successful mainly because he joined forces with Rob Kauffmann. MWR had disaster written all over it until Kauffmann swooped down and threw the team a major financial lifeline.
Therefore, if Kyle can't find someone with whom to align his team not only to help pay the bills but also to take some of the weight off his shoulders, I see his organization going the same direction MWR was headed – down the tubes. But not before Kyle does some serious damage to his Cup career. While he drives his butt off every single week for the win, he's also distracted and lacks focus. And those emotions tend to compound week after week.
Look at Jeff Gordon, Jimmie Johnson, Greg Biffle and Matt Kenseth. None of them have the distractions of team ownership, and they're very successful due in part to the lessened daily responsibilities.
For Kyle's sake, I hope he evaluates the pros and cons of continuing to double-dip and takes a page out of those guys' books. Then the story might have a much happier ending and perhaps a Cup championship down the road.
Jimmy Spencer calls it like he sees it on NASCAR Race Hub on SPEED. He retired from driving with two NASCAR Sprint Cup, 12 NASCAR Nationwide and one NASCAR Camping World Truck Series victory, putting him in an elite group of drivers who have logged wins in all three of NASCAR's premier divisions. In 478 NASCAR Sprint Cup Series starts, Spencer amassed 28 top-five and 80 top-10 finishes. He won back-to-back NASCAR Whelen Modified Tour championships in 1986 and 1987 on the heels of 15 victories, becoming the first driver ever to earn consecutive titles in the series. He earned the nickname "Mr. Excitement" for his flamboyant and aggressive driving style early in his racing career.