Six Points: Bengals vs. Raiders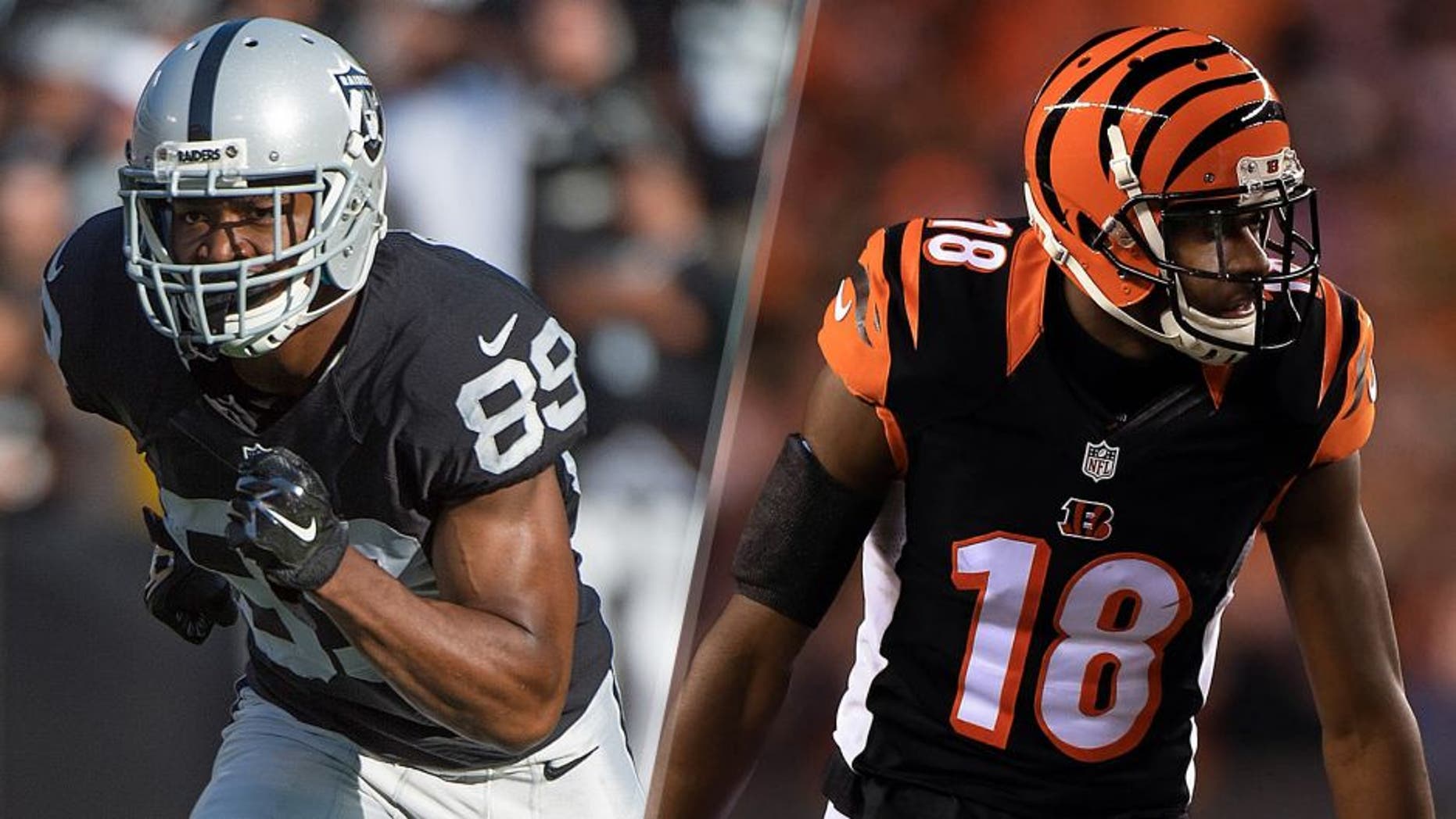 The new-look Oakland Raiders will be tested when the Cincinnati Bengals come to town on Sunday.

In some ways, the Bengals are a model for the Raiders' rebuild. They've got a top-shelf wide receiver in A.J. Green, a physical run game behind Jeremy Hill, a ferocious defense, and playoff berths to their credit.
Jack Del Rio thinks his team can get there with its young nucleus. It'll take time, though -- the team has won 11 combined games the past three seasons.
Here are three keys to the game for each team:
BENGALS
1. Double-team Khalil Mack
The Raiders would be wise to keep Mack away from Andrew Whitworth's side of the line, meaning the Bengals should counter with an extra blocker to help right tackle Andre Smith. If the Bengals can keep Mack away from quarterback Andy Dalton, their offense should be able to move the ball down the field consistently.
2. Get Tyler Eifert involved early and often
Eifert caught three balls for 37 yards in the first quarter of last season's opener before suffering a gruesome elbow injury that ended his season. Now that he's back, the Bengals should go right back to him. A.J. Green is likely to be shadowed heavily by Oakland's secondary, which should free up Eifert for plenty of looks underneath.
3. Win on the second level
Without Vontaze Burfict, the linebacking corps is probably the weakest link on the Bengals defense. If Latavius Murray breaks though the defensive front, Rey Maualuga and company have to be there to wrap him up. In the passing game, Mychal Rivera became Derek Carr's safety valve last season with 58 catches. Locking him down will be their top priority.
RAIDERS
1. Use Sebastian Janikowski less on scoring drives
The Raiders' final preseason tuneup left the offense with more questions than answers. Derek Carr led five scoring drives -- but they were all field goals. A sixth red-zone trip resulted in a pick-six the other way. That's six promising drives and only eight points to show for it. They'll have to do much better.
2. Get Khalil Mack in some favorable matchups
Like most squads, the Raiders don't feature a player in coverage who can lock up Green. That means they'll have to disrupt Cincy's air attack by other means -- starting with Mack. No. 52 worked on his pass-rushing technique all offseason, and in order to come away with an upset opening win, he'll have to demonstrate his improvement on Dalton.
3. Run away from Geno Atkins
Latavius Murray will see his fair share of carries this season. His first few better be in the opposite direction of No. 97. Atkins is the kind of running game disruptor that could force Oakland to become one-dimensional -- and that'll play right into the Bengals' hands.