Sidney Crosby has another injury scare with headfirst dive into boards, stays in game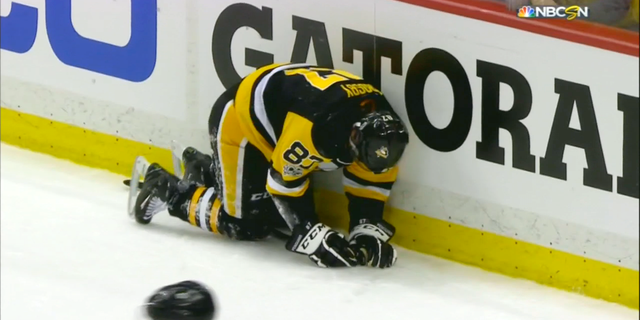 The wellfare of Sidney Crosby's brain has been a hot topic of discussion during this Penguins-Capitals second round series. Crosby, who has a long history of head injuries, suffered a concussionduring Game 3 last week but only missed one game before returning to thelineup.
From the outside looking in, a lot of people wondered if the Penguins' captain was rushing back to the ice too soon. Regardless, he was cleared by doctors and he returned toaction for Game 5.
But during Monday's Game 6 in Pittsburgh, Crosby had another head injury scare on this brutal collision with the boards during the first period.
After being tripped by Braden Holtby's stick on the goaltender's follow-through, Crosby went headfirst into the endboard…and he went in hard. Crosby appeared to be dazed and got up slowly, but he wasn't pulled from the game.
Both Crosby and thePenguins' medical professionals feel good enough to allow him to continue playing in series despite its violent nature, and they would know better than anyone watching from home. That being said, it'd be hard to blame any fans for feeling a bit uncomfortable watching this all play out the way it has.