Seth Petruzelli goes from killing the Kimbo hype to lead trainer for WWE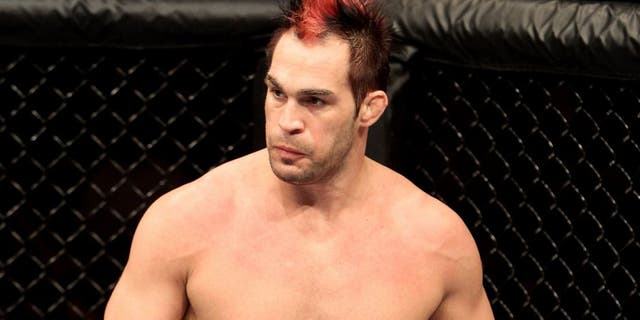 Most people who recognize the name Seth Petruzelli remember him as the man who killed the hype around Kevin "Kimbo Slice" Ferguson in 2008.
Petruzelli's 14-second knockout of the YouTube street fighting sensation landed him in national headlines, especially considering he accepted the matchup on the day of the fight after Slice's original opponent, Ken Shamrock, was forced off the card by a cut.
Prior to that fight, Petruzelli was a member of "The Ultimate Fighter" season two cast and eventually he made his way back to the UFC for two more fights in 2010.
By the close of 2013, Petruzelli was done with fighting, announcing his retirement following a 22-fight career that spanned 13 years. After stepping away from active competition, Petruzelli focused on his own gym based out of Orlando, where he started teaching the next generation of mixed martial artists.
One of those aspiring fighters was a former four-time All-American wrestler named Josh Woods, who also was interested in pursuing a career in professional wrestling as part of the WWE.
"One of my amateur fighters who used to train at my gym, Josh Woods, he was an amateur fighter, 5-0, and he always loved wrestling his whole life. He was a collegiate and high school wrestler. He went to a tryout for NXT and got accepted into their developmental program," Petruzelli told FOX Sports recently. "So he's wrestling for NXT right now, but one of his coaches came up to him and said 'Look, we know you came from an MMA background and we're really looking to get a coach to come in here to teach MMA, the jiu-jitsu, the striking, just to get some of our guys better technique and some more realistic moves.'"
The first call Woods made was to Petruzelli, who already was teaching him the ropes about MMA whenever he wasn't training for a future in WWE.
Petruzelli admits when he got the call, he wasn't all that familiar with the world of professional wrestling, other than the matches he watched when he was a kid.
"When I was younger, of course, back in the days of the Ultimate Warrior and the Iron Sheik and all the old school guys. Definitely when I first started doing karate and kickboxing when I was 6 or 7, I was definitely into wrestling," Petruzelli said. "Once I started getting more into MMA, I didn't have time to watch it."
But the offer to work with the WWE as a trainer was intriguing and one that Petruzelli couldn't turn down.
"He mentioned my name and they contacted me, I sent them a résumé and applied for it and talked to them back and forth about what I could offer. They said yes and brought me aboard, so for about five or six months now I've been the head striking coach at the WWE developmental center in Orlando," Petruzelli said.
The question that Petruzelli usually faces when he mentions that he's the head striking coach at the WWE developmental center is why do professional wrestlers who aren't actually hitting each other need to learn how to strike?
Professional wrestlers train for years to put on huge feats of athleticism while doing as little damage to each other as possible. So knowing how to punch an opponent seems counterproductive to the staged violence that takes place at any WWE show.
"A lot of guys asked about that, too, and that was one of my main concerns. Like, these guys are going to hate me because 'We don't need to learn this crap if we're not doing the same stuff; we're not really trying to hit the person'," Petruzelli explained. "But Triple H really wanted them to get a real look at it -- MMA is so huge now and people know like, 'Oh, he dropped his hands' or 'Oh, he got caught with a punch', so they are catching on to the phony stuff.
"So they really wanted me to teach them the proper footwork, the way to turn your hand over (for a punch), the proper hand and foot combinations, the timing, speed, and about how to keep your hands up to block, how to slip, how to bob and weave. They really wanted the wrestlers to look like they knew what they were doing."
Petruzelli began teaching classes once a week and instead of getting push-back about training for something that wouldn't be applicable in a match, most of the wrestlers wanted to know more.
Over time, Petruzelli's lessons morphed from striking to grappling because the submission game is a big part of wrestling these days. Before long, he had a number of students making huge strides in the evolution of their overall striking games, and they were starting to recognize the improvements while in the ring.
"Once I started doing the striking after about four or five months, I started getting a few of them interested in jiu-jitsu, so I started showing them some cool flying arm bars and different triangles. So the coaches wanted me to start doing submissions with them. So once a week I do Brazilian jiu-jitsu with them and once a week I do striking with them. It's like a combo class of both," Petruzelli said.
"A couple of the women's matches, they came back and said 'Hey Seth, did you see that bob-and-weave slip I hit?' And I was like, Hell yeah I saw that, that's awesome! They are starting to put it into their matches and they're thinking to incorporate it. Now it's working into the matches, so it's awesome."
Petruzelli takes a lot of pride in teaching the wrestlers at WWE, and now quite a few of them are taking more of his classes as part of his gym in Orlando.
He's seen massive improvements over time and Petruzelli couldn't be happier with the results when watching his students perform on television each week.
"So many people I've worked with. Two people who just got brought up recently, Baron Corbin, he was one of the great athletes and he actually knew a little bit about jiu-jitsu and boxing, but the more and more he worked and started doing it again, he really enjoyed it. He really stepped it up. Also Apollo Crews, he adapted really well, too. He was a superior athlete but the striking was different for him, so he's come leaps and bounds from when he first started. He adapted really well," Petruzelli said.
"Another one is Simon Gotch -- he actually started training at my gym about a month after I started teaching there and he got way into it. He started doing jiu-jitsu and kickboxing and he got really good at everything. Becky Lynch is another one. She joined the gym and signed up and started doing jiu-jitsu like crazy. She's really into it as well."
There's still a part of Petruzelli that feels like he's living in some kind of fantasy world, where he's teaching high-level athletes how to hit without actually hitting, but it's something he's adapted to over time.
It's taken him back to the earliest roots he had in martial arts, and now he's getting the chance to teach and learn alongside the next generation of WWE Superstars.
"I never thought I'd be teaching somebody to punch without actually trying to knock somebody out," Petruzelli said with a laugh. "I'm reverting back to my karate style, kind of point fighting, so they hit and recoil back without blasting through them. It's kind of cool to go full circle and teach these guys the striking stuff. I'm so stoked because the guys are so cool there and inviting and we're all friends now. I'm happy that it turned out this way."
When he's not teaching at the WWE performance center, Petruzelli is still leading his own fight team, cornering fighters and doing commentary in his spare time.
At 36, Petruzelli is still a top athlete in his own right and while his fight career is finished, he can't deny the enjoyment he's gained from being around the WWE.
So does that mean Petruzelli might come out of retirement to start a career as a professional wrestler?
"The only bad thing about it is it really makes me want to do it. Like really, really bad," Petruzelli said. "I spend a lot of time in the ring with these guys, so it makes me really want to do it. I'm in better shape now than when I was fighting. I'm like 215 (pounds), I'm super lean, I'm strong, I'm lifting heavy and I'm actually more injury free now than when I was training for fights.
"It's something I've been thinking about in the back of my head, so don't be surprised if it happens."