Santana pitches well again, but Indians sweep Twins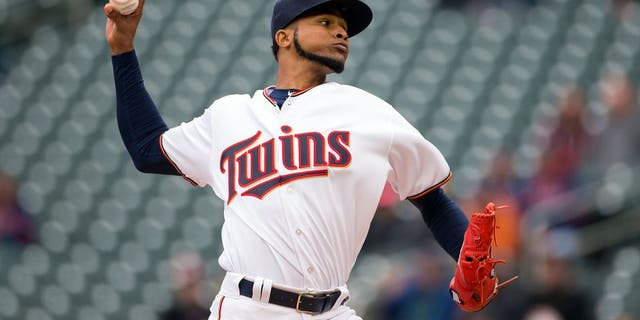 MINNEAPOLIS -- Trevor Bauer struck out seven in 6 1/3 innings and Carlos Santana had two doubles and two RBI to lead the Cleveland Indians over the Minnesota Twins 6-2 on Thursday.
Bauer (1-2) gave up two runs, three hits and three walks, lowering his ERA from 8.44 to 6.35. Andrew Miller pitched 1 1/3 innings of scoreless relief and the Indians took all three games in a series that included a rainout Wednesday night.
Ervin Santana gave up one run, four hits and three walks over six innings for the Twins, who are 1-5 in a 10-game homestand.
Bauer gave up 10 runs in 10 2/3 innings over his first two starts but was much better Thursday. He balked in a run in the fourth inning when he stumbled on the mound with the bases loaded, then fell behind 2-0 when Jorge Polanco hit a sacrifice fly.
Ervin Santana was coming off of a one-hitter against the White Sox last week and with a 0.64 ERA has been every bit the ace the Twins have long yearned for. He wasn't quite as sharp on a chilly afternoon with an opening pitch temperature of 43 degrees. He had a streak of 22 straight scoreless innings snapped in the fifth when Carlos Santana doubled home Abraham Almonte.
Carlos Santana delivered another RBI double in the seventh inning, and Tyler Duffey (0-1) and Taylor Rogers each walked in a run with the bases loaded.
TRAINER'S ROOM
Indians: Manager Terry Francona said 2B Jason Kipnis, on the DL with right shoulder inflammation, was on track to rejoin the team this weekend in Chicago.
Twins: LHP Ryan O'Rourke, on the DL since March with a strained forearm, flew from Florida to the Twin Cities for an examination. The Twins said there is no structural damage
MOLITOR EJECTED
Twins manager Paul Molitor was ejected in the eighth inning during an argument surrounding plate umpire Alan Porter calling Jason Castro out on strikes on a checked swing. Molitor appeared to be asking Porter to look for help from third base umpire Andy Fletcher, but he was quickly given the hook. It was Molitor's fifth career ejection and first this season.
BUXTON'S SLIDE
Twins CF Byron Buxton struck out again and his hitting .082. His 24 strikeouts lead the majors. But before the game, Molitor told reporters he is not contemplating sending his prized youngster back to Triple-A.
"We're not at that point, so I don't want to waste too much time talking about that," Molitor said. "But obviously it's not an unexpected question because people are going to wonder."
UP NEXT
Indians: Cleveland stays on the road, opening a series in Chicago against the White Sox on Friday. RHP Corey Kluber (1-1, 6.38) starts against Chicago LHP Jose Quintana (0-3, 6.75).
Twins: LHP Hector Santiago (1-1, 1.47) will take the mound on Friday to open a home series against RHP Justin Verlander (1-1, 5.71) and the Detroit Tigers.