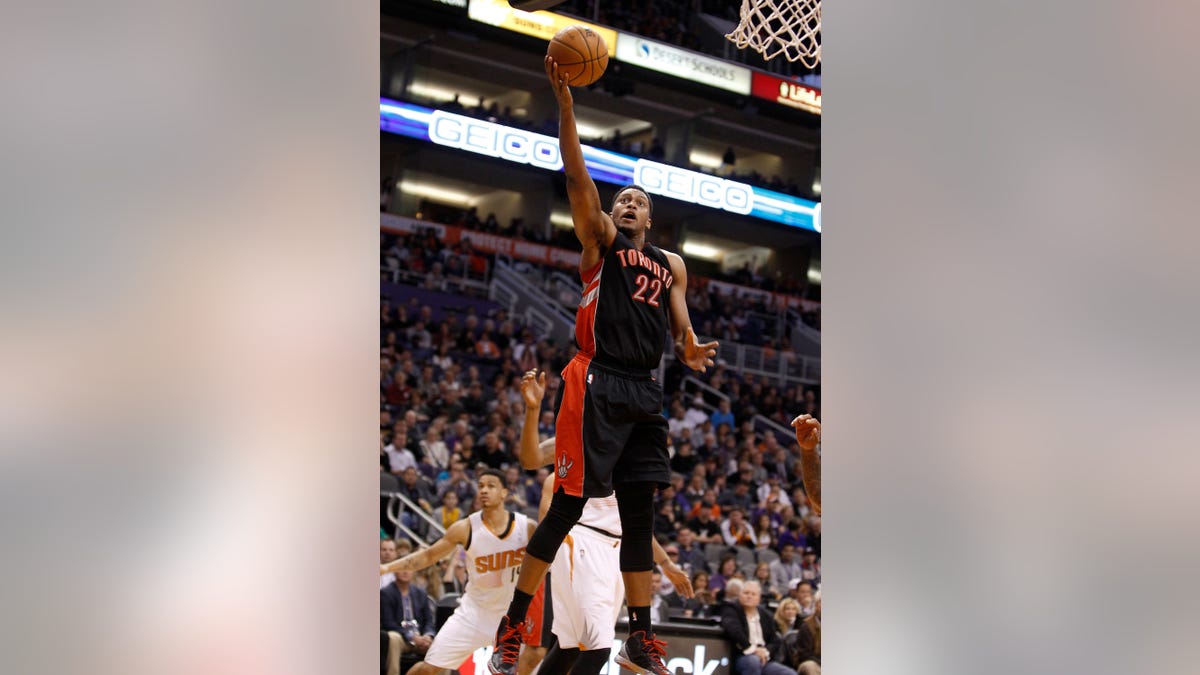 The trade sending Rudy Gay from the Toronto Raptors to the Sacramento Kings is complete.
The teams announced the seven-player deal Monday, less than 24 hours after they reached an agreement. The Raptors received point guard Greivis Vasquez and forwards Patrick Patterson, John Salmons and Chuck Hayes. The Kings also acquired center Aaron Gray and forward Quincy Acy.
Gay, Gray and Acy will not be in uniform when the Kings host the Dallas Mavericks on Monday night. Their first game will likely be against Utah on Wednesday night in Sacramento.
"We're excited to welcome these additions to our team," first-year Kings general manager Pete D'Alessandro said in a statement. "In Rudy we've acquired one of the league's proven scorers while Aaron and Quincy provide size and depth in our frontcourt. We also appreciate the contributions and efforts that John, Chuck, Greivis and Patrick made to the Kings organization. We all wish them the very best moving forward."
The move is the second major one for the Kings already this season as they begin rebuilding under new owner Vivek Ranadive. Sacramento sent Luc Mbah a Moute to Minnesota for Derrick Williams on Nov. 26.
This trade will reshape the roster — and the payroll — even more.
Gay is making $17.8 million this season. He holds a $19.3 million player option for the 2014-15 season, which he's widely expected to exercise and not test free agency.
It's just the kind of financial risk Ranadive has said he's willing to take — and the Maloof family that previously owned the team wouldn't — to try to turn the Kings into a winner.
Sacramento (5-13) had lost six straight games until beating the NBA-worst Utah Jazz on Saturday night. The Kings are hoping Gay can provide immediate help while convincing him to stay long term.
Gay, who was traded from Memphis to Toronto last season, is in his eighth NBA season. He's averaging 18 points, 5.9 rebounds and 2.1 assists in his career.
The deal also shuffles Sacramento's rotation. Isaiah Thomas will likely start at point guard in Vasquez's place, with Jimmer Fredette and rookie Ray McCallum competing for playing time behind him.
For the Raptors, parting ways with Gay gives them future financial flexibility. Of the four players going to Toronto, only Hayes has a deal that extends beyond this season. He's due about $5.9 million next season.
The trade is by far the biggest and boldest for first-year Raptors general manager Masai Ujiri, who worked with D'Alessandro in Denver previously. Toronto (7-12) had lost five straight until beating the Los Angeles Lakers 106-94 on Sunday night, and the franchise is only at the beginning of a rebuilding process that's likely years away from completion.
"We thank Rudy, Aaron and Quincy for their time here. They were great professionals and strong community ambassadors of the Raptors," Ujiri said. "The trade gives us good flexibility and more certainty as we plan for our future."