Rockies duo Arenado, Gonzalez win Silver Slugger Awards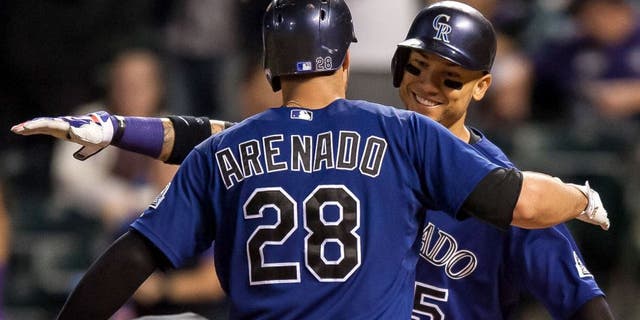 Nolan Arenado (left) and Carlos Gonzalez combined for 82 home runs and 227 RBI in 2015. Dustin Bradford Getty Images
The Colorado Rockies' two best hitters in 2015 have been duly awarded for their outstanding seasons at the plate.
On Thursday, both Rockies third baseman Nolan Arenado and right fielder Carlos Gonzalez were granted Silver Slugger Awards, voted on by MLB coaches and managers for the top offensive players in each league at every position.
Arenado's award comes on the heels of his third Gold Glove award in as many MLB seasons, a testament to his breakout season at the plate in which he hit 42 home runs and drove in 130 runs while maintaining a .287 average and .898 OPS.
While Arenado's Silver Slugger award is his first, Gonzalez's is his second, and puts the icing on a resurgent 2015 season.
Plagued by injuries over the past few years, Gonzalez played in 153 games in the 2015 season, hitting a career-high 40 home runs and driving in 97 runs.
This offseason will be an intriguing one for both sluggers, as Arenado could be officially made the face of the franchise with a new contract, and Gonzalez might be on his way out of Colorado while his trade stock is high.