Rio 2016: Carlos Balderas earned 1st spot on boxing team, bypassing Olympic trials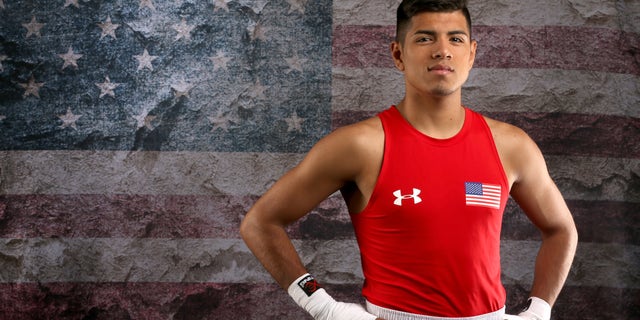 NEWYou can now listen to Fox News articles!
The first boxer named to the U.S. boxing team for the Rio Olympics was 19-year-old Carlos Balderas, who qualified in the men's lightweight division thanks to an outstanding performance at the 2015 World Series of Boxing season. Balderas earned enough points in his matches, that he didn't have to show up at the Olympic trials.
A first-generation American, Balderas' grandfather, David Balderas, moved to the United States more than 40 years ago from the Mexican state of Oaxaca. After working for a while in strawberry fields in California, David was able to bring his family to the United States, NBC Olympics reports. Carlos was the first member of his family to be born in the U.S.
According to the network, Balderas was motivated by his grandfather to follow his boxing aspirations and make a better life for himself.
At a Glance
Name: Carlos Balderas
Age: 20
Discipline: Boxing
Weight Class: Lightweight
Begins competition: Sat. 8/6
He comes from a family of boxers – both his father and uncle used to box – and Balderas was introduced to the sport when he was just 7 as punishment for fighting and getting suspended from school.
The young Balderas had a knack for the sport, beating the grandson of the owner of the gym where he boxed on his first day.
"Boxing kept me off the streets. Stopped me from getting into trouble," Balderas told ESPN. "I stopped getting into fights, and I stopped getting into trouble in school. I focused on my training."
He trained with his father, Xenon, and his uncle, David, in his hometown of Santa Maria, California.
During training, Balderas woke up at 6:30 a.m. every day, ran 4-5 miles and swam for 40 minutes, according to Team USA. He boxed in the evenings, focusing on his footwork and strength, and working the light and heavy bags.
He believes his strengths are his speed and his foot movement,.
Balderas has fought in seven different countries since January 2016, winning every single match.
He is making his Olympic debut in Rio, where he will compete against legends, such as three-time world champion Lázaro Alvarez of Cuba.
Like us on Facebook
Follow us on Twitter & Instagram