Report: Phillies currently pursuing Marlins OF Marcell Ozuna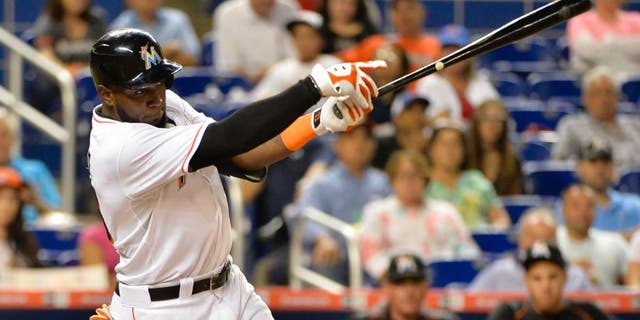 The Philadelphia Phillies are reportedly interested in acquiring Marcell Ozuna. Steve Mitchell USA TODAY Sports
With the Miami Marlins feuding with Scott Boras and Marcell Ozuna, it wouldn't be shocking to see the team move him.
Unhappy with how the team handled Ozuna during the 2015 season, Boras criticized the Marlins and their management. The Marlins responded by cutting Boras out of any contract deal regarding Ozuna or pitcher Jose Fernandez.
One of the teams willing to take on Ozuna is the Philadelphia Phillies, as reported by Cristian Moreno:
The Phillies head into the 2016 season without a set starting outfield. It's possible the team reunites with Jeff Francoeur and Aaron Altherr figures to be in the mix as well.
Other than those two, general manager Matt Klentak might look outside of the organization to find outfielders and Ozuna could certainly play an everyday role.
Prior to the 2015 season, the Marlins were thought to have one of the better, young outfields in the game with Giancarlo Stanton, Christian Yelich and Ozuna. Ozuna slugged 23 home runs in 2014, drove in 85 runs while hitting .269, playing in 153 games.
After that productive 2014, however, Ozuna struggled. He finished the 2015 season with just 10 homers, 44 RBI and a .259 average. Among his struggles was a 1-for-39 streak, culminating in a demotion to Triple-A -- the move that didn't please his agent Boras.
(h/t Section215)
MORE MLB: Want stories delivered to you? Sign up for our MLB newsletters.