Report: Buehrle will retire or pitch for Cardinals in 2016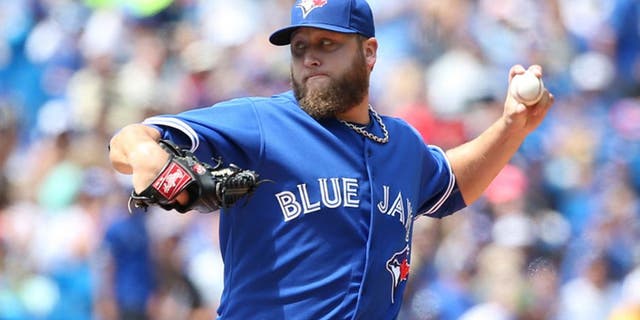 ST PETERSBURG, FL - OCTOBER 4: Mark Buehrle #56 of the Toronto Blue Jays pitches during the first inning of game between the Tampa Bay Rays and the Toronto Blue Jays at Tropicana Field on October 4, 2015 in St. Petersburg, Florida. (Photo by Scott Iskowitz/Getty Images) Scott Iskowitz Getty Images North America
The St. Louis Cardinals are likely in the market for another starting pitcher in the walk of Lance Lynn's season-ending injury. Luckily for the Cardinals, one of the better ones on the market may have just fell into the lap of general manager John Mozeliak.
According to Bob Eilliott of the Toronto Sun, free agent starting pitcher Mark Buehrle, will either retire or pitch for the Cardinals -- his childhood hometown team -- in 2016.
The Cardinals have not publicly shown interest in Buehrle to date, but the move could make sense for the club seeking to strengthen the rotation with Lynn out for the year recovering from recent Tommy John surgery.
Buehrle, who was born and raised in St. Charles, Missouri, about a half hour from St. Louis, had a decent 2015 season with the Toronto Blue Jays, beginning the year as the team's fourth starter. He posted a 15-8 record along with a 3.81 ERA over 198.2 innings. It was the first time in Buehrle's 16-year career that he failed to reach 200 innings pitched in a season.
Buehrle was left off the Blue Jays' postseason roster as Toronto had a glut of good starting pitching available to them.
MORE MLB: Want stories delivered to you? Sign up for our MLB newsletters.