Reds look to keep rolling against Pirates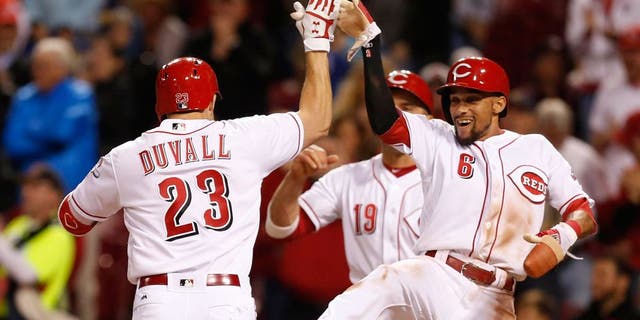 CINCINNATI -- The Cincinnati Reds lost four consecutive games on their last road trip, including a couple in ugly fashion. However, manager Bryan Price saw his young club respond with two straight come-from-behind victories.
On Sunday in St. Louis, the Reds rallied from a 4-0 deficit. In Monday's series opener against the Pittsburgh Pirates, Cincinnati came back from two runs down in the sixth and eventually won 4-3 in walk-off fashion in 10 innings.
The rebuilding Reds (12-13) play the Pirates again Tuesday night at Great American Ball Park, looking to build some momentum.
Coverage begins at 6:30 p.m. on FOX Sports Ohio
"It's important for the veterans that they see progress, that they see young players come up here and help us win games," Price said. "The veterans are who I leaned on the past few years to let their character rise above the crud we've gone through with the roster and the injuries and underdeveloped pitching we've dealt with. Their unwavering approach to not giving up on anything, it's a great message to the young players."
Catching depth could come in handy in this four-game set.
Both teams are carrying three catchers on their roster this week, but for different reasons. The Reds have Devin Mesoraco back from injury to serve as backup for starter Tucker Barnhart. However, they didn't want to lose Stuart Turner, who is rated the organization's best defensive catcher.
The Pirates (11-14) have been shuffling catchers back and forth from the minor leagues due to the uncertainty surrounding Francisco Cervelli's foot injury and Chris Stewart being a little banged up.
"(Sunday) he was hit with three foul balls," Pirates manager Clint Hurdle said of Stewart. "We had to work him out (Monday). He got dinged up. That's why we brought (Elias) Diaz up. We're not sure to what degree we can push Stewart."
Diaz was recalled from Triple-A Indianapolis on Monday and John Bormann was optioned back to Class A Bradenton after an emergency call-up Sunday.
The Pirates hope to have Cervelli back on Tuesday to catch 23-year-old right-hander Tyler Glasnow, who has held onto his spot in the rotation despite an 0-1 record and a 7.98 ERA over four starts.
"The greatest opportunity for growth is for him to pitch at this level," Hurdle said in a vote of confidence.
Glasnow's last outing against the Reds was a rough one, as he issued five walks in a 7-1 loss at PNC Park on April 10. In four career appearances against Cincinnati, including three as a reliever, Glasnow is 0-1 with a 7.27 ERA.
He earned a no-decision in his most recent start, allowing three earned runs in 3 1/3 innings with four walks in a 6-5 win over the Chicago Cubs on Wednesday.
Glasnow will be opposed by right-hander Scott Feldman, who is facing the Pirates for the first time since 2010, when he pitched against them twice as a member of the Texas Rangers. He has a 7.04 ERA and an 0-0 record in two career games, including one start, against Pittsburgh.
Feldman, the Reds' Opening Day starter, is making his sixth start of the season. He has allowed three or fewer earned runs in four of his five starts, and he is 1-2 with a 3.25 ERA.
One of Feldman's primary concerns on Tuesday will be Pirates center fielder Andrew McCutchen, who in Monday's series opener hit his 27th career home run against the Reds and 17th at Great American Ball Park. His homer total as an opponent at Great American ranks fifth all time.